January 06, 2015.
Kyiv, January 6, 2014. President of Ukraine Petro Poroshenko presented more than 150 units of military equipment to the Ukrainian Army yesterday, stated Colonel Andriy Lysenko, ATO spokesman, during the press briefing at the Ukrainian Crisis Media Center.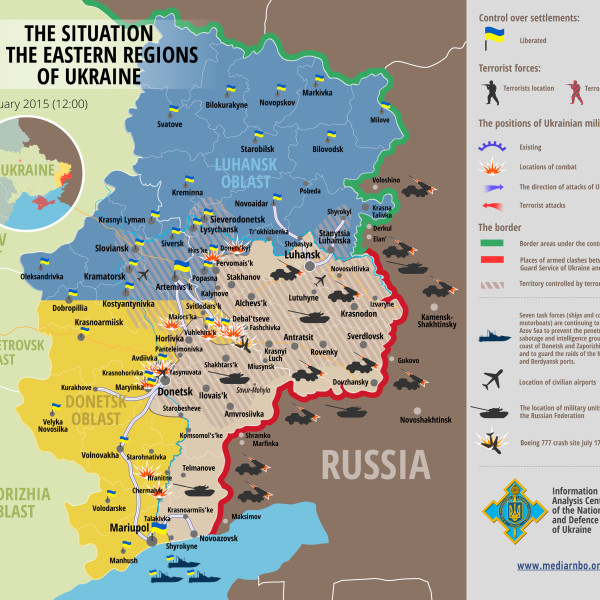 Military servicemen received 42 IFVs, 18 "Gvozdyka" howitzers and 4 control stations, 62 "MT-LB" auxiliary armored tracked vehicles equipped with "Sarmat" combat modules, as well as two MiG-29 and two SU-27 jets. Andriy Lysenko noted that this is the third transfer that has taken place within the last month. The Ukrainian Army also enjoys support of Western partners –Lithuanian Minister of Defence Juozas Olekas confirmed the delivery of military aid to the Ukrainian soldiers.
It's been confirmed that  the terrorist continue to instigate provocations in Donetsk, Luhansk and Mariupol areas in the ATO zone. One servicemen was wounded as a result of sniper fire near Nykyshyno of Donetsk oblast. Also, Ukrainian special forces arrested members a criminal group, and confiscated a gun with a silencer, ammunition and two grenades, next to Kurakhovo of Donetsk Oblast.
The ATO spokesman told that any movements to and from the occupied territories will be restricted to seven transport corridors. These are: "Luhansk – Shchastya – Novoaidar", "Luhansk – Stanytsya Luhanska – Shyrokyi", "Fashchevka – Debaltsevo – Mariupol (via Volnovakha)", "Novoazovsk –Krasnoarmeysk – Talakovka – Mariupol". All other routes through the buffer zone will be closed," Col. Lysenko explained.
Col. Lysenko also noted that 12 soldiers died and 21 were injured as a result of the traffic accident near Artemivsk yesterday. The most injured were hospitalized where they are getting appropriate medical treatment. The information about seven Ukrainian soldiers who were taken hostage and are currently held in Donetsk has been confirmed.