January 11, 2015.
Kyiv, January 11, 2015. Another shipment of Canadian military aid has arrived to Odesa port. The aid included 42 containers with military goods for the Ukrainian Armed Forces, reported Col. Andriy Lysenko, ATO spokesperson, during the press-briefing at Ukraine Crisis Media Center. Members of the Presidential Administration, National Security and Defense Council of Ukraine, Ministry of Defense, as well as the representative from the Canadian embassy in Ukraine, oversaw the delivery.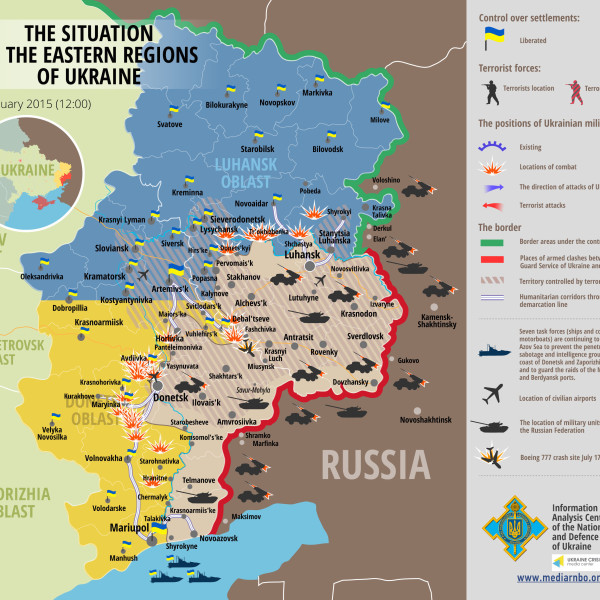 Col. Lysenko noted that terrorists continued armed provocations in violation of the ceasefire regime; however, they got an adequate response from the Ukrainian servicemen. Beside mortars and manpads, terrorists used tanks and "Grad" missile systems during attacks on the Donetsk airport and Ukrainian blockposts along the ceasefire demarcation line. One soldier was killed and ten got wounded in the last 24 hours.
Ukrainian artillery units that defend Mariupol conducted another round of war games.
The ATO spokesperson made note of the activity of the State Security Service of Ukraine (SBU) in uncovering terrorists and their collaborators. The operatives detained two terrorists and confiscated a stock of arms in the Donetsk oblast.
The SBU has temporarily limited passage through "Fashchivka-Debaltsevo-Artemivsk", "Horlivka-Artemivsk", "Donetsk-Kurakhove" and "Donetsk-Mariupol" routes due to the terrorists' attacks.
According to Col. Lysenko, Ukraine continues to receive international support. Apart from the aforementioned Canadian military aid, six train carriages with food arrived from Kazakhstan to Severodonetsk (Luhansk oblast). This cargo is designated for the residents of Luhansk oblast who live on the territories controlled by the Ukrainian Armed Forces, as well as for those living in the areas which are still under control of the LPR militants.