A year before the war, the Ministry of Education and Science of Ukraine conducted a survey among parents to form a portrait of an ideal teacher. It turned out that teachers are most expected to respect each student, treat everyone equally – this is what 72% of respondents think. The ability to evoke interest and inspire students (70%) comes second. The respondents also highlighted understanding of children, the ability to find common ground with them (67%), the ability to reveal the student's potential (51%), sociability, openness to communication (48%).
Clearly, teacher's courage was not on the list of expectations. In peacetime, who cares about it at school? War, however, changes everything, makes you look differently at a person who enters a classroom and reevaluate values. Especially important is the experience of someone who, despite the hardships of the occupation, was able to preserve love for Homeland. Then, after the victory, such a teacher will return to a home village and give this love to children.
Inna Oharko, teacher-organizer and art teacher at the Hromivka lyceum always prepared for patriotic events very thoroughly, turned them into bright festivals. That was not only because she wanted to please her pupils and fellow villagers with beautiful performances, but also because she is a true patriot who loves Ukraine with all her heart. The war, the occupation, became a terrible tragedy for her and her family like for most her compatriots.
While people still believed that the russian invasion could be stopped without weapons, by demonstrating love for their Motherland, Inna joined peaceful rallies, walked in the front rows with a yellow-blue flag, and sang the national anthem with inspiration. But soon people understood what cruel invaders had come to our land and that they were ready to shoot anyone who did not obey.
Hromivka is part of the Novotroitska community of the Kherson region. The occupiers began to set their rules there in May. They hung russian tricolors over state institutions and appointed collaborators to key positions. In summer, local schools faced the question of working in a new way, that is, according to the russian curriculum. Inna Vasylivna convened a parents' meeting (she is the class teacher of eighth-graders) and declared: "You all know my patriotic position: I have been and will be a Ukrainian. I love children and my job, but I will never side with the occupiers and I will not teach in a foreign language, I will not tell them lies to please the enemies. I'm sorry, but I won't go to work on September 1."
The same position was taken by almost the entire teaching staff of the Hromivka School, except for two or three people. Parents seemed to have accepted it, but as the school year approached, passions began to rage in the village. Those who don't care what language to speak and what flag to live under (unfortunately, there are plenty of them in the community), began to muddy the waters, saying that because of the nationalist teachers their children would be ignorant, so teachers had no right to stay at home! Moreover, parents who disagreed with the teachers' patriotic position went to the Henichesk and Novotroitske occupation commander's offices demanding to get the Nazis out of the school and make teachers work.
"Real terror began," says Inna Oharko. "I called it "teacher's Golgotha". We couldn't go out, we were accused of betraying our profession, duty and children, of not wanting to teach them! It was so insulting I almost cried: are we traitors?!"
To explain the absurdity of these accusations, Inna cites the topics of lessons on September suggested by the collaborating department of education: "Participant of a special operation is my hero", "LPR/DPR", "Kherson Region is Russia", "The AFU is murderers"… As they say, no comment.
It's really hard to understand parents' strange behavior. Inna thinks it may have been caused by the reward the russian authorities promised: 10,000 rubles for each child who goes to a "renovated" school. She says: "I wanted to scream in despair: aren't you selling your children's souls to murderers too cheaply?!"
The headmaster of the Hromivka Lyceum sided with his staff of 22 teachers. He issued an order about a layoff with the preservation of the minimum wage. The teachers took patriotic books and textbooks home lest they be destroyed.
The occupation authorities responded quickly: they searched the homes of the headmaster and several teachers with threats, took away their phones and documents. Well-wishers warned Inna: you are next. So, she and her husband Volodymyr, a successful farmer, did not wait for people with guns to come and decided to leave the village immediately. Inna's younger brother, who joined the army as a volunteer in the first days of the war and is fighting on the front lines, also advised in a telephone conversation not to put off their departure. "It isn't easy to get out of the ruscists' torture chambers," he said.
The next morning the spouses set off. "It was especially hard to say goodbye to my father. My mother died a long time ago, so my father is the closest person to my brother and me. I hugged him very tightly, cried and begged to forgive me for leaving him," the woman recalls through tears.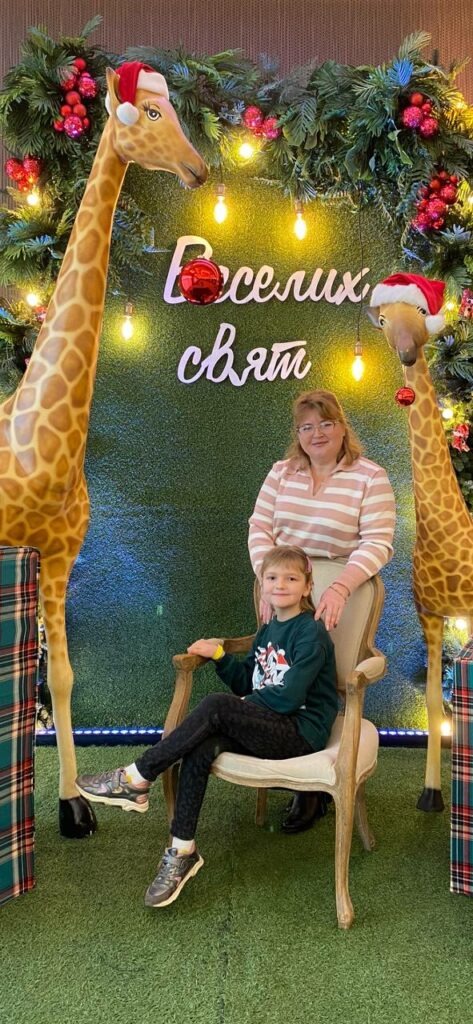 The whole way they prayed. Inna believes that those prayers helped them get through numerous checkpoints and the infamous Vasylivka (a kind of concentration point where the russian military set their rules) to Zaporizhzhia quite quickly and almost without problems. But their daughter and son-in-law, who had left the village earlier, stayed in Vasylivka for four days! Besides, the next day the occupiers announced illegal referendums and no one was allowed to go to Zaporizhzhia.
The spouses finally settled in Odesa, where their children had settled earlier. Inna and Volodymyr rented an apartment in which there weren't enough dishes, blankets, and various household trinkets for everyday life.
"I went to the market and bought pans, I forgot about plates. I went shopping again. I stand and cry, because I have full cupboards of dishes at home – very beautiful! The saleswoman understood that I was a refugee and gave me some plates for free, flatly refused to take money!" says the woman. "My husband and I worked hard to provide for our family. While people were swimming in the sea in summer, we were working in the field. But we had money, furnished our house, and bought everything. And now we were forced to abandon everything. When I return home, I will leave only what is necessary, and I will give the rest to the needy, those with many children, let them use it. In fact, I know for certain: a person doesn't need a lot."
The spouses felt ashamed to queue up for humanitarian aid, knowing they had plenty of meat, preserves, vegetables and other foodstuff at home. But in Odesa, they got into the conditions of survival…
Inna Vasylivna immediately started looking for a job. There was a vacancy in one of the schools, but she could not be hired because she had not been dismissed from previous employment.
And soon as the woman saw on Telegram that the "League of Justice and Law" charity fund needed volunteers, she went there, where her hands proved very useful!
This organization has been operating since May, significantly helping internally displaced persons, lonely elderly people, and the Armed Forces of Ukraine. The unit Inna works in provides ready-made meals to our military on the frontline. On Saturdays, dumplings and varenyky are made for them. Our teacher is one of the female cooks who prepare meals from groceries supplied mainly by volunteers. Their dishes are also delivered to the wounded in the local hospital and once or twice a week they give food to the needy, up to 150 people at a time in the open air.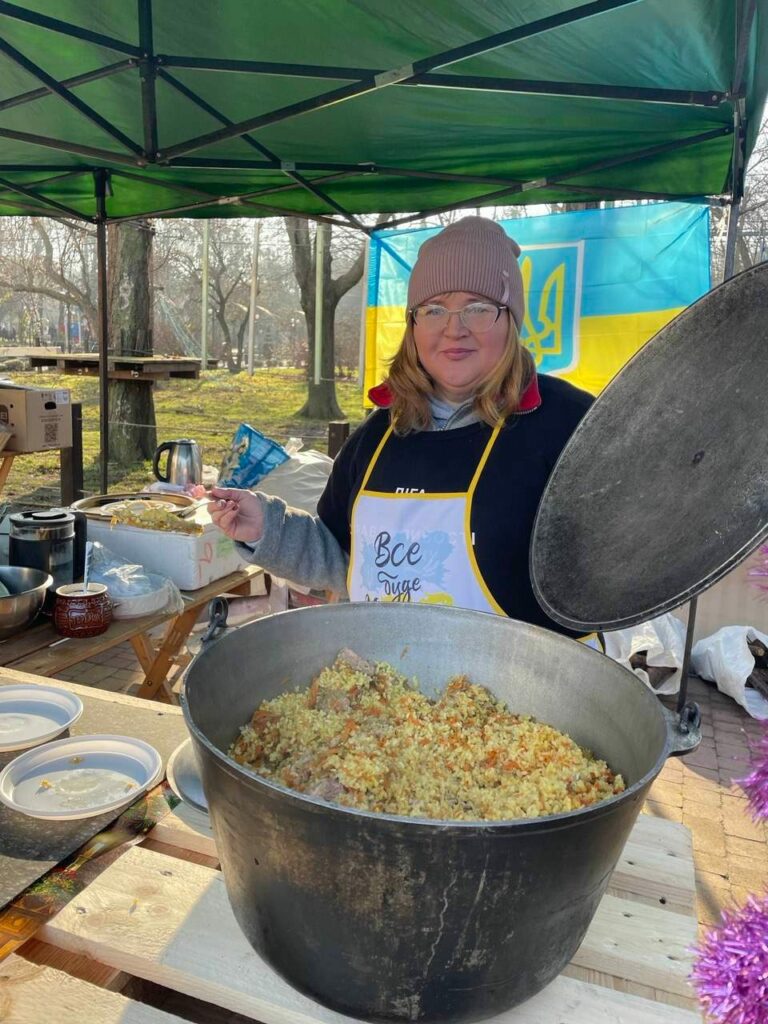 Inna Oharko says that many volunteers are involved in good deeds: some cook, others make trench candles or tinned meat at home, the local monastery bakes bread… All this is on a voluntary and unpaid basis. "We periodically receive food rations, this is enough for us," the woman assures. "When you are busy with the right thing, when you see people's grateful eyes, it is the most important thing and is worth a lot more than material rewards!"
Although there were material rewards as well: on the Day of Local Self-Government, the Odesa Regional Council presented gifts to the staff of the "League of Justice and Law" charity fund for supporting the Armed Forces of Ukraine, displaced persons and pensioners.
Inna is happy to be invited to a children's event, where she will hold a master class for them. She misses school and students.
Her husband Volodymyr Oharko works as a loader. It is hard work, but it's a job! The spouses regret only that they have left a hundred hectares of unmown sunflowers to her father. The elderly man had to harvest himself, and to sow another field with winter crops. But the land must not be empty. People always need bread, especially in a wartime, when there are irregularities in the supply of basic necessities.
Back in the fall, the Oharkos went to Kharkiv to see Inna's brother; he was on vacation for six days, and then returned to the front. "I did not leave him for a moment, I kissed his hands," says Inna. "And I asked him to give our thanks to all his brothers-in-arms, who are protecting our land against the mad russian horde and are fighting for such a desired victory!"
Brother and sister keep in touch, because the danger lurks at every turn on the front. Inna also keeps in touch with her students – both current and former, among whom there are front-line soldiers.
By the way, the Hromivka lyceum still does not work: only a few teachers agreed to cooperate with the occupiers. So the parents, who don't care what language their children learn, sent them to a school in a nearby village.
According to eyewitnesses, the russian military stayed temporarily in the Hromivka lyceum: they kicked the doors to the classrooms, smashed expensive equipment in Chemistry and Physics classrooms; they littered both the premises and the territory, defecated everywhere.
"After 'teacher's Golgotha', I thought I would leave the profession," Inna Oharko says. "However, I've reconsidered and decided to return both to the village and to the lyceum. I will even more diligently teach children to love their Motherland, their language, to value freedom and their own dignity with all their heart! And for now, I will do everything that depends on me to bring the victory closer."
Olena Oliynyk
The material was created under the joint project of Ukraine Crisis Media Center and the Estonian Center for International Development with the financial support of the US Embassy in Kyiv and the Ministry of Foreign Affairs of Estonia.