April 05, 2015.
Kyiv, April 5, 2015. Russia-backed militants have violated Minsk agreements, as they kept instigating armed provocations against Ukrainian troops, using mortars, grenade launchers and armored vehicles. "The enemy fired from 122-mm mortars – banned by the peace plan – around Donetsk and close to Sokilnyky, Luhansk region. Ukrainian troops, on the other hand, are building up fortifications and provide adequate response to these provocations", said Colonel Oleksandr Motuzyanyk, Presidential Administration spokesperson on the issues covering the Anti-Terrorist Operation, during the press-briefing at Ukraine Crisis Media Center.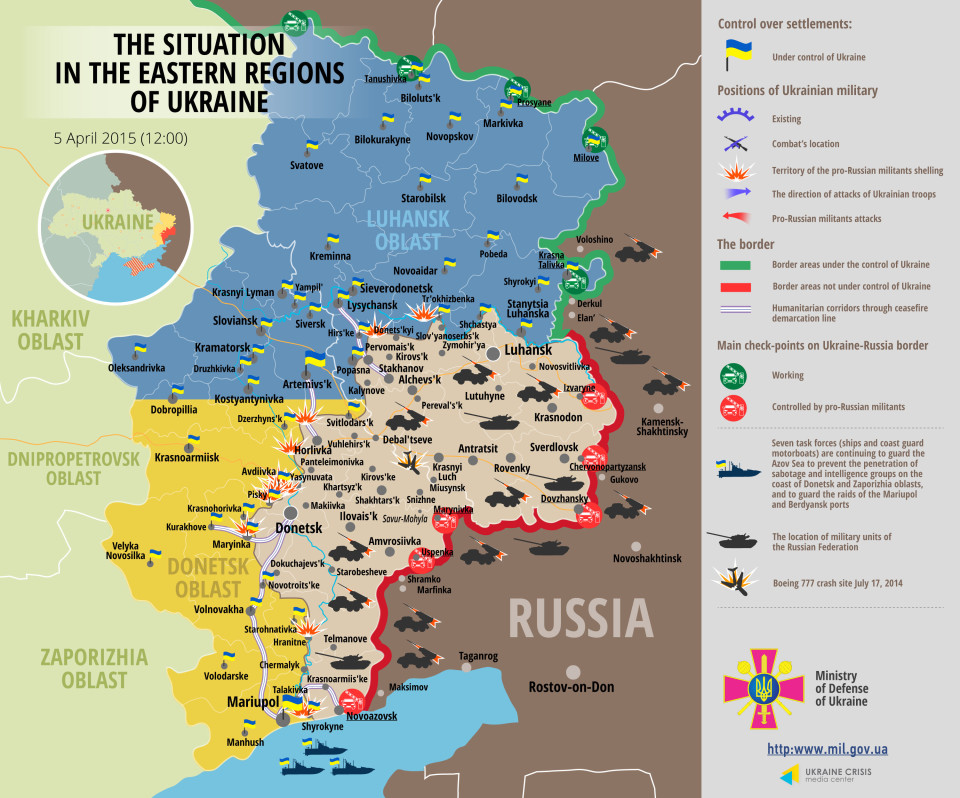 Col. Motuzyanyk reported that Ukrainian servicemen spotted seven militant UAVs in the vicinity of Mariupol yesterday.
Ukrainian Armed Forces did not suffer any lethal casualties in the last 24 hours; two servicemen got wounded.
Meanwhile, Russian proxies fired at the peaceful settlements as well. They have shelled Donetsk from mortars on April 4, firing from the outskirts of the city. Also, three militant IFVs and one battle tank located near Mykhaylivka fired at the Donetsk direction too. "The militants seek to discredit the Ukrainian Army in order to blame our military for attacking civilians and failing to comply with the peace process in eastern Ukraine," added Col. Oleksandr Motuzyanyk.
Col. Motuzyanyk has noted that the so-called "LPR" disarms all independent pro-Russian militant groups. According to the Presidential Administration spokesperson, Russia is directly involved in controlling this process, which aims to create a more centralized military structure on the militant-held territories. On the other hand, Russia has completely banned movement of military trucks from to the territories under militant control. They are planning to supply weapons and ammunition by rail," Col. Motuzyanyk emphasized.
Ukraine's Security Service detained two militant informers who provided insurgents with the intelligence on the number of Ukrainian troops, their weapons and location of their block posts.