February 23, 2015.
Kyiv, February 23, 2015. Operatives of Ukraine's Security Service (SBU) detained four members of the so-called "Kharkiv guerrillas" criminal group suspected in preparing a terrorist act during the March of Unity in Kharkiv on February 22. Three civilians died as a result of the terrorist attack, including a 15-years-old youth and a police officer; 10 more got wounded. Col. Valentyn Fedichev, Deputy Commander of the Anti-Terrorist Operation in Donetsk and Luhansk regions, stated the news during the press-briefing at Ukraine Crisis Media Center. "OSCE observers stated that the bomb consisted of the TNT explosive and shrapnel concealed in a plastic bag and was detonated remotely. The device was similar to one that exploded at the Moskovsky district court in Kharkiv on January 19," Col. Fedichev noted.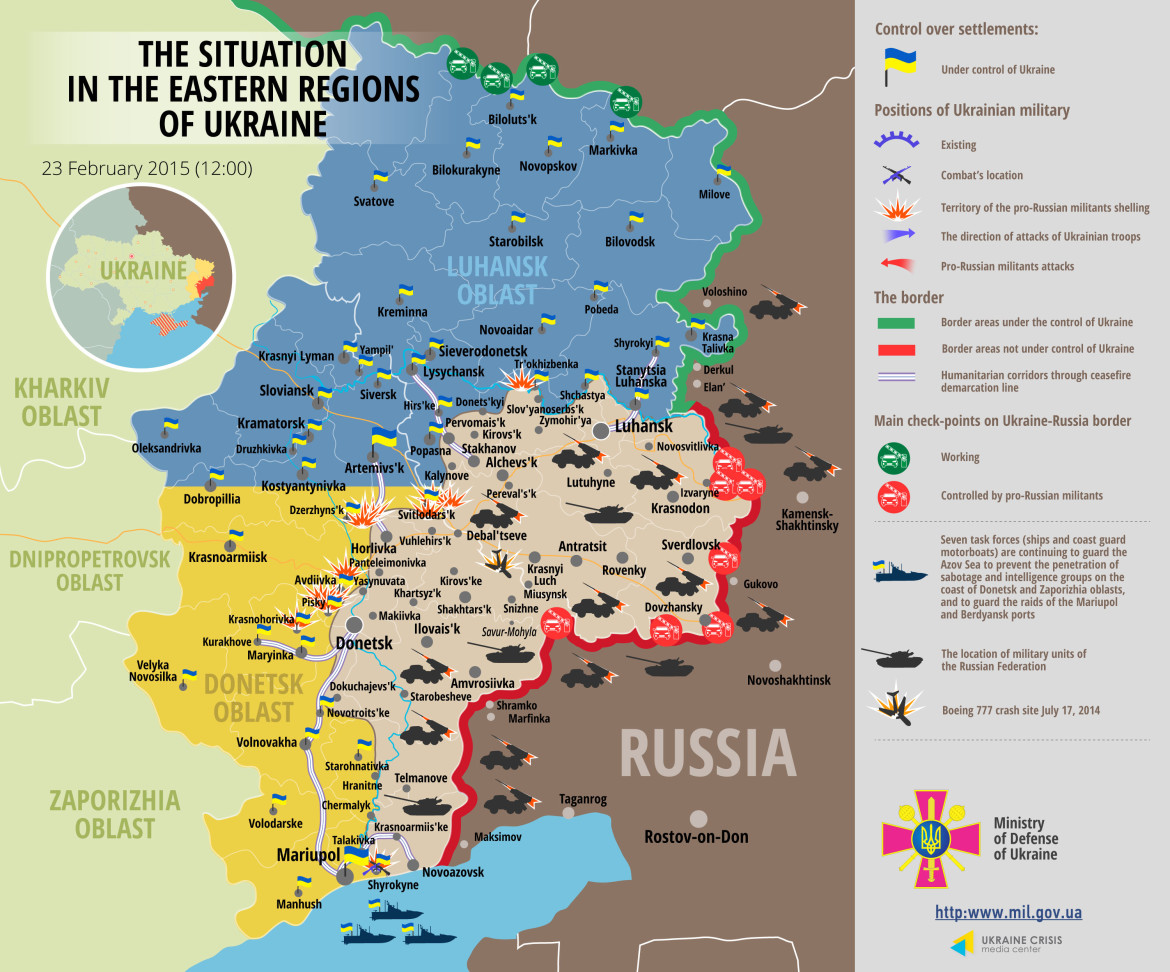 According to Col. Fedichev, the four suspects also planned to attack crowded places such as trade malls, parks and cafes  from the "Shmel" [Bumblebee] rocket launcher. They have admitted that the leader of a criminal ring transferred them a rocket launcher in Belgorod, Russia. "SBU declared the highest alert level due to the attempts of pro-Russian militants to destabilize the city," Col. Fedichev explained.
Ukrainian operatives and soldiers also detained informers of the so-called "Donetsk People's Republic" who gathered information about positions of the Ukrainian Armed Forces for the insurgent artillery units.
Furthermore, Ukrainian policemen confiscated two anti-tank RPG-26 grenades, four VOG-25 grenades, two RGD-5 grenades and one F-1 grenade, as well as a set of ammunition from car passengers who attempted to cross the Ukrainian blockpost in Izyum, Kharkiv region.
Col. Valentyn Fedichev said that Russia-backed proxies continue to amass forces on the Donetsk and Horlivka directions. Militants attacked positions of the Ukrainian soldiers 27 times. Also, Ukrainian servicemen spotted 14 enemy UAVs, conducting reconnaissance missions over the last day. Two Ukrainian servicemen were killed and 10 got wounded in the last 24 hours.
In the meantime, Ukrainian policemen and volunteers delivered the humanitarian aid, which contained cereals, sugar, pasta, tin food, butter and baby food to the residents of Svitlodarsk, Donetsk region.