March 12, 2015.
Kyiv, 12 March 2015 –Ukrainian Armed Forces did not suffer any casualties in the ATO zone over the last 24 hours, according to the ATO spokesman, Colonel Andriy Lysenko.
According to the ATO spokesman on 11 March illegal armed groups fired 50 times at Ukrainian military positions along the whole delimitation line, including 4 artillery shelling incidents conducted in the area of the Donetsk airport.  Situation in the Eastern part of Luhansk region is relatively calm. Separatist's sniper activity was noted during the fighting in Shyrokyne. "Moreover our positions were fired upon two more times – at the Mariupol and Artemivsk directions," added Colonel Lysenko.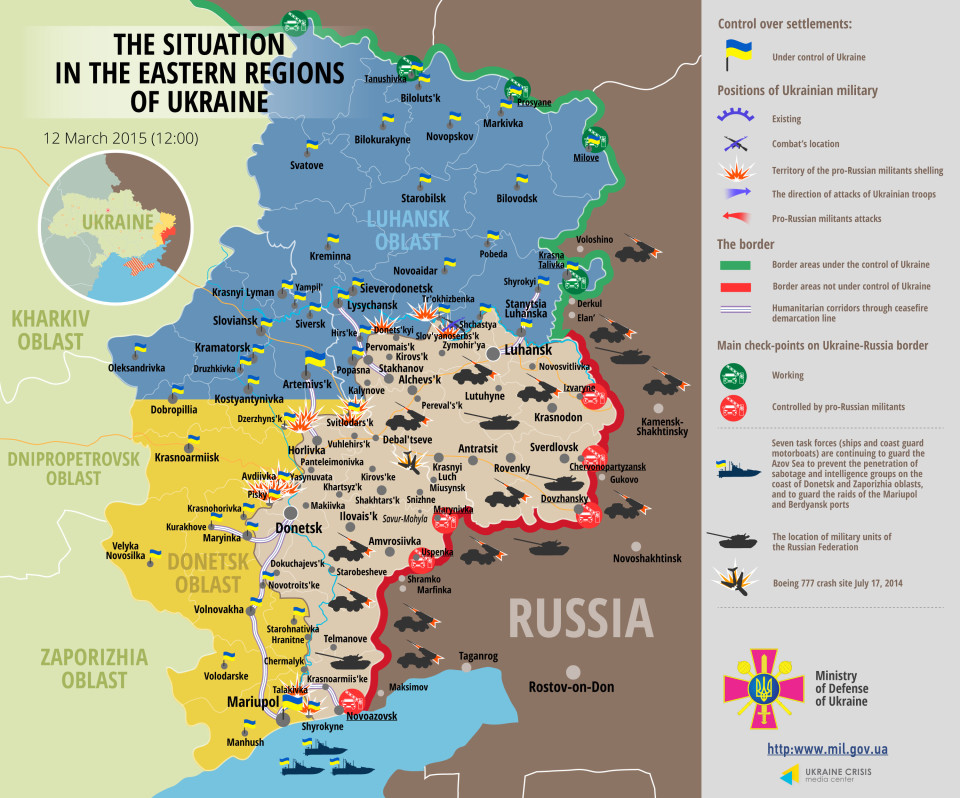 At the same time Russia-backed militants continue building up their forces at all main directions trying to get the control over the roads in proximity to the combat line. Considerable amount of military equipment was spotted arriving in Horlivka, including tanks and self-propelled artillery systems. The militants are also trying to hide the process of amassment of military equipment in the depots and other premises near Olenivka, Dokuchaevsk and Telmanove towns.
In the last day Ukrainian servicemen spotted enemy's 3 UAVs flying in the area of Mariupol.
ATO spokesman also informed that the President of Ukraine Petro Poroshenko awarded the Lieutenant Colonel Leonid Klymchuk, Major Serhiy Zakharevych, Senior Lieutenant Yehor Gladkov and Senior Lieutenant Andriy Suprihan with Bohdan Khmelnytsky Orders of the III grade. The orders were awarded to the officers for courage and heroism demonstrated while defending the state sovereignty and territorial integrity of Ukraine as well as for their loyalty to the oath.
Andriy Lysenko had commented on the worsening living conditions of peaceful civilians on the territories temporary out of government's control. In particular locals of Chornukhyne near Debaltseve took to the streets with a protest calling to restart social payments and humanitarian aid distribution.
Meanwhile residents of Mayorsk and Hirnyk towns on government-controlled territory received humanitarian aid from the International Committee of the Red Cross including food and hygiene sets, blankets, bottles of water and dry fuel as well as around 1500 square meters of glass to continue reconstruction works.  Norwegian fund supplied almost 200 square meters of firewood that have been delivered to Novotoshkivka village. The State Emergency Service of Ukraine has organized delivery of 2,5 tons of technical water to Avdiivka. The Donetsk regional military-civil administration has delivered 3,5 tons of food to the residents of Druzhkivka.
Colonel Lysenko said that Ukrainian special services detained a female resident of Severodonetsk who was posting appeals in the social networks to overthrow the constitutional order, violate Ukraine's territorial integrity and was fueling inter-ethnic hostility. "Ukraine's law enforcers detained a male resident of Artemivsk district who was directing fire for the "DPR" illegal criminal group and a female resident of Kurakhove who was passing the information about the ATO forces movements to Russian-backed militants," added the ATO spokesman.