January 02, 2015.
Kyiv, 2 January 2015 – The situation in the anti-terrorist operation (ATO) zone did not change considerably within the last day. Militants conduct sporadic armed provocations at the Mariupol, Donetsk, Debaltseve and Luhansk directions. "Yesterday Ukrainian border guards observed two enemy's UAVs deployed in the area near Sartana locality of Donetsk region. At the same time near Volnovakha Ukrainian servicemen destroyed the enemy's UAV with precision fire from an anti-aircraft missile system," informed Colonel Andriy Lysenko, ATO spokesman at a briefing at the UkraineCrisisMediaCenter.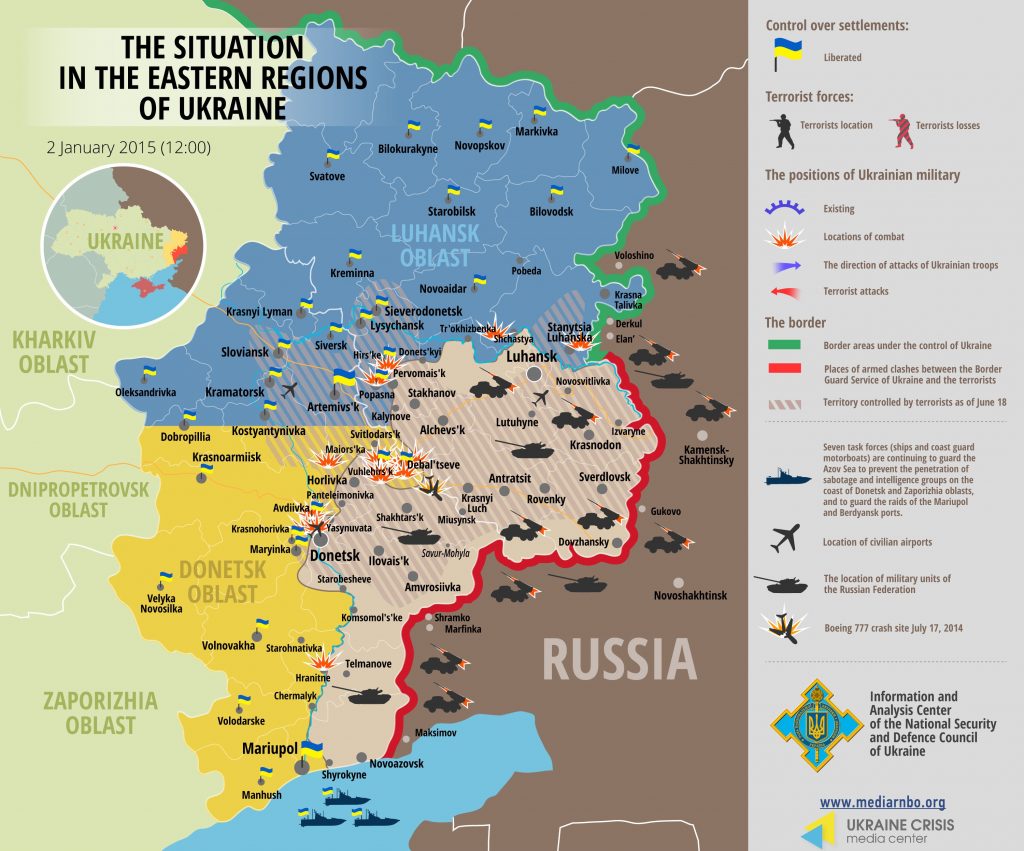 According to intelligence data local militants are being replaced with regular military of the Russian Federation Armed Forces in an attempt to subordinate all illegal armed groups to the unified command center.
As per the field information in Luhansk region in the areas temporary controlled by militants Movement of resistance to the Russian occupants is spreading. "In Holubivske town of Popasna district local partisans attacked terrorists' positions, as a result destroyed an APC BMP-2 and eliminated 2 machine-gun teams," added Colonel Lysenko.
As per the intelligence data in order to staff the existing illegal armed groups leadership of the so-called "DPR" is holding "voluntary" enlistment of local population aged 16 to 18 on the occupied territories. "Engaging minors into combat actions and military service is a blatant violation of international humanitarian law, and of the Article 38 of the UN Convention on the Rights of the Child in particular," under lined the ATO spokesman.
Due to insufficient financial and food provision tensions mount among the members of the "Vostok" illegal armed group operating in Donetsk region. Terrorists have not received any remuneration from their Russian curators within the last 5 days.
1 Ukrainian serviceman was killed in action within the last 24 hours, 5 got wounded.