April 12, 2015.
Kyiv, April 12, 2015. Ukrainian intelligence reported the discovery of a training center in militant-held Horlivka for those pro-Russian fighters who come from abroad. These foreign militants receive military gear and weapons and then sent to the training center located near the Novohorlivsk machine building plant on the outskirts of the city. Militants are also searching for accommodation in order to provide housing for the fresh recruits, stated Col. Oleksandr Motuzyanyk, spokesman of the Presidential Administration on the issues connected with ATO, during the press briefing at Ukraine Crisis Media Center.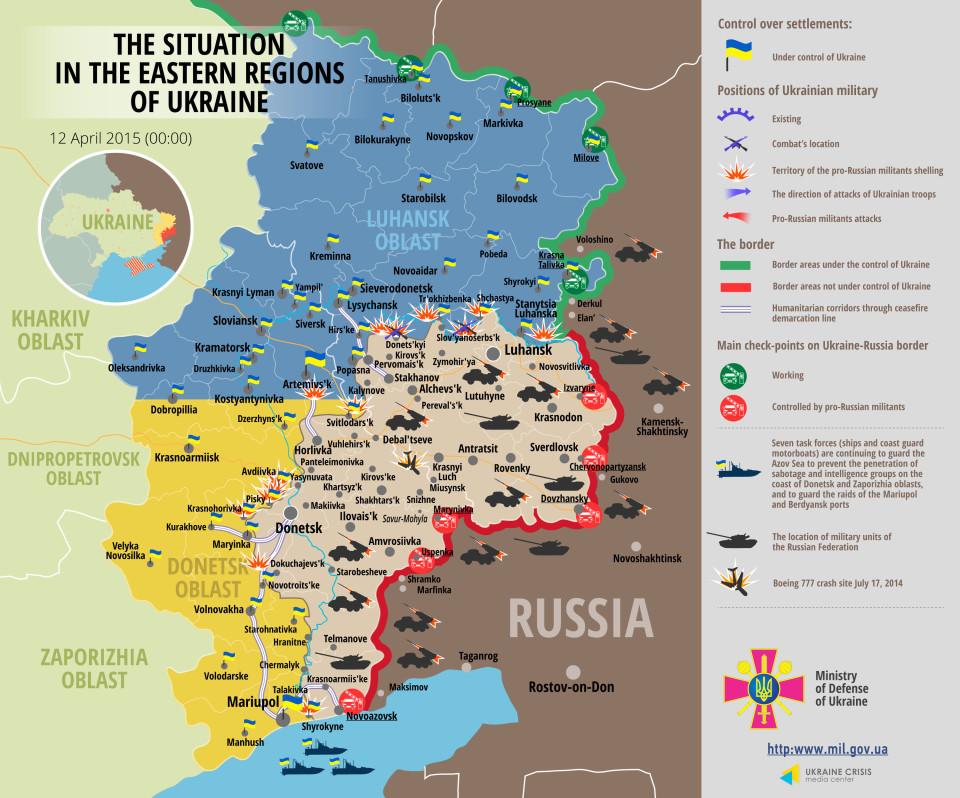 According to Col. Motuzyanyk, pro-Russian militants used armored vehicles against the Ukrainian forces twice. Zhovte and Syze villages close to the Ukraine-Russian border in the Luhansk region, as well as Shyrokyne and areas around Donetsk airport in Mariupol and Donetsk sectors respectively, were the hotspots of the conflict over the last day. Col. Motuzyanyk emphasized that Ukrainian troops held every attempt of the militants to advance in check.
Ukrainian servicemen spotted 30 enemy UAVs along the entire demarcation line.
Ukrainian Armed Forces did not incur any lethal casualties in the last 24 hours; two servicemen got wounded.
Col. Motuzyanyk noted that the OSCE observers also recognize that Russia supports militant groups in eastern Ukraine. He quoted the Chief Monitor of OSCE SMM Alexander Hug who stated that the logistics base that provides militants with essential supplies is located on the Russian soil close to the Russia-Ukraine border.
Ukrainian Armed Forces consolidate their control over the military. According to the Minister of Defense Col. Gen. Stepan Poltorak all Ukrainian military regiments in the ATO zone are now part of the Ukrainian Army or the National Guard of Ukraine, which fully corresponds with Minsk agreements. Meanwhile, the governor of Luhansk Gennadiy Moskal met with the command and rank-and-file of the Aidar battalion to discuss a number of problematic issues. Both parties reached an amicable agreement. "More meetings with several other military regiments will follow soon," Col. Moruzyanyk added.
Ukraine's Security Service uncovered a clandestine arms arsenal close to Zhyromyr. The operatives have confiscated two grenade launchers, a loaded sniper rifle, around 40 grenades and three ammunition rounds for AK rifles.