Head of International Relations and Communications of the most well-known and respected Eurovision news source ESCToday, Sanjay Jiandani (Sergio), arrived in Kyiv for a research trip in order to explore the city and check out the preparations for the Eurovision Song Contest. The result of his visit will be a kickoff of the Discover Kyiv project realization.
During the last 5 years, the ESCToday team has worked in close collaboration with a Eurovision host city in order to provide a comprehensive and detailed guide focusing on the host city's aspects and attractions that every Eurovision tourist should visit, thus introducing the city.
In 2015 and 2016, ESCToday collaborated with Vienna and Stockholm in order to cover and promote cities in their lead up to the Eurovision Song Contest. This year, taking advantage of being the Eurovision host city, Kyiv got a chance to tell Europeans about its main advantages.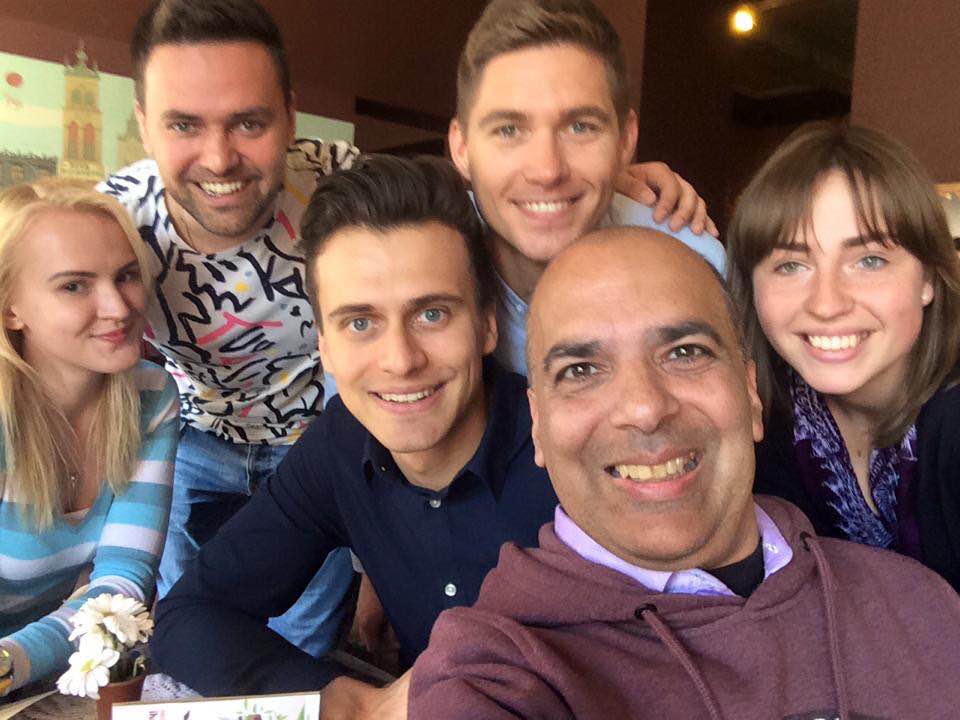 During April 2017, the ESCToday team will implement a full-scale project about Kyiv, which will present Kyiv's main Eurovision venues and locations, top sightseeing tours and attractions, facts and feats of the city. Also, there could be found the information about museums, transport system, restaurants, cafés, and nightlife. Though the Discover Kyiv project ESCToday will show Eurovision preparations in the city, and describe their impression of Kyiv.
Once the first content is ready, the project will kick off on ESCToday.com as well as on all social media platforms. Articles will be published on the website on a daily basis leading up to the Eurovision kick off week, thus building up the excitement to the main event and showcasing the best of the city to Eurovision visitors.
Sergio Jiandani visited the Golden Gates of Kyiv, St.Sophia Complex and St.Sophia Square, St Michael's Golden-Domed Monastery, Peizazhna (Landscape) Alley, St. Andrew's Church, Andriyvskiy Uzviz (Decsent), Podil, the Volodymyr Monument , the Chernobyl Museum. Also, he took a boat trip, try the Funicular, and got the taste of different cafés and restaurants.
Sergio has met with the contest hosts Oleksandr Skichko, Volodymyr Ostapchuk and Timur Miroshnychenko as well as Victoriia Sydorenko, International PR Manager at Eurovision Song Contest, Kyrylo Voronin, event manager and Anton Taranenko, Secretary of the Organizing Committee on preparation and hosting Eurovision 2017 at Kyiv City State Administration.
Sergio's first impressions on Kyiv:
"I am quite impressed with Ukraine, as people here are very friendly, welcoming and loving. Kyiv is vibrant and impressive, modern and historic at the same time. The city has much to offer as there's lots to see and do here. I really  enjoyed visiting  some of the main sights of the city today.  It was an enriching experience to discover the beauty and essence of Ukraine, along with its culture, history and heritage.
I think people will be pleasantly surprised next May when they visit Kyiv for Eurovision , they will go back  home with beautiful memories of their experience."
Background information
ESCToday was founded in 1999 and since then it delivers Eurovision Song Contest news, polls, interviews, charts and exclusivities on a daily basis. ESCToday is maintaining its strong presence as an accurate and reliable source of Eurovision news.
Even though the main "niche" is to bring un-opinionated, plain Eurovision news, the website aims to become a great host for everybody to come and share their thoughts with our readers, hence a new section was launched to fulfill that purpose.