September 28, 2014, Kyiv – «On the night of September 28th, 12 Ukrainian servicemen kept hostage were released, in accordance with the Ukrainian President's peace plan. Work to free the hostages does not stop for a single hour, and maximum effort is being made for our servicemen to be able to return to their families as soon as possible. Meanwhile, the terrorists, despite the ceasefire agreements reached in Minsk, continue attacking ATO positions and residential areas using sniper weaponry, mine launchers, rifles and reactive artillery. The terrorists are most active near Donetsk airport, as well as near the towns of Debaltseve and Shchastya. In particular, another attempt to take the airport by storm began two hours ago. Our servicemen prevented the storming from happening, the terrorists suffered losses. At 10:50 a.m. the mercenaries began an artillery attack on the locality of Avdiyivka. The locality of Talakivka, near Mariupol, was subject to numerous terrorist attacks throughout the day. There have been no casualties among our servicemen in the past 24 hours, three servicemen have been wounded», – reported Colonel Lysenko, National Security and Defence Council Information Center spokesman at his briefing at the Ukraine Crisis Media Center.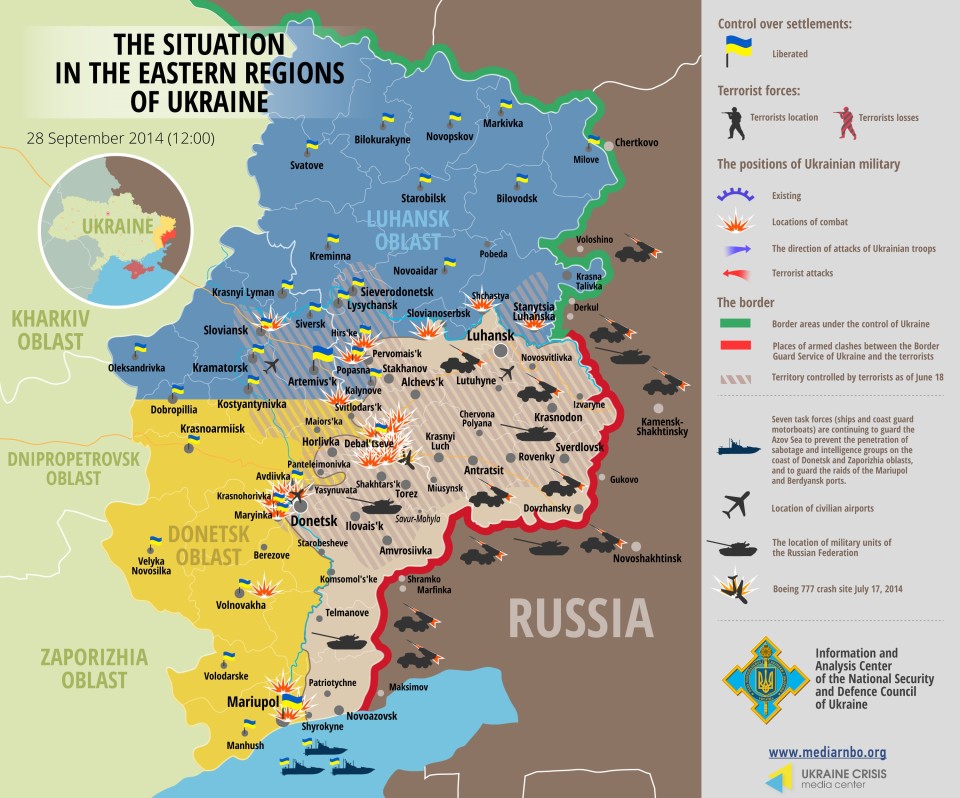 According to Lysenko, Russian mercenaries continue active intelligence work on border regiments and spying on ATO positions. In particular, yesterday, near the locality of Shevchenko in Donetsk oblast, Ukrainian border servicemen detected a hidden surveillance point on the border regiment route. Also, near the localities of Talakivka, Sartana, Hnutove in Donetsk oblast, the border servicemen impeded the work of groups which moved around by car and gathered information on ATO positions.
There has been no fire contact with the terrorists near the border, neither had there been any violations of the airspace in the past 24 hours.
However, Russian soldiers continue airborne intelligence along the Ukraine-Russia border. Yesterday, around 2 p.m., the Ukrainian servicemen detected two Russian military Mi-8 helicopters along the border, across from the units of border control regiments Stanychno-Luhanske and Krasna Talivka.
Relocation of Russian troops continues in the north of the Crimean peninsula. In particular, across from the checkpoint Chongar, a field camps has been detected with about 300 personnel.
Ukrainian border servicemen also detected reinforcements of Russia's military groups and relocation of military equipment. A railway echelon including 30 railway platforms with military equipment (up to 30 BMP's, BMD's and cargo vehicles) arrived at the railway station of Dzhankoy from Kerch.
According to Colonel Lysenko, while losing support of the population, the mercenaries are trying to fill their ranks by force. In Alchevsk, one of the illegal armed formations declared general mobilization. Men between 18 and 50 years of age are subject to forced mobilization. Also, starting today, the mercenaries are declaring 'martial law' in the city. A 'curfew' will be in effect between 10 p.m. and 6 a.m. in Alchevsk.