September 30, 2014, Kyiv – "Terrorists and Russian mercenaries continue infringing the ceasefire. Militants yet again attacked positions of the Armed Forces of Ukraine nearby Donetsk airport using artillery and "Grad" rocket launchers, and attempted two assaults. All the terrorists' assaults were successfully defeated. Yesterday terrorist also outshot fortified locality of the Armed Forces of Ukraine nearby Ridkodub village in Shakhtarskyi district three times with mortar fire and light weapons, after which they made an attempt to seize it.  Our servicemen successfully defeated all the assaults. Within last 24 hours there were no fallen among Ukrainian military servicemen, three servicemen were wounded", – reported Colonel Lysenko, the National Security and Defence Council Information Center spokesman at his briefing at the Ukraine Crisis Media Center.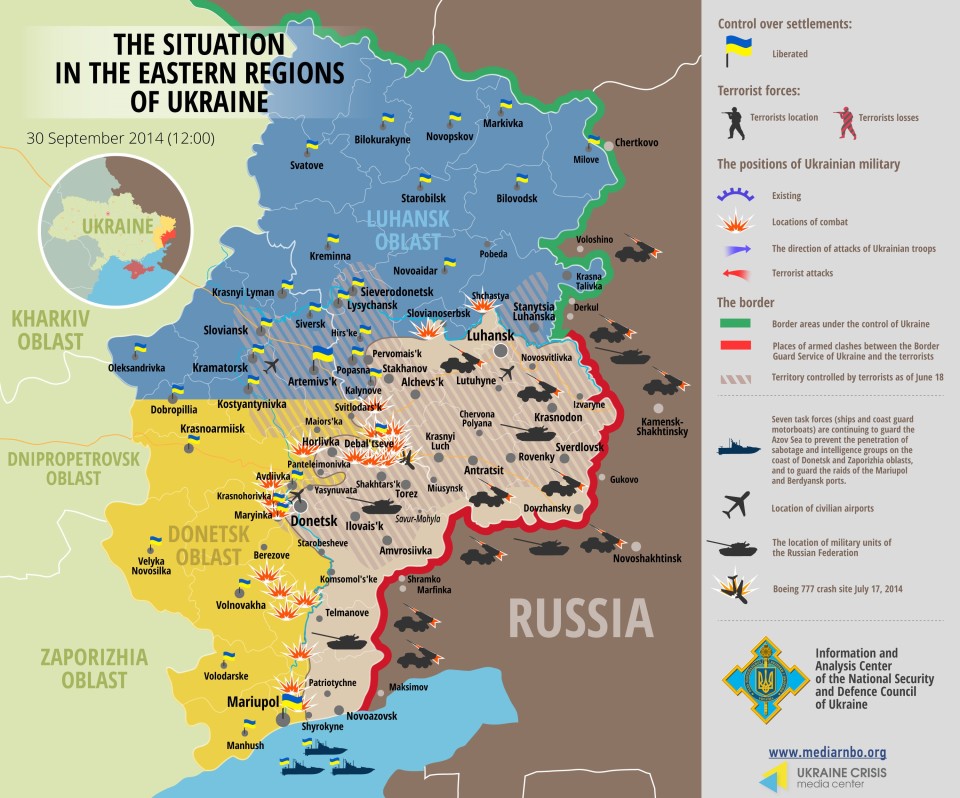 Within last 24 hours illegal armed groupings outshot ATO forces positions nearby Nikishyne village in Shakhtarskyi district five times using artillery, mortar guns and light weapons.
Increasing number of residential quarters bombardments conducted by militants groupings was recorded. In particular, an attack with "Grad" mortar launchers fire from Kirovske town towards Donetsk and Yenakievo as well as on Troyitske village in Yasynuvata district was conducted yesterday Militants also use 240mm self-propelled artillery mounts "Tyulpan", received from Russia, to outshoot residential quarters in Debaltseve town.
Colonel Lysenko informed that yesterday the President of Ukraine signed a decree on honoring 159 Ukrainian servicemen participating in ATO with state decorations. Soldiers of the Armed Forces of Ukraine, Security Service of Ukraine and State Border Service were honored with state awards of Ukraine "for personal courage and heroism demonstrated in defending state sovereignty and territorial integrity of Ukraine".
Active radio- and human intelligence of the Armed Forces of the Russian Federation continues in Ukrainian-Russian border.
Yesterday at 7:45 pm a pilotless aircraft which returned to the terrorist-controlled territory was spotted at a border segment nearby Mariupol in the area of Yalta – Talakivka populated localities at the height of up to 1500 m.
According to information collected, new Russian subdivisions appeared in Rostov region. These are the 100th special reconnaissance brigade from North Ossetia, reconnaissance and sabotage groups from the 2nd separate special mission brigade of the General Staff of the Armed Forces' Main Intelligence Directorate  of Russian Federation (from Pskov region) and the 22nd special mission brigade coming under command of the General Staff of the Armed Forces' Main Intelligence Directorate  of Russian Federation.
Crime rate deterioration is observed in districts of the Russian Federation bordering with Ukraine. This is due to migration to Russia of fugitive gunmen and representatives of uncontrollable terrorist gangs, as well as contraband and fencing of goods stolen in Ukraine. In connection with the abovementioned, Federal Security Service of Russia officers are conducting strict inspection of every vehicle entering Russia, in "Izvaryne", "Chervonopartyzansk" and "Dovzhanskyi" border crossing checkpoints which had been closed by Ukraine.
"Ukroboronprom" specialists repaired 18 armoured vehicles within last 24 hours, including tanks, airborne combat vehicles and airborne combat vehicles. 4 БТР-70,-80 armored personnel carriers as well as БТР-3,-4 for the Nationa Guard of Ukraine were repaired. 1 artillery system was renewed.
The NSDC spokesman informed on the situation in populated localities of the ATO zone. Yesterday the President of Ukraine terminated the employment if several heads of district state administrations in Luhansk region. In particular, heads of Troyitske, Stanychno-Luhansk, Slovyanoserbsk, Popasna, Pereval, Novoaydar, Lutuhyne, Kremin, Krasnodon, Bilokurakine, Bilovodska and Antratsyt district state administrations were dismissed by the order of the head of the state.  
Repair units of "Donetskoblenerho" renewed power supply in 21 populated localities of the region which had been cut off as a result of combat activity. (information from the Civil Coordination Center of the Ministry of Defence of Ukraine)
Terrorists organized sale of stolen vehicles in Oboronna street in Luhansk. About 100 vehicles are on sale in captured territory of one of the car showrooms. These vehicles were either taken away from citizens or stolen from auto dealers. Militants also released "Toyota" showroom owner from captivity. They were keeping him prisoner for several weeks until the man agreed to pass his property and assets to the terrorists.
Militants continue placing pressure upon medical workers. For instance, in Luhansk terrorists made employees of Luhansk city hospital No.9 submit their resignation notices.  Those who are willing to continue their employment are to file new notices on their readiness to cooperate with "Luhansk People's Republic" terrorist organization. Medical workers are offered foodstuffs instead of salary.
"Luhansk People's Republic" militants are making local inhabitants sell their houses in Lutuhino town. Terrorist are offering 100-1000 conditional currency units the real property. At the same time, local inhabitants are dropped a hint that their property will be taken from them anyway, with compensation paid or not. Emphasis should be laid on the fact that in compliance with the current legislation any agreement concluded under duress is void. We advice all citizens who suffered from terrorists' crimes to file written reports on the offences to prosecutor's office and law enforcement agencies following their migration to the liberated districts of Donbas or other regions of Ukraine.
Commenting on the response of international community to the events in Ukraine, Andriy Lysenko informed that the Chancellor of Germany Angela Merkel confirmed in Berlin that at present the European Union does not plan to lift or even mitigate the sanctions against Russia. In her opinion, pressure upon Moscow is to be continued, as the situation in the East of Ukraine "is far from satisfactory". According to the chancellor, so far she does not observe any changes in Moscow's attitude towards annexation of Crimea. Angela Merkel stated that Russia is also to demonstrate clearly absence of intention "to entrench upon other territories".
President of the PACE Ann Brasseur stated that the crisis in Ukraine endangers human rights maintenance and called upon the PACE to play constructive role in establishment of strong democratic peace through dialogue and cooperation.  PACE Bureau supported the proposal to hold debates on the crisis in Ukraine within the framework of autumn session without final resolution passing. An Austrian representative Stefan Schennach will be the main speaker on the subject.
Colonel Lysenko reported that as of today Ukraine officially numbers 295 thousand internally displaced persons. Around 5 million people live in conflict affected areas.
This is the information contained in UN Administration on Humanitarian Affairs report.
Situation in the areas controlled by militants is especially grave.  Due to the danger the access to them is limited and local organizations and Red Cross groups are running out of the items of humanitarian aid.
According to the information provided by the authorities, there is shortage of clothes, footwear, medicines, foodstuffs and hygiene items in the conflict-stricken areas. Drinking water is supplied limitedly or not supplied at all.
Sanitation issue is highly urgent in Donetsk and Luhansk regions.