October 2, 2014, Kyiv – "Situation in Luhansk and Donetsk regions remains tense, which is caused by terrorists' systematic violation of the ceasefire agreements.  Repeated bombardments and attacks of Ukrainian troops' positions as well as residential quarters bombardments took place. Donetsk airport remains the ground point of combat activity. Following two bombardments using tanks and "Grad" rocket systems, militants assaulted the airport four times yesterday.  Our servicemen were bravely holding the line, all the assaults were defeated, terrorists incurred sustainable losses. Today at six am the airport assault resumed.  The battle continues", -reported Colonel Lysenko, the National Security and Defence Council Information Centre spokesman at his briefing at the Ukraine Crisis Media Centre.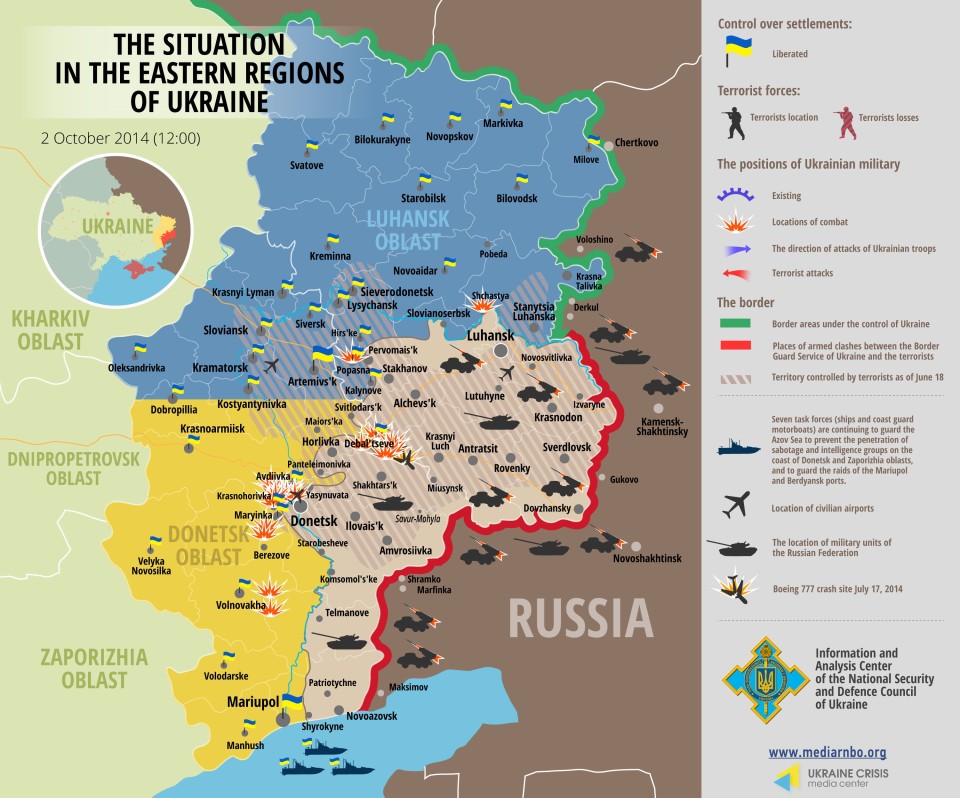 Terrorists repeatedly outshot ATO forces positions nearby Ridkodub, Nikishyne, Tonenke populated localities using artillery, mortar guns and light weapons. They also two times attacked Avdiyivka with fire.
A military squad tripped a РГД-5 grenade wire at a checkpoint nearby western edge of Mius populated locality. One servicemen died as a result of the explosion.
Colonel reported on the losses at Ukraine's side in the last 24 hours – one fallen and 18 wounded servicemen.
The NSDC spokesman informed that in order to overcome difficulties with identification of bodies of Ukrainian servicemen who died during ATO, the President's Administration made a decision on laboratories of the Ministry of Internal Affairs conducting DNA testing of all the bodies of the fallen ATO participants, starting the next week. The Ministry of Internal Affairs has 17 modern laboratories to serve these purposes and provide a possibility to conduct a timely and adequate DNA testing.
Relatives of lost in action should retort to the district police station for DNA testing. Internal affairs agencies are to issue appointment card to free DNA testing, basing on the corresponding criminal proceedings The DNA will be entered into unified database. As of today 552 unidentified bodies are in need of such testing.
Fulfilling the agreements of Trilateral Contact Group reached in Minsk, manning of trilateral clearing groups of observers finished in Donbas, dealing with ceasefire and phased stabilization of parties' limiting boundary. The groups in the nearest future will depart to the designated sectors marked with OSCE flag in order to collect and consolidate information on the fact of Memorandum provisions infringement, as well as to provide such information according to the established procedure.
Colonel Lysenko stated that as of today the groups' work did not start due to the absence of consent from illegal armed groupings who continue infringing ceasefire.
The NSDC spokesman informed that there were no military clashes or bombardments in Ukrainian-Russian border. At the same time, arrival of new subdivisions and military equipment of the Armed Forces of Russian Federation was recorded nearby Millyerovo and Frolovka in Rostov region next to the border segment "Krasna Talivka – Bilovodsk" in Luhansk region. They are deploying along the state border line.
According to intelligence data collected, a freight train with platforms carrying 5 APCs with "For Donbas" and "For Novorossiya" inscriptions was spotted in Ostryakovo station in temporarily occupied Crimea.
Border guards also recorded two pilotless aircrafts conducting air reconnaissance from the Crimean territory. At 8:55 pm one of them infringed aerial domain of Kherson region and proceeded towards Kherson at the height of 2 km.
"Ukroboronprom" mobile teams repaired 35 armoured vehicles within last 24 hours. 9 basic tanks Т-64 (БВ) and a "Bulat" combat vehicle were renewed, as well as airborne combat vehicles and armoured infantry vehicles БМП-1, БМП-2, БРЕМ numbering 17 units. 3 БТР-70,-80 armored personnel carriers as well as two БТР-3,-4 for the National Guard of Ukraine were repaired. 3 artillery systems and auxiliary machines were repaired as well.
Reporting on the situation in populated localities of the ATO zone, Andriy Lysenko informed that militants outshot Donetsk residential quarters using "Grad" rocket launchers. In particular, shells hit a route bus, building of a school No.57 and public transport stop.  As a result of this bombardment on the side of gunmen, 9 non-combatants died and 30 were wounded. A shell also damaged a 2-storey residential building No.439 in Kirov street.
The bombardment of the school in Donetsk caused extraordinary personal concern of UN Secretary General Ban Ki-moon. "Attacks at schools can are unacceptable, despite the circumstances" – stated the UN Secretary General.
Criminal proceeding was initiated upon the fact of the death of people. Though it is impossible to conduct full-fledged investigation due to the fact that these territories are controlled by militants, the offenders causing the Donetsk school bombardment will be punished.
Terrorist also attacked Popasna town and Zolote settlement of Pervomaysk town council using "Grad" rocket launchers.
As a result of terrorists' activity 92 overhead power transmission lines, 41 substations, 1150 transformers were damaged in Luhansk region. 64 populated localities are fully disconnected from the electricity supply and 10 are partially disconnected, including Luhansk, Lutuhyne, Pervomaysk and Kirovsk. Damage of power transmission lines reached catastrophic proportion in private housing sector in Luhansk. Terrorists' bombardments resulted in dozens of transmission towers being brought low by explosions, many transformer substations were destroyed as well.
As a result of terrorists' bombardments centralized water supply of the communal enterprise "Water of Donbas" Company" was stopped cold in Krasnoarmiyskyi and Dobropilskyi districts as well as in Krasnoarmiysk, Dymytrove, Selydovo, Hirnyk, Ukrainsk, Novohrodivka, Dobropillya, Bilozirsk, Bilytsk, Rodynsk towns. We would like to remind that the number of inhabitants in the region amounts to over 500 thousand people at present.
Renewal and rebuilding of ruined infrastructure and life support facilities are actively conducted in the liberated territories so that people are able to return to normal lifestyle as soon as possible. On the contrary, renewal works are almost impossible to conduct in the territories seized by terrorists due to intensive bombardments.< It undermines preparation of populated localities to heating season which might result in casualties among non-combatants in winter.
At the briefing Colonel Lysenko informed on the response of international community to the events in Ukraine
A member of Danish parliament Michael Aastrup Jensen in his speech at PACE autumn session called upon the Parliamentary Assembly of the Council of Europe to deprive Russia of PACE membership if it does not withdraw its troops from the territory of Ukraine.
New Secretary General of North Atlantic Treaty Organization Jens Stoltenberg stated that NATO did not aim at confrontation with Russia. Nevertheless, NATO will not tolerate Russia infringing international standards, so it will continue supporting Ukraine. "Crisis in Ukraine caused by Russian intrusion is one of primary challenges for North Atlantic security". NATO Secretary pointed out that armistice in Ukraine provides possibilities, but Russia, like before, preserves potential for destabilization of Ukraine", – he said, adding that Russia is still infringing international law.