Kyiv, October 3, 2014 – "Within the last 24 hours terrorists were the most active nearby Donetsk airport, in Donetsk itself as well as Avdiyivka outskirts, Pisky and Olenivka settlements nearby Debaltseve, in the area of Nikishyne, Maloorlivka, Ridkodub and Popasna towns. Militants continue assaults at these localities using artillery, mortar guns, multiple launch rocket systems, grenade guns and light weapons. Round-the-clock fights for Donetsk airport continue. Yesterday Ukrainian troops defeated attacks of militants and Russian mercenaries moving under the cover of tanks and high-angle fire two times. Our intelligence recorded considerable number of armored vehicles, heavy artillery and manpower arriving into the area.  Russians redeployed the entire subdivision of pilotless aircrafts operated by Russian specialists to the airport for the purposes of air reconnaissance and fire adjustment", – reported Colonel Lysenko, the National Security and Defense Council Information Center spokesman at his briefing at the Ukraine Crisis Media Center.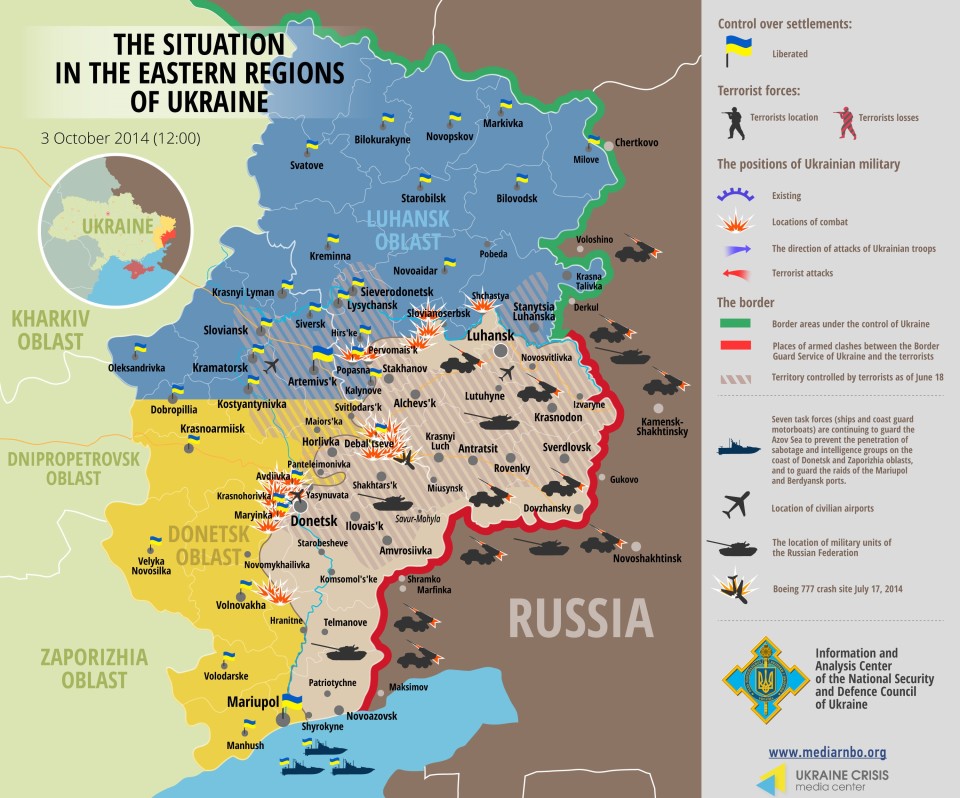 At present Donetsk airport is under ATO forces' control. Positions for defence of this object were strengthened, partial rotation of manpower and equipment took place.  Our troops are all ready to defeat another terrorists' assault.
Our servicemen defeated an attack at ATO forces base camp nearby Neveselske village (Yasynuvata district). Armed Forces found and blocked the advance of a subversive reconnaissance group of militants nearby Starohnativka village (Telmanivskyi district). Two Ukrainian servicemen killed and nine wounded in the last 24 hours.
Colonel Lysenko stated that in Donetsk and Luhansk regions terrorists continue infringing the ceasefire, which resulted in more casualties among non-combatants. Yesterday militants outshoot a school in Schastya town, which posed direct threat to children's lives. There are no casualties as a result of the bombardment, but the classes have been suspended for some time.  Yesterday about 6:30 pm an International Committee of Red Cross employee, Swiss citizen, died as a result of terrorists' bombardment of central districts of Donetsk.
The Ministry of Foreign Affairs of Ukraine in its declaration expressed sympathy to the deceased's family in its and condemned the terrorists outshooting Donetsk office of the International Committee of Red Cross the sole aim of which is to help people.
It was not the first case when terrorists' actions posed threat to representatives of international organizations.  Terrorists are actually trying to block international efforts directed at establishment of peace in Donbas.
UN Secretary General Ban Ki-moon made a statement in connection with the death of the Red Cross employee, expressing his sorrow and concern as well as calling upon immediate doubling the efforts on peaceful settlement of the crisis in Donbas. Acting OSCE head Didier Burkhalter also conveyed deep outrage over death of ten Donetsk inhabitants as well as the Red Cross employee resulting from the city bombardments. He is convinced that maintaining ceasefire agreements is the only real opportunity for the conflict de-escalation and it is "irresponsible" to put this opportunity at threat. The OSCE head called upon "immediate termination of hostilities and strict observance of ceasefire" as well as Minsk agreements maintenance.
The International Committee of Red Cross stated that at present they are studying the circumstances of the tragedy.
However, it is worth mentioning that a full-scale investigation of the death of the international organization representative, as well as bombardment of the school in Donetsk, is possible only with the participation of Ukrainian law enforcement agencies and Trilateral clearing contact group involving observers from Ukraine, Russia and OSCE.
No military clashes or infringements of Ukrainian aerial domain were recorded on the border segments controlled by Ukrainian troops.
The NSDC spokesman informed that Ukrainian intelligence recorded arrival of combat equipment of the Armed Forces of the Russian Federation in southern direction nearby Mariupol. Subdivisions of the Armed Forces of the Russian Federation whose location had been previously recorded in Rostov region also arrived to this direction. These are the servicemen of the 100th special reconnaissance brigade from North Ossetia The enemy conducts active air reconnaissance using pilotless aircrafts. ATO forces are ready to rebuke any aggressive actions from the enemy's side.
Situation in Mariupol town remains under full control. Works on engineering defense installations construction continue. Active search and neutralization of subversive groups takes place.
Specialists of "Ukroboronprom" mobile teams within last 24 hours repaired 4 combat tanks and 16 airborne combat vehicles and armoured infantry vehicles. 2 БТР-70 armored personnel carriers as well as БТР-4 for the National Guard of Ukraine were repaired. 2 trucks and 1 artillery system were renewed.
Special emphasis should be laid on volunteers' contribution to our army strengthening. According to the information provided by the Ministry of Defence, the Armed Forces received materiel and protective devices from volunteers and charity organizations to the amount of 200 million hryvnias. These were 8400 armoured vests, 1600 helmets, 3 vehicles, 12600 combat rations, 3900 pieces of various communications devices, 255 tons of fuel and lubrication materials, 7 countermine robots. Medical supplies to the amount of approximately 30 million hryvnias were received. They have already been delivered to our military medical institutions. All these assets have been registered and are used according to the intended purpose.
At the briefing Andriy Lysenko informed on response of international community to the events in Ukraine. The USA Assistant Secretary of State Viktoria Nuland qualified Russia's actions towards Ukraine as identical to extremism and terrorism committed by Islamic State of Iraq and the Levant and called upon the international community not diminish the threat resulting from the Russian intrusion into Ukraine. At the same time Viktoria Nuland accused Russia of proceeding with weapons supply to pro-Russian separatists even after the agreement on ceasefire in the East of Ukraine had been reached.
"It's high time for Russia and its puppets to withdraw troops and all the heavy armament that filled Eastern Ukraine, renew Ukrainian sovereignty within the internationally acknowledged borders and return all the hostages, especially Nadiya Savchenko and Oleh Sentsov", – stated Viktoria Nuland.
High Representative of the Union for Foreign Affairs and Security Policy Catherine Ashton emphasized that the ceasefire is a key to political crisis regulation based on the respect of Ukrainian sovereignty and territorial integrity.
The Minister of Foreign Affairs of Germany Frank-Walter Steinmeier stated that Russian heavy artillery and militants are to leave the territory of Ukraine and efficient control is to be instituted in Russia—Ukrainian border.
European Foreign Service expressed their concern in connection with infringement of ceasefire in the East of Ukraine and bombardments intensification, as well as increase in number of civilian casualties.
The Prime-minister of Romania Viktor Ponta stated that Romania supports sovereignty and territorial integrity of Ukraine as well as its movement towards Europe. He emphasized that the people of Ukraine alone had the right of choice and no third party was to make a decision instead.