Kyiv, October 6, 2014 – "No engagement occurred at the border within the last 24 hours. At the same time yesterday from 20 to 22 hours near Shyrokyne, Donetsk region 3 reconnaissance UAVs were spotted on the move towards Mariupol at 1km height. Yesterday in ATO zone in the daytime terrorists were shelling positions of Ukrainian servicemen, at night the attacks stopped. At 0.45 positions near Shchastya, Luhansk region were shelled. Terrorists made another unsuccessful attempt to storm the Donetsk airport, at 2.15 the attack ceased. After that our positions were not shelled. Yesterday during the daytime our military repelled terrorists' attacks outside Debaltseve, near village Hrodivka of Krasnoarmiysky district and near village Nikishyne of Shakhtarsky district.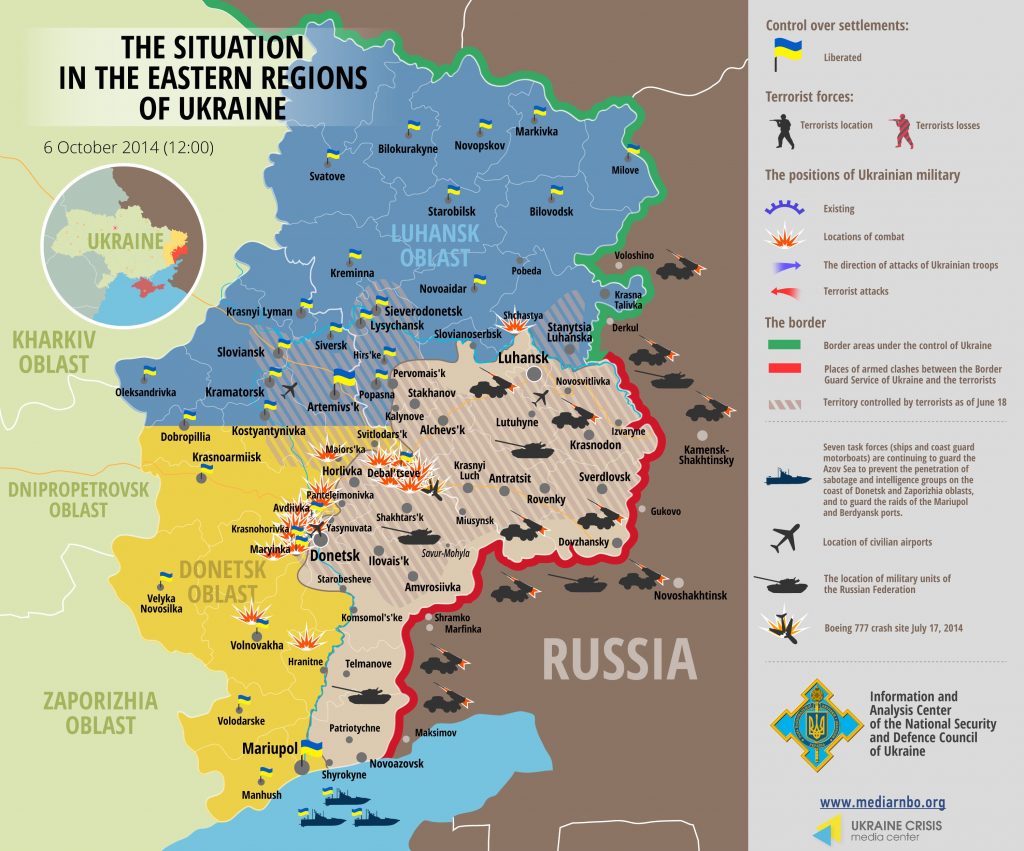 In Donetske of Kirovsky district National Guard servicemen repelled an attack and impeded breakthrough attempt by subversive-reconnaissance group of Russian mercenaries.
Near Shchastya militants shelled three times a stronghold of ATO forces and Luhansk thermal power plant with mortars, grenade launchers and artillery. Within the last 24 hours 1 Ukrainian serviceman was killed, 13 wounded in action", – updated on situation in eastern Ukraine Colonel Lysenko, the National Security and Defence Council Information Center spokesman at his briefing at the Ukraine Crisis Media Center.
Commenting on situation in ATO zone populated localities, Andriy Lysenko informed that last night in Donetsk was calm. During the day militants were firing at the city's residential blocks. Municipal repair and maintenance call-centers received numerous notifications on destroyed buildings and fire. As per verified data yesterday 2 civilians were killed in Donetsk as a result of terrorists' shelling, 13 got wounded by shell fragments of different severity grade. Petrovsky, Kyivsky and Kuybyshevsky city districts were damaged the most. Residential buildings and industrial plants got damaged after hit by shells and taken by fire. City infrastructure is operational, municipal services work in reinforced mode.
In Pavlopil village of Novoazovsky district, Donetsk region 20 militants of Kadyrov's force abducted head of the village council from home. They fired several shots from mortars at Ukrainian forces positions to provoke.
At his briefing Colonel Lysenko updated on the reaction of international community on events in Ukraine. Rapporteur on Ukraine in the European Parliament Jacek Saryusz-Wolski stated that within at least the last 10 years Russia has been stepping up its armament and preparing for military aggression. "It was our mistake – we thought that our active political efforts to enhance strategic partnership with Moscow will civilize Russia. And this is happening in the situation when at least in the last 10 years Moscow has been stepping up its armament and preparing for military aggression," he said.
Head of the Parliamentary Assembly of the Council of Europe Anne Brasseur spoke on the possibility to fully stop Russia's membership in the Assembly in January 2015. "I cannot foresee the future however I am of the opinion that in case no changes in the positive direction will occur before January there's a high probability that not only the powers of the Russian delegation will not be restored but on the contrary an opinion will be expressed that we would not want to work with the Russian delegation here," said Anne Brasseur.
Defence Minister of France Jean-Yves Le Drian claimed that France "in the nearest days" plans to launch a joint operation with Germany to monitor ceasefire in Donbas. Defence Minister of the Federal Republic of Germany Ursula von der Leyen claimed readiness to provide support to Ukraine upon request. Details of this programme are being currently elaborated.
At the end of his briefing the NSDC spokesman reminded the journalists who plan coverage in the ATO zone on the need to get accredited with the Security Service of Ukraine and to adhere to the rules of work in the ATO zone.Respective contact details for accreditation and rules of work for accredited media could be found on the web site of the State Security Service of Ukraine.