Kyiv, October 7, 2014 – "During last night terrorists and Russian mercenaries continued outshooting and attacking ATO forces positions. We are referring to latest attempts to assail Donetsk airport which was outshot using artillery, "Grad" rocket launchers and tanks. Ukrainian troops responded with fire. Terrorists incurred losses but are not giving up their assaults. War criminals outshot with artillery upon residential quarters in Olkhovatka settlement of Yenakiyeve town council from the direction of Tymofiyivka village in Shakhtarskyi district of Donetsk region. The also attacked Popasna town with mortar fire from the direction of Kalynove settlement in Popasna district of Luhansk region. These bombardment cannot be excused by any military expediency. These were cynical attacks at non-combatants resulting in death of 3 people in Luhansk region",- reported Colonel Lysenko, the National Security and Defense Council Information Center spokesman at his press briefing at the Ukraine Crisis Media Center.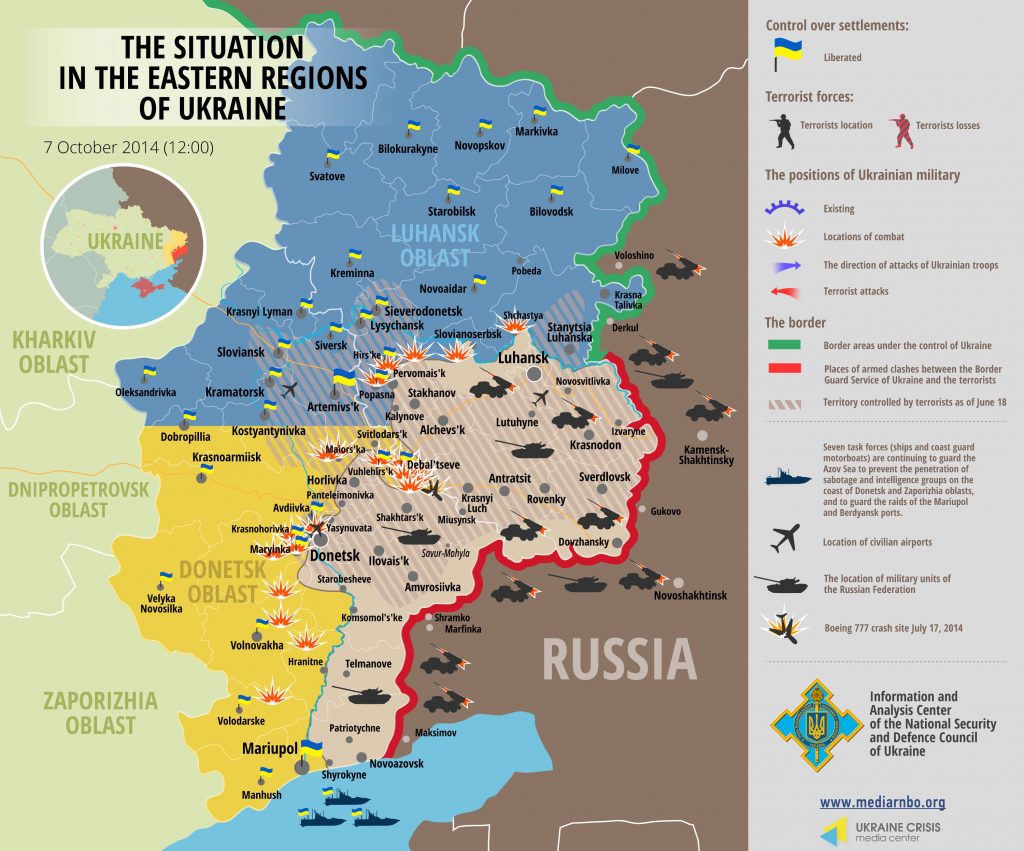 According to Lysenko, the biggest number of bombardments delivered upon our troops was recorded nearby Debaltsevo and Starohnativka in Donetsk region as well as Shchastya town in Luhansk region.
There were no military clashes recorded at the border beyond ATO area.
According to the NSDC spokesman, 5 Ukrainian servicemen killed in the last 24 hours as a result of bombardments and clashes.
Border guards keep recording the facts of air reconnaissance on south borders of Ukraine. Yesterday at 7:00 pm a pilotless aircraft was spotted at a border segment nearby Shyrokine settlement, moving towards Mariupol at the height of 1 km.
Border guards also observed demonstrative rotation of Russian troops on positions in occupied Crimea, next to "Chonhar" border crossing checkpoint. The relief arrived in 15 "KAMAZ" trucks, following which lineup and change-over took place.
At the briefing Andriy Lysenko commented on the situation in populated localities of the ATO zone.
The President of Ukraine Petro Poroshenko suggested that the members of parliament should give prior consideration to draft regulations on making changes to the limits of some districts in Luhansk region, provision of governance improvement and reduction of things to order in Luhansk region.
(Reference: The project under discussion envisages adjoining a part of territories of other districts liberated from terrorists to Novoaydarskyi and Popasnyanskyi districts. Head of Luhansk regional state administration Hennadiy Moskal is the author of the projected law)
It was the statement the President made yesterday during a meeting with heads of deputy factions and groups. This decision will offer a possibility of urgent opening of State Treasury territorial branches in these districts, paying pensions and salaries to citizens and providing them with the whole package of social services that the state is obliged to render.
Yesterday at 1:00 pm in Luhansk region nearby Bilovodsk populated locality in controlled border area an "MTZ" tractor-trailer carrying wheat for sawing works tripped one of the mines laid by militants' subversive groups. The tractor and the trailer are damaged, there are no casualties. It should be reminded that it was not the first case in this area. About a month ago a Ukrainian border detachment tripped a mine laid by militants.
Regardless of constant bombardments conducted by terrorists, communal services and repair teams are conducting renewal works. In particular, power supply cut off as a result of the bombardments on the side of terrorists, was reconnected in Makiyivka of Donetsk region. At present Nyzhnya Krynka and Nyzhniy Komunar settlement in Donetsk region remain disconnected from the electricity supply grid. Bridge across Nyzhnya Krynka river which is the only possibility to get to the damaged lines had been blasted by raiders of so-called "Donetsk People's Republic". Thus it is impossible to deliver specialized machinery to the site.
Colonel Lysenko informed that situation in Mariupol town remains quiet and controllable. Military detachments of the National Guard of Ukraine continue securing access control arrangements both in checkpoints and in the area of defence. Ukrainian troops are also conducting counter-subversive activities, searching and neutralizing intelligence subversive groups and armed criminals on the edge of the town.  Engineering protective works on town defence line construction continue.
Commenting on the response of international community to the events in Ukraine, the President of Ukraine Petro Poroshenko held a telephone conversation with the Federal Chancellor of Germany Angela Merkel, during which the emphasis was laid on local elections in some district of Donetsk and Luhansk regions that are to be conducted in compliance with Ukrainian legislation as well as in conditions of bilateral ceasefire. The Chancellor of Germany supported this position.
The President also emphasized on the necessity to re-establish control over Ukrainian-Russian border on the segment temporarily controlled by terrorist, provide Ukrainian border guards with the possibility to perform their functions under the OSCE monitoring and appropriate equipment support.
Petro Poroshenko also informed that 112 trucks with humanitarian aid from Germany to the war-stricken inhabitants of Donbas had crossed Ukrainian border and were proceeding to the East.
The President of Ukraine Petro Poroshenko also held a meeting with the USA Assistant Secretary of State fo European and Eurasian Affairs Victoria Nuland.   During this meeting the parties laid emphasize on the necessity to establish efficient control over Ukrainian-Russian border as the key factor for further peaceful regulation.
The President mentioned the necessity to take urgent measures in order to prevent humanitarian catastrophe in the invaded territories considering proximity of the winter season.  It is referred to resuming gas, electricity and foodstuffs supply.
Newly elected High Representative of the European Union for Foreign Affairs and Security Policy Federica Mogherini stated that the EU should apply every effort to prevent creation of overland passage between Crimea and the territory of Russia. She also mentioned that the regime of EU sanctions against Russia would depend on the situation in Ukraine. Besides, Federica Mogherini emphasized the importance of support of the Ukrainian economics, first of all, in conditions of "energy crisis threat".
NATO Secretary General Jens Stoltenberg is convinced that the Russian Federation is to change its actions and behaviour towards Ukraine. "Russia infringed every standard of international law, disrespected its international commitments and violated sovereignty and territorial integrity of Ukraine", – emphasized Jens Stoltenberg He added that Russia was to use its influence on militants so that they maintain ceasefire mode.