Kyiv, October 12, 2014 – Despite certain de-escalation in ATO zone in particular districts the situation remains complicated due to provocations by terrorists. Most tense situation is observed near Debaltseve, at Donetsk airport and near Shchastia. Within the last 24 hours there are no killed in action among Ukrainian military, 4 servicemen got injured. Outside Horlivka – in Mayorske village Ukrainian servicemen repelled terrorists' attack on their checkpoint. "The only case when terrorists used artillery was observed near Mius where ATO checkpoint came under fire. In general militants almost do not use conventional and rocket artillery against Ukrainian troops. At the same time they use it regularly in clashes between various terrorists' gangs. Such clashes have lately become more frequent. They represent a particular threat to civilians", – reported Volodymyr Polevyi, the National Security and Defense Council Information Center deputy head at his briefing at the Ukraine Crisis Media Center.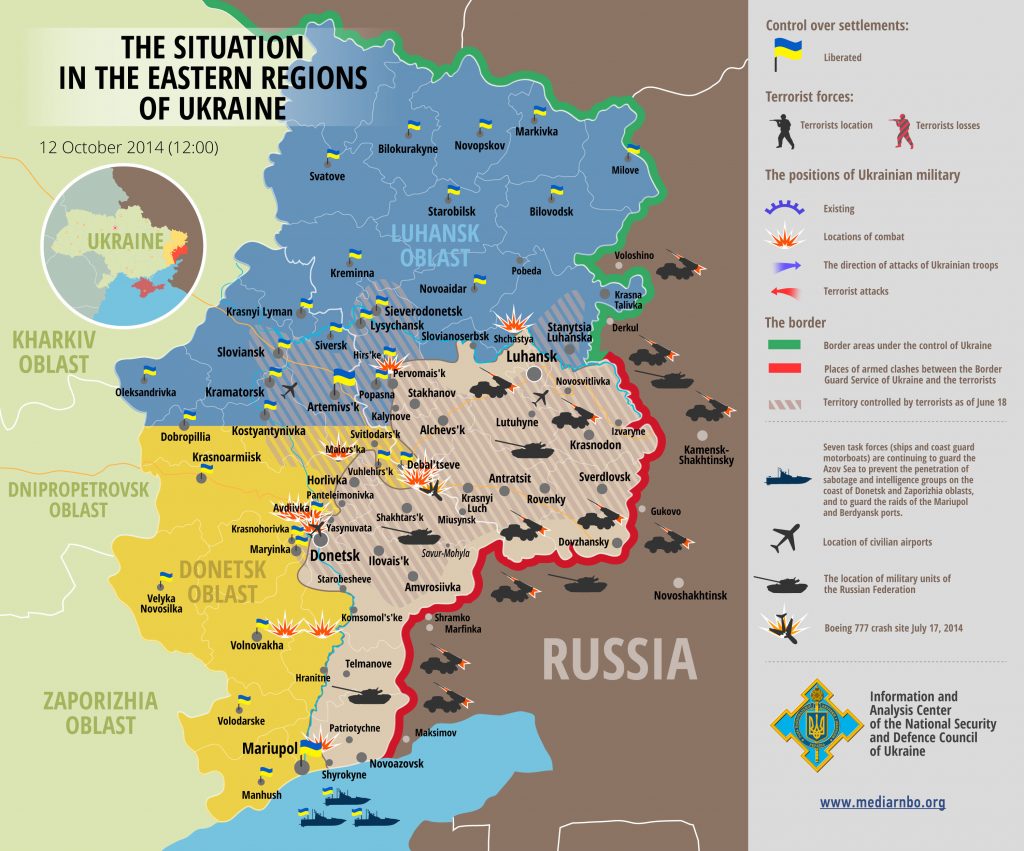 Within the last 24 hours terrorists shelled Donetsk airport 4 times with mortars, anti-aircraft mounts and small arms. Permanent storms of Ukrainian Armed Forces positions at Donetsk airport result in critical losses on the part of terrorists groups and Russian mercenaries. As per the field data militants' groups are planned to be re-filled with members of Cossack organizations from the Russian Federation. It is becoming problematic, more and more mercenaries refuse going to Donbas as the information on courage and heroism of Ukrainian military is spreading widely across Russia.
Situation in Mariupol is calmed and controlled, municipal services work in regular mode. Within the last 24 hours terrorists and Russian troops intensified their aerial reconnaissance activities as to the ATO positions. UAVs were spotted in action 6 times on Mariupol direction, twice at the administrative border with the occupied Crimea.
Within the last 24 hours pyrotechnic teams of the State Emergency Service of Ukraine discovered and seized 177 units of explosives. A total of 1400 hectares of land have been checked on liberated territories. 23 thousand units of ammunition were discovered and seized.
Yesterday President of Ukraine Petro Poroshenko made a work trip to Kharkiv region with traditional focus on security and defense. Petro Poroshenko also visited "V.O. Malyshev Plant" that produces modern armoured vehicles including "Oplot" tanks, modernized APCs BTR-E and BTR-4 MB as well as conducts overhaul for T-64 tanks and repair for BM "Bulat" tanks. Production of "Dozor-B" vehicles is being set up.
German civil society organizations refuse to take part in the Russian-German forum "Petersburg Dialogue". In their letter addressing German Chancellor Angela Merkel and German Minister for Foreign Affairs Frank-Walter Steinmeier numerous foundations and organizations explain their refusal by citing facts that Russian authorities "annexed Crimea violating international law and started an undeclared war of a new type in Eastern Ukraine." German civil society representatives point on pressure that is being imposed in Russia on independent media, opposition and non-governmental organizations, in particular on the fact that the latter are being forced to have registered as "foreign agents" in case they receive international assistance.