Kyiv, 20 October 2014 – Yesterday Ukrainian servicemen succeeded in disrupting terrorists' plan aimed at encircling the town of Shchastya from the two sides. In the first half of the day on 19 October Ukrainian military conducted mopping-up of territories near population center Smile. "Due to these preventive measures Ukrainian military managed to stop militants' massive offensive on the checkpoint in this area. Militants used tanks and mortars as well as big number of manpower. The goal of the offensive was to break through and seize the foothold on the left bank of Siversky Donets river with further seizure of Shchastya from the West," informed spokesman of the Information Analytical Center of the National Security and Defense Council Colonel Andriy Lysenko at a briefing in the Ukraine Crisis Media Center.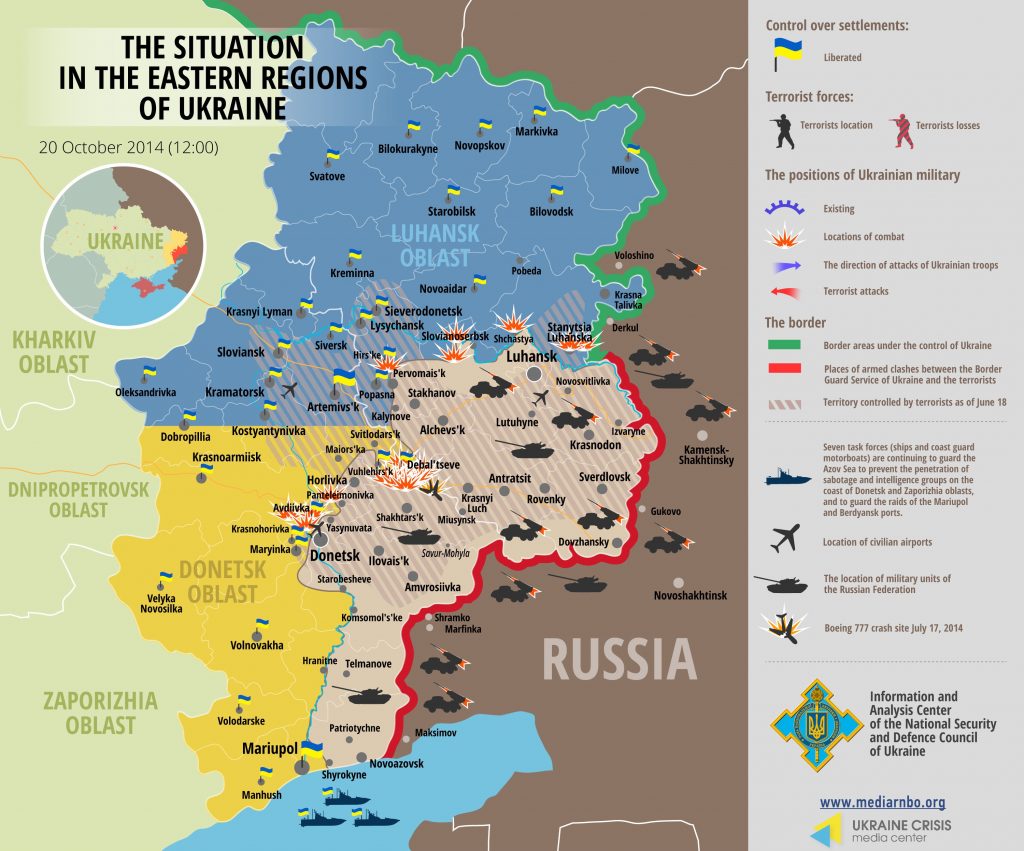 In the border area of "Krasna Talivka" border guard detachment anti-terrorist operation (ATO) forces fixed first attempt in one and a half months conducted by a subversive-reconnaissance group to penetrate from the territory of Russia. In case of success the terrorists would have reached Shchastya from the North-East. "Near Smile due to mopping-up activities and timely reinforcement our troops managed to inflict considerable losses on the enemy in terms of manpower and machinery. Enemy's tanks got hit by artillery return fire. Terrorists' attack collapsed, militants had to step back. All positions remain under control of our enforcers. Unfortunately during massive shelling and fierce combat in the area our military suffered losses. One "Aidar" battalion serviceman, one military of the 92nd brigade and several more servicemen from other units of Ukraine's Armed Forces who were holding the checkpoint got killed. Exact number of casualties is under clarification," noted National Security and Defense Council spokesman.
Border guards prevented penetration of Russian subversives on Ukraine territory. They opened fire for effect at the group of 14 armed persons who violated the state border of Ukraine. Subversives had to return to the territory of Russia. There no losses among the border guards. Numerous facts of ceasefire violation were fixed near Debaltseve and near Donetsk. ATO forces got shelled from "Grad" multiple rocket launcher systems near population centers Mykolayivka, Novobakhmutivka, Tonenke, Ridkodub, Yunokomunarivsk and near Kamjanka village; in Luhansk region: near Tryokhizbenka, villages Donetske and Mius. "Due to heroic actions of our military seizure of Luhansk power plant station was prevented, it supplies bigger part of the Luhansk region with electricity," added Colonel Lysenko.
Armed Forces of the Russian Federation continue reconnaissance activities with UAVs. Six recon flights took place near the population center Sartana close to Mariupol as well as Velyka Novosilka and Kurakhove West of Donetsk.
Head of the Ministry for Foreign Affairs of Latvia Edgars Rinkēvičs stressed that there are currently no grounds to lift the sanctions against Russia. In his intervention at the session of the parliamentary commission on European affairs within the Latvian Saeima he underlined that when introducing the sanctions the EU expected that the situation in Eastern Ukraine would get back to the pre-crisis level, however it never happened. "Currently the ceasefire is not being respected and the state of play with human rights in Eastern Ukraine and in Crimea is critical," he said.
Minister for Foreign Affairs of Estonia Urmas Paet informed that official Tallinn will disburse additional funds for the needs of the OSCE Special Monitoring Mission to Ukraine. According to him input of the OSCE is important and crucial to try and decrease the tension in Ukraine. International community has to do everything possible to support free, united and democratic Ukraine.