Kyiv, 27 October 2014 – "Voting in the Armed Forces was well-organized, no problems with voting were observed in places of permanent dislocation of troops. In the anti-terrorist operation (ATO) zone as well as on ranges, in the areas for renewal of combat readiness, military personnel took part in voting by having changed their voting place without changing the voting address and casted their votes only in the national multi-mandate election district. Around 10 thousand military voted in the ATO zone yesterday. Voters turnout in Donetsk region constituted 32,4%, in Luhansk region – 32,87%. Some ATO units located at the frontline or in other dangerous areas were not able to cast their votes. However the majority of servicemen were able to exercise their right to vote," informed Colonel Andriy Lysenko, spokesman for the Information Analytical Center of the National Security and Defense Council of Ukraine at a briefing in the Ukraine Crisis Media Center.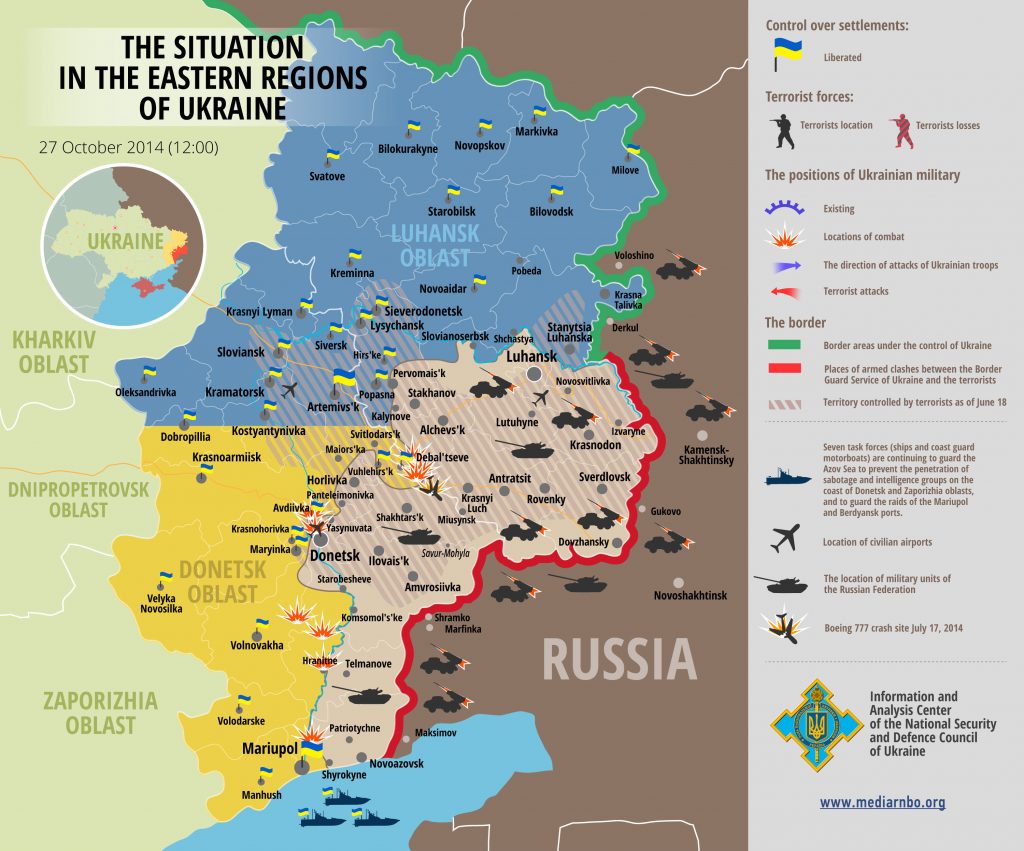 At the end of last week terrorists decreased their activities however they did not stop violating ceasefire regime in some areas. The situation at the checkpoint no.32 near Smile remains complicated but controlled. "Yesterday a raid was conducted to de-block the checkpoint, potable water, ammunition and food were delivered. Our military continue keeping their positions," noted Colonel Lysenko.
During the raid a combat vehicle lifting mines tripped a mine and went out of order. Ukrainian forces lost one APC that was conducting combat at the checkpoint side to support the breakthrough of de-block units. 2 servicemen of the APC team were killed.
The enemy keeps amassing military machinery and manpower in the North-West suburbs and regions of Donetsk. "Yesterday terrorists fired at Ukrainian positions at the Donetsk airport with grenade-launchers and small arms. However they did not dare to storm the airport as recently they suffered considerable losses and are not able to restore their forces," explained Andriy Lysenko. Militants shelled with Grad MRLS platoon strongholds of ATO forces near population centers Nikishyne of Donetsk region and Mius of Luhansk region.
This morning at 8:15 shelling of ATO forces with mortars and tanks started at Mariupol direction on Pavlopil – Hnutove line. Ukrainian servicemen successfully repelled the attack and damaged the tank which terrorists immediately abandoned on the combat field. At 7:10 terrorists also shelled ATO positions with mortars and Grad MRLS in the suburbs of Talakivka village. There are no losses on the Ukrainian forces side.
In Donetsk at night from 26 to 27 October it was calm. Around 10 am this morning militants started shelling residential areas of Kuybyshevsky, Kyivsky, Leninsky and Petrovsky district of Donetsk with large-caliber artillery.
Secretary General of the Council of Europe Thorbjørn Jagland welcomed early parliamentary elections in Ukraine and noted that they were clear expression of the Ukrainian people's desire for peace, democracy and unity of the country.
The joint statement of U.S. Ambassador to Ukraine Geoffrey Pyatt and U.S. Ambassador to the OSCE Daniel Baer says the atmosphere at the ten polling stations that they visited within several hours in Kyiv on Sunday was upbeat and positive. "Today we were privileged to observe Ukrainian democracy in action," the statement says.
Head of the Polish Ministry for Foreign Affairs Grzegorz Schetyna said the elections in Ukraine occurred in a democratic and open way, their legitimacy and transparency is beyond any doubt.
The Minister for Foreign Affairs of Lithuania Linas Linkevicius stated that the results of parliamentary elections testified for the victory of the European choice by Ukrainian people.
Canadian Prime Minister Stephen Harper said that parliamentary elections in Ukraine became an important step on the way towards reinforcing democracy in the country and stressed that Ottawa will keep further supporting Kyiv in EU integration issues.