Kyiv, 28 October 2014 – Terrorists' activity in certain districts of the ATO zone slightly increased as compared to the end of the previous week. Build-up of forces of illegal armed groupings and subdivisions of the Armed Forces of the Russian Federation is still being recorded in the territory controlled by militants. Terrorists outshot Ukrainian troops' positions in Donetsk airport using artillery, mortar guns and light weapons.  This object remains under our troops' control. Avdiyivka and Pisky adjacent to the airport have been outshot as well. 2 Ukrainian servicemen died and 2 were wounded within 24 hours", – informed a spokesman for the Information and Analysis Center of the National Security and Defence Council  colonel Andriy Lysenko during his media briefing in Ukrainian Crisis Media Center.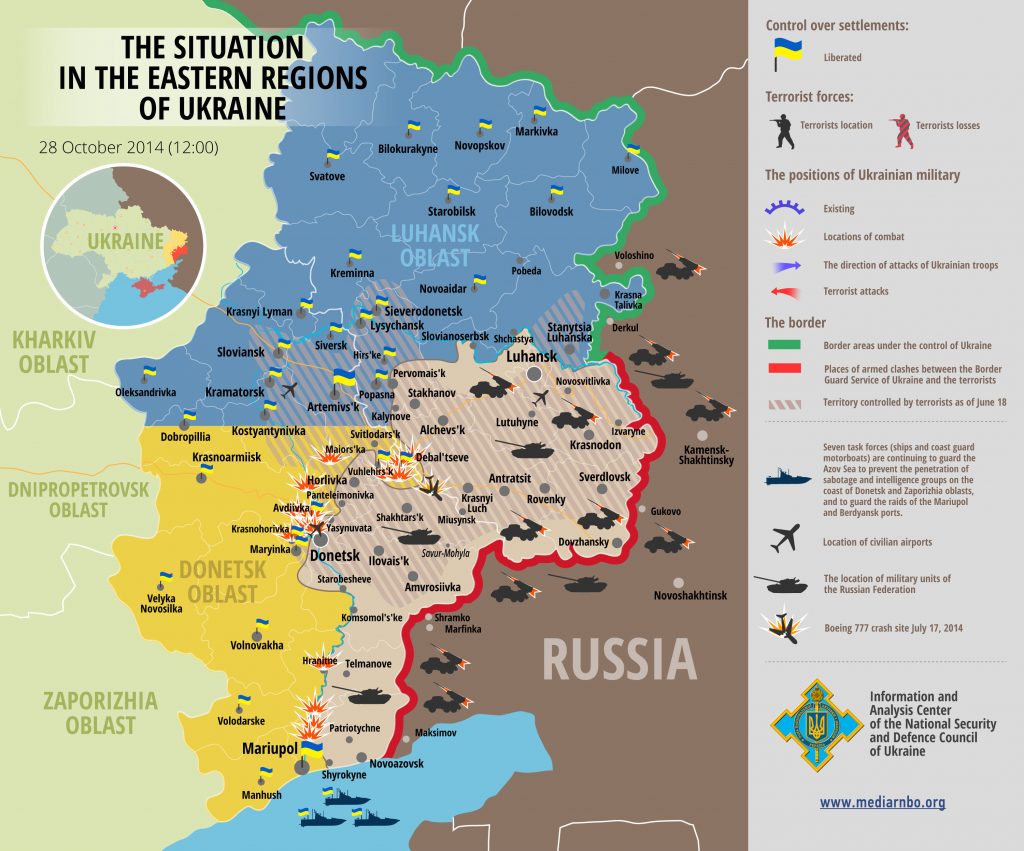 Ukrainian subdivisions destroyed one militants' tank and one vehicle during a fight in the area of Talakivka—Hnutovo nearby Mariupol yesterday.  Terrorist incurred loss of lives. Company defence area of ATO forces was outshot using "Grad" rocket launchers and mortar guns three times yesterday. The bombardment continued at 6:00 am today. There were no military clashes recorded at the border beyond ATO area.
Last night withdrawal of servicemen from the checkpoint No.32 nearby Smile settlement took place. The withdrawal took place without any losses, together with equipment and weapons. "At present the servicemen are rendered psychological and medical help following which the soldiers will be granted leaves. According to the preliminary information, losses in this area during all the time of confrontation since September exceeded ten people. At present identification of the bodies takes place and investigating destiny of some servicemen reported missing in action. As soon as more details arrive we will make them public", – explained Andriy Lysenko.
Fulfilling the Peace Plan of the President of Ukraine 21 Ukrainian servicemen help hostage by terrorists were set free from capture yesterday.
Several days before the parliamentary elections militants of so-called "Great Don Army" carried out slaughterous provocation in Sokilnyky village of Novoaydarskyi district of Luhansk region. "Terrorist wearing camouflage entered the settlement in off-roaders and put up blue and yellow (state Ukrainian) flags on houses of two local inhabitants – activists of so-called "referendum" for self-proclaimed "Luhansk People's Republic" held on 11 May. Militants shot a 58-year-old woman and a 47-year-old man dead using guns. LPR was trying to use this murder to discredit Ukrainian troops and Ukrainian authorities during the elections. Sokilnyky settlement has been under the LPR's control from the very beginning of combat actions and Ukrainian forces have not entered in a single time", – told the NSDC spokesman.
The President of Ukraine Petro Poroshenko held telephone conversations with the Vice-president of the USA Joseph Biden, the President of Poland Bronislaw Komorowski and the President of Slovakia Andrej Kiska.
The Vice-president of the USA Joseph Biden highly evaluated steps taken by the President of Ukraine which secured democratic character of the elections to Verkhovna Rada. The President of Poland Bronislaw Komorowski emphasized that the result of the parliamentary elections open a prospect of deep reforms to Ukraine and Poland is ready to support them in all ways possible.
The President of Slovakia Andrej Kiska pointed out the importance of pro-European and reformatory forces victory. Petro Poroshenko thanked Slovakia for provision of humanitarian aid to Ukraine and treatment of more that 60 Ukrainian citizen who suffered from the events in Maidan and combat actions in Donbas as well as for providing aid for the needs of Armed Forces of Ukraine and Neurosurgery Children's Center.