Kyiv, 31 October 2014 – "This morning at around 7 am the so-called Russian humanitarian convoy started crossing into Ukraine. Movement of 76 vehicles and 147 persons in total was spotted at the two Russian border crossing points (BCPs) "Matveev Kurgan" and "Donetsk". Ukrainian border guards who are on duty at these BCPs in the framework of the inter-agency working groups conducted only visual checks on vehicles and cargo. Customs clearance of the cargo was not conducted as there was no information available on who is going to receive it. As per intelligence data big part of the cargo is destined to supply militants' units as they are experiencing supply problems. Part of the food supplies Russians plan to hand out to locals in front of TV cameras during pseudo-elections on 2 November," stated Colonel Andriy Lysenko, spokesman of the Information and Analytical Center of the National Security and Defense Council (NSDC) at a briefing in the Ukraine Crisis Media Center. Representatives of the International Committee of the Red Cross did not take part in clearing and moving the cargo. According to the NSDC spokesman the Russian side violated international and Ukrainian legislation as to the movement of humanitarian aid goods.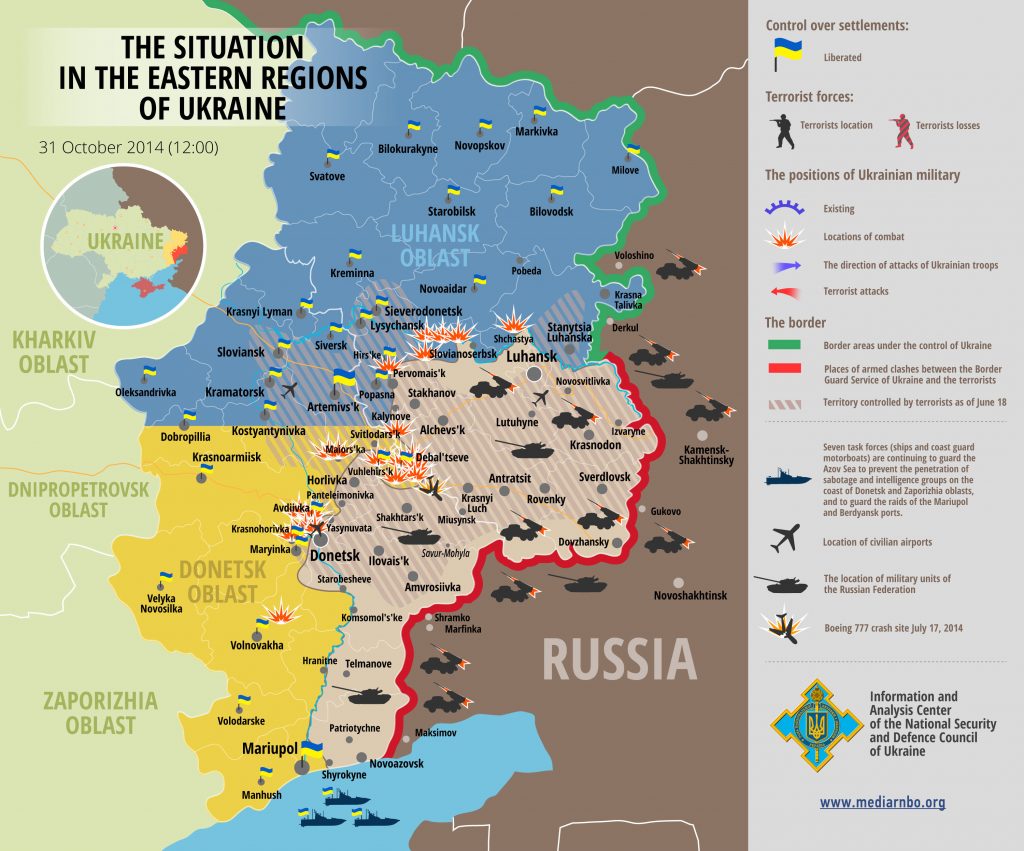 Analysis of tactical data demonstrates the tendency to increased activity by subversive-reconnaissance groups and to increased shelling intensity on the part of terrorists and Russian troops. Shelling of Ukraine-controlled population centers in Luhansk region earlier re-subordinated to Novoaydarsky and Popasnyansky districts increased. At the Donetsk airport and near Avdiyivka militants shelled positions of Ukrainian military seven times with multiple rocket launcher systems, mortars, grenade launchers, AA mounts and small arms. Shelling of Ukrainian positions near Debaltseve and Tonenke continues.
1 Ukrainian serviceman was killed in action within the last 24 hours, 4 got wounded in action. Yesterday 1 more Ukrainian serviceman was liberated from captivity, he was injured in combat and held by terrorists.
Russians keep moving personnel and military offensive machinery to the territory of Donbas controlled by militants. The machinery is being concentrated at the Donetsk direction.
Ukraine's Security Service started criminal proceeding against the citizen of the Russian Federation Mikhail Porechenkov based on the Art. 258-3 of Ukraine's Criminal Code  for participation in terrorists' activities of the so-called "Donetsk people's republic". "During his visit to support the "Donetsk people's republic" Russian actor Porechenkov opened fired at Ukrainian positions from terrorists' firing point near the Donetsk airport. Let me point your attention to the fact that while firing at Ukrainian military positions at the Donetsk airport citizen Porechenkov was wearing a helmet with "Press" sign that violates journalists' code of conduct and one more time underlines the nature of Russian media participation in the conflict in Ukraine," marked Colonel Lysenko.
Yesterday in Donetsk militants of different armed groups shelled one another with artillery. As a result of the shelling 1 peaceful local was killed, one was wounded with shrapnel.