Kyiv, 3 November 2014 – Yesterday on the territories of the defined districts of Donetsk and Luhansk regions temporary in control of terrorists of the so-called "Donetsk people's republic" and "Luhansk people's republic" took place "pseudo – elections" of heads of these organizations. "Armed militants were present at all "polling stations". Information was actively spread that anyone who does not come to vote will be acknowledged a "disloyal person" and will be prosecuted according to the "laws of martial rule". In the city of Snizhne voter turnout at "polling stations" was extremely low so terrorists drove up on tanks to residential blocks and by threatening to open fire were forcing people to take part in the "elections". In Rovenky local teachers and doctors wanted to go on strike not to take part in the "elections" but terrorists gathered them and started threatening them with weapons forcing to go to polling stations," – informed Colonel Andriy Lysenko, spokesman of the Information Analytical Center of the National Security and Defense Council (NSDC) at a briefing in the Ukraine Crisis Media Center.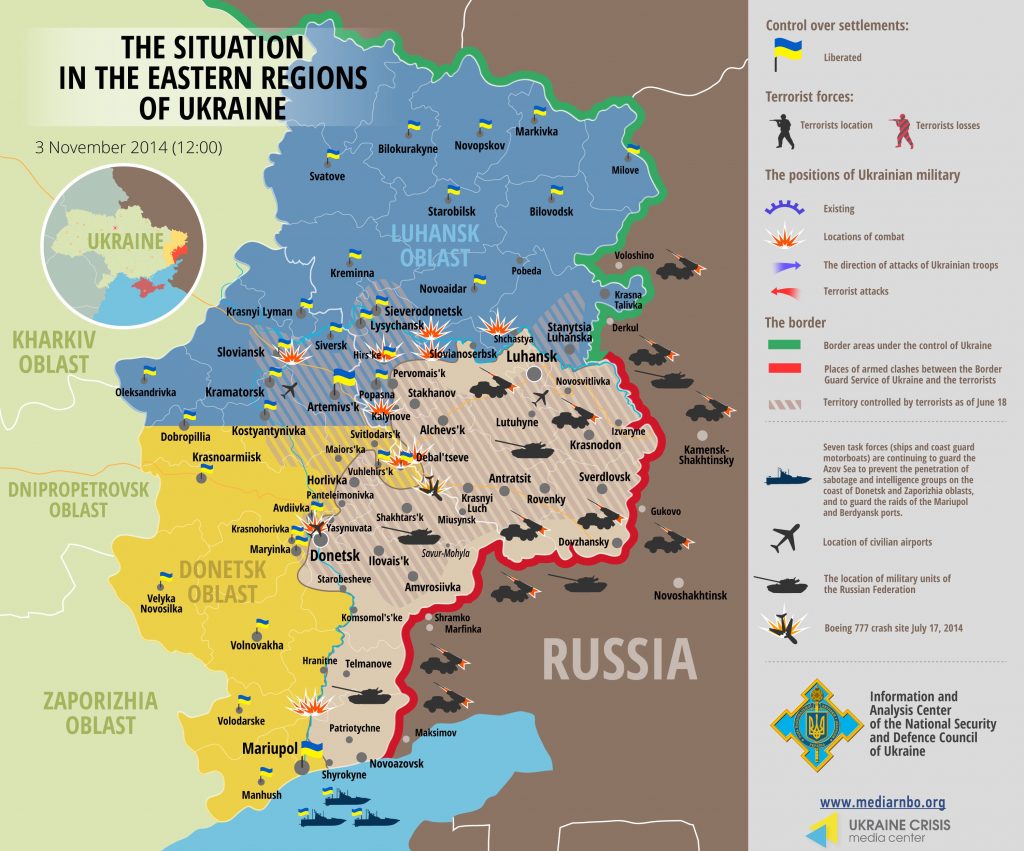 There was an attempt to stimulate people to vote by selling cheap vegetables and distributing the so-called social cards. To ensure "massive turnout" servicemen of the Russian Federation Armed Forces under the guise of "peaceful locals" took part in voting. Pensioners were convinced that their data required to receive their pensions was blocked by the Ukrainian state, thus there's a need to show up at the "polling station" in order to confirm their location as well as receive the "social card" having previously provided their data. "To imitate high voter turnout in the districts of Donetsk region controlled by the militants the number of "polling stations" was three times decreased, in Luhansk region seven times. "Voting indicators" do not make any sense as anyone could "vote", "voting" took place even in Russia, "ballots" for these "elections" were printed on regular printers, three days earlier the "voting" started in the Internet," explained Andriy Lysenko. After "pseudo-elections" ended terrorists restarted shelling at residential blocks on the territories that they temporary control.
Over past 24 hours two tendencies in the anti-terrorist operation (ATO) zone were observed. Yesterday terrorists continued violating ceasefire mode but became less active. The number and intensity of shelling of Ukrainian military positions decreased. Within the last 24 hours no serviceman was killed or injured. "At the same time intensive movement of the enemy's military machinery and manpower from the territory of the Russian Federation to the territory temporary controlled by militants doesn't stop. Russian troops even do not hide their presence anymore. Terrorists are most active near the Donetsk airport that got shelled with mortars as well in Stanytsya-Luhanska, Slovjanoserbsk and Popasna districts of Luhansk region," – added NSDC spokesman.
Over past 24 hours three reconnaissance Su-24 aircraft of the Russian Federation Armed Forces were spotted above the waters of the Azov Sea and above the Kerch Strait. "Apart from that Russian IL-20 aircraft was seen conducting radio-electronic reconnaissance above the waters of the Black Sea and near Zmiyiny island," marked Colonel Lysenko.
President of Ukraine Petro Poroshenko stated that the so-called "elections" in the occupied districts of the Donetsk and Luhansk regions seriously violate Minsk accords. "The farce under the barrel of tanks and guns organized by the two terrorist organizations in parts of Donbas is a terrible event that has nothing to do with the real expression of people's will," underlined the President of Ukraine.
The ministry for Foreign Affairs of Ukraine declared that no authoritative international organization and no democratic country sent their observers to the pseudo-elections. Self-proclaimed "observers" will bear respective legal consequences of their arrival to the Donetsk and Luhansk regions.
UN Secretary General Ban Ki-moon made a statement that the pseudo-elections of 2 November became a serious violation of Minsk accords and will not enhance peaceful settlement of the conflict in Ukraine.
US Secretary of State John Kerry underlined that official Washington does not regard the "pseudo-elections" in Donbas as legitimate, Russia's statements on their support go beyond the framework of achieved Minsk accords.
Apart from that spokesman of the US National Security Council Mark Stroh said that the US "advise Russia not to use" results in the so-called "Donetsk people's republic" and "Luhansk people's republic" as "a pretext to deploy additional troops and military machinery to Ukraine."