Kyiv, 4 November 2014 – Situation in the east of Ukraine remains tense. Russia builds up its military presence in the districts controlled by terrorists. "Terrorists use tactics that combines psychological pressure on Ukrainian servicemen (ultimatum to leave the block-posts) and massive shelling of our positions with rocket launcher systems, cannon artillery and sniper weapons. The actions aim to force the servicemen leave their positions. Anti-terrorist operation (ATO) forces return fire at terrorists and open fire only in case there's a direct threat to life," informed Colonel Andriy Lysenko spokesman of the Information Analytical Center of the National Security and Defence Council (NSDC) at a briefing in the Ukraine Crisis Media Center.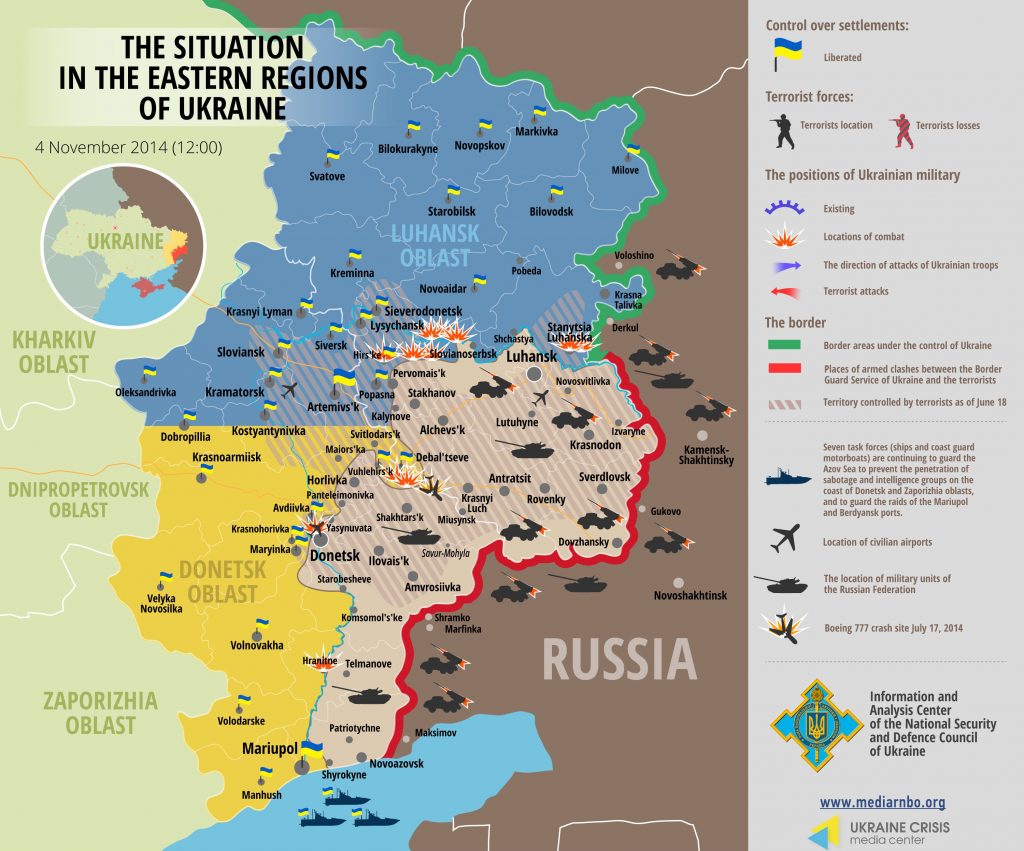 Main militants' activity is observed in Luhansk region.
On the territory of the Donetsk airport terrorists fired 4 times with mortars, grenade launchers and small arms. Over past 24 hours 3 Ukrainian servicemen got injured, there are no killed in action.
Meeting of the National Security and Defense Council headed by the President of Ukraine is scheduled for today. Security Council envisages considering abolishment of the law on special order for local self-governance in defined districts of Donetsk and Luhansk regions. "The Law was adopted clearly in the framework of the Minsk accords. Ukraine has fulfilled its obligations in full however terrorists yet again neglected an opportunity to normalize the situation and people's interests," explained Colonel Andriy Lysenko.
Yesterday the Head of OSCE Special Monitoring Mission Ertugrul Apakan and the US Representative to the OSCE in Europe Daniel Baer informed of an attack by Russian-backed terrorists at one of the UAVs of the monitoring mission while it was conducting observation flight.
Russians continue amassing their machinery on the territory controlled by terrorists and reinforce radio-electronic reconnaissance activities. According to the tactical data on 3 November near Bezymenne 3 tow vehicles were spotted that were allegedly transporting launch stations for tactical missiles. Near Solontsi village of the Russian Federation's Belgorod region yet another dislocation of Russian military machinery is spotted including Grad MRLS, APCs and artillery. "At the same time today from 7.25 to 7.45 the Russian side having violated international and inter-state agreements and without informing the Ukrainian side moved to Ukraine 10 vehicles of another so-called "humanitarian convoy" at the Donetsk border crossing point (BCP) of the Russian Federation. Ukrainian interagency group temporarily located at this BCP did not clear the cargo, we got no information re cargo's content," – informed Colonel Andriy Lysenko.