Kyiv, 5 November 2014 – Terrorists intensify outshooting the Ukrainian Anti-terrorist operation (ATO) forces in the ATO zone. Supply of military machinery and personnel from the Russian Federation does not stop. "General Staff of Ukraine's Armed Forces is observing their movement, analyses and plans forces and means for adequate response in case terrorists will get on more active offensive. In the last 24 hours Russian mercenaries were most active on territories of Novoaydarsky and Popasnyansky districts of Luhansk region, near Debaltseve, in the South of Donetsk region and around Donetsk itself," informed Colonel Andriy Lysenko, spokesman of the Information Center of the National Security and Defense Council (NSDC) at a briefing in the Ukraine Crisis Media Center.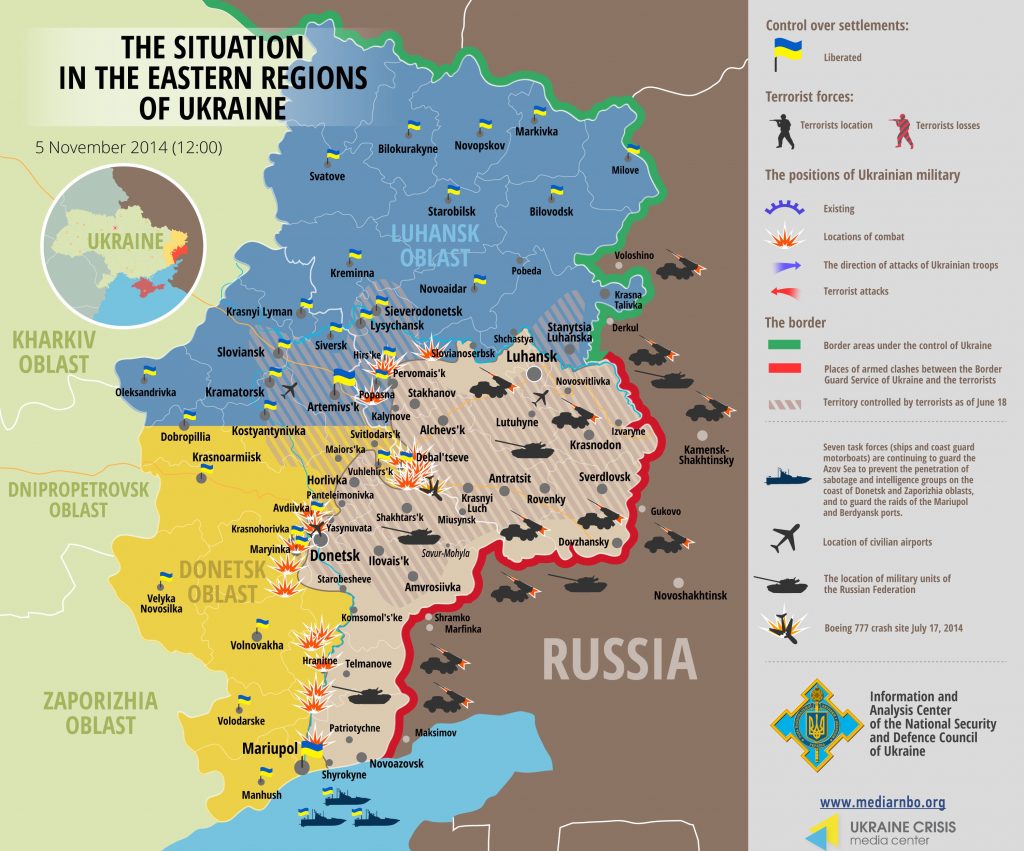 Armed Forces of the Russian Federation keep conducting aerial reconnaissance outside Mariupol and near Tryokhizbenka on Siversky Donets river. A total of 5 UAVs were spotted within the last 24 hours. "Right after UAVs appear in respective areas shelling from Russian heavy artillery starts," NSDC spokesman added.
At the Southern direction Russian-terrorist troops shelled twice from tanks and mortars ATO forces stronghold near Pavlopil population center in Novoazovsky district. Fire from small arms and sniper weapons was in place outside Talakivka and Hnutove population center. In all cases fire at the attackers was returned with artillery and mortars firing for effect. The enemy's firing points were destroyed. "Militants shelled with mortars, anti-tank missile systems and artillery ATO positions and convoys on the Donetsk-Mariupol road in Telmanovsky district. In Donetsk terrorists fired at Ukrainian military positions on the territory of the airport with artillery, mortars, grenade-launchers and small arms. Mercenaries having received fire response did not dare to start the storm," told Colonel Andriy Lysenko. Within the last 24 hours 2 Ukrainian servicemen were killed, 9 got wounded.
Yesterday the meeting of the National Security and Defense Council took place. Agenda included a set of issues related to the security situation in Ukraine resulting from the "pseudo-elections" of 2 November on the territories controlled by the militants. Security Council advised the President to introduce for Parliament's consideration a draft law to evoke the abolishment of the Law of Ukraine "On special order of local self-governance in defined regions of Donetsk and Luhansk regions." "NSDC tasked the Cabinet of Ministers of Ukraine to elaborate the draft law on the special order of conducting economic activities in defined regions of Donetsk and Luhansk regions. The Cabinet of Ministers was also tasked to set up supply of humanitarian aid to Ukrainian citizens on the territories controlled by militants. Particular attention at the meeting was paid to national security reinforcement: State Border Guard Service was tasked to set up effective control over movement of persons across the conflict line as well as reinforce fortifications and engineering constructions," added Colonel Lysenko.
President of Ukraine Petro Poroshenko had a phone conversation with US Secretary of State John Kerry. The President suggested to restore Geneva format of multilateral dialogue for peaceful settlement in Donbas at the level of Foreign Ministers. John Kerry expressed US support to Ukraine and to the actions of Ukraine President for compliance with the letter and spirit of the Minsk protocol for settlement of the situation. The parties discussed details of the military-technical cooperation.
NATO Secretary General Jens Stoltenberg stated that NATO holds Russia responsible for continuous military intervention and demonstration of power in the conflict in Ukraine. "Recently we are seeing Russian troops moving closer to the border with Ukraine and Russia continues to support the separatists by training them, by providing equipment, and supporting them also by having special forces, Russian special forces, inside the eastern parts of Ukraine," said NATO Secretary General.
Spokesman for the US Department of State Jen Psaki said that deployment of Russian troops to the border with Ukraine is another violation of Minsk accords on the part of Russia. "Russia is taking escalatory actions, of which troop movements would certainly be one of them," underlined the US Department of State representative.