Kyiv, November 9, 2014 – Additional militants' formations and subversive groups continue being shifted to Ukraine from Russia, supplies of armament, military weaponry and ammunition are being built-up. "Increase in number of armament and soldiers has been recorded even by OSCE monitoring mission representatives.  On November 8 OSCE monitors observed a convoy consisting of mote than 40 trucks, part of them carrying heavy equipment (122mm howitzers), nearby Makiyivka on the territory controlled by DPR militants. OSCE representatives also notices soldiers wearing unmarked dark-green uniform in the convoy. In Donetsk itself, at a junction between Leninska street and Kuprin street, observers noticed a tank column – four T-72 tanks and five T-64 tanks", – informed a spokesman for the Information and Analysis Center of the National Security and Defence Council  colonel Andriy Lysenko during his media briefing in Ukrainian Crisis Media Center. Acting OSCE chair Didier Burkhalter express serious concern in connection with report of special monitoring mission observers pertaining to movement of military convoys on the territories controlled by illegal armed formations.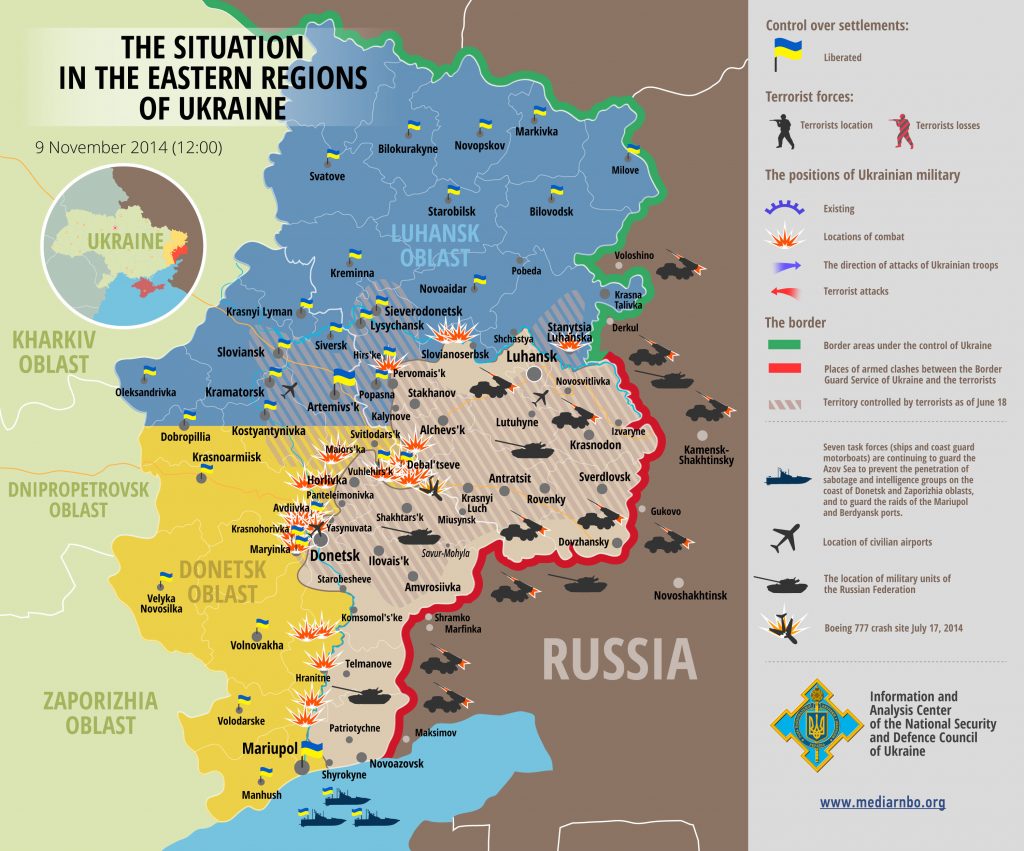 The possibility of massive provocations on the part of Russia (terrorist acts, shelling, armed assaults etc), followed by ATO forces being accused of them in order to establish preconditions and bring so-called "peacemaking troops" of the Armed Forces of the Russian Federation in Donbas can not be excluded.
Donetsk airport was attacked with fire four times using AA mounts, artillery, tanks, grenade guns and light weapons. Militants shelled Ukrainian dispositions in Donetsk, Debaltseve and Pervomaysk directions many times using artillery, mine throwers and light weapons.
Over past 24 hours 3 Ukrainian servicemen died and 13 were wounded. "Efforts on setting free 5 Ukrainian negotiators, who were captured by terrorist during negotiations on hostages liberation, continue", added colonel Lysenko.
5 coffins containing remains of crash victims which were found recently in the place of aircraft crash were sent from Kharkiv to the Netherlands yesterday in the presence of the Minister of Foreign Affairs of the Netherlands Bert Koenders and Head of Kharkiv State Regional Administration Ihor Baluta. "Exploration of fuselage fragments, collection of material evidences and taking a matter to a court will be the next important stage. Head of the Ministry of Foreign Affairs of the Netherlands informed on the course of investigation conducted by an international group lead by the Netherlands. Expert managed to identify 289 victims out of 298 by now", – explained Andriy Lysenko.
Ukraine qualifies destruction of a civil airplane with the missile launched from the territory controlled by Russian terrorists as a crime against humanity. International investigation team was given all the necessary information and materials. Ukraine hopes all the facts of the tragedy will be substantiated promptly and all the involved with the crash will receive appropriate punishment, in particular those who supplied terrorists with weapons and provided them with financial and political support.
The Minister of Foreign Affairs of the Netherlands also pointed out that he saw no reasons to cancel sanctions against Russia.