Kyiv, 14 November 2014 – The situation in Donetsk and Luhansk regions remains tense. Movement and concentration of Russian troops and militants' groups is being continuously observed. Biggest activity of the Russian mercenaries is spotted at the Donetsk, Luhansk and Debaltseve directions. "While trying to establish control over the Donetsk airport the militants focused on attempts to destroy communication between the defenders of this strategic object and main forces of the anti-terrorist operation (ATO). At night the bandits fired numerous times with mortars at the airport and at our positions in Pisky village. A night earlier they made another attempt to storm the airport. Bandits' attack was repelled, the strategic object remains under control of ATO forces. In response Ukrainian military destroyed the enemy's positions in Spartak area of Donetsk and between population centers Pisky and Krasnohorivka," informed Colonel Andriy Lysenko, spokesman of the Information Analytical Center of the National Security and Defense Council (NSDC) at a briefing in the Ukraine Crisis Media Center.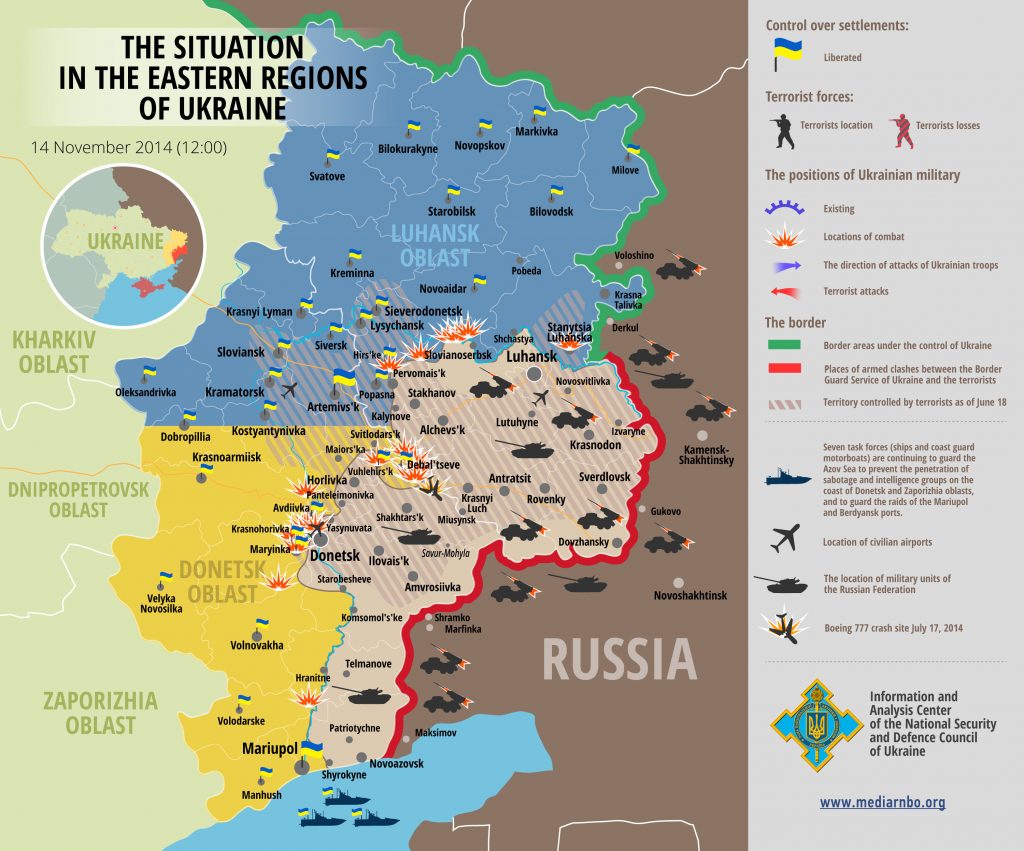 ATO forces positions near population centers Novokalynove, Krasnohorivka, Opytne, Marjinka and Berezove came under artillery and mortar fire. Yesterday terrorists opened fire at Heorhiyivka control post from the side of Marjinka, Donetsk region. At Luhansk direction terrorists are intensely firing at the area near Stanytsia Luhanska. Terrorists fired at Ukrainian strongholds with grenade launchers and small arms. At Pervomaysk direction militants fired with Grad MRLS and mortars four times at a checkpoint near Krymske village. Shelling at Debaltseve direction does not stop. Here militants fired at strongholds of ATO forces near population centers Nikishyne, Kamjanka, Donetsky and Chornukhyne with mortars, grenade launchers and small arms. Near population center Mius Ukrainian positions were twice shelled with Grad MRLS.
In the last 24 hours 1 Ukrainian serviceman got killed, 6 injured.
Yesterday monitors of the OSCE Special monitoring mission in Ukraine informed that in Luhansk separatists claim there are combats among local terrorist groups. "Recently armed clashes took place between representatives of the armed group in Krasnodon and terrorists of the so-called "Luhansk people's republic". OSCE actually confirmed the fact that we reported a number of times. In Luhansk OSCE representatives spotted a fact of recruitment of people by the so-called "Luhansk people's republic" terrorist organization in order to create the so-called "police" units. As per the OSCE information in the terroristic "Luhansk people's republic" the so-called local "police" and "border guards" are paid with food," added NSDC spokesman.
President Barack Obama during informal conversations with the President of the Russian Federation Vladimir Putin at the summit in Beijing called on Russia to honor a September cease-fire between Kyiv and pro-Russian terrorists in eastern Ukraine. President Obama expressed his concern over the recent reports of Russian military support to terrorists delivered across the border.
US Ambassador to the UN Samantha Power stated that throughout the Ukraine crisis US and the European Union have been united in their message to Russia. "Here, now, the message is to stop the continuous and ongoing blatant violations of the Minsk Protocol – those violations carried out by Russia and its proxies; stop fueling the fire with new weapons and support for separatists; withdraw all military personnel and equipment from Ukraine; repudiate the illegal elections on November 2," she underlined.
Bulgaria's Foreign Minister Daniel Mitov said that the aggression of Russia in Ukraine is an attempt to impose unacceptable strategic choices that could lead to a new Cold War. "Bulgaria being EU and NATO member has to develop clear understanding of political processes while economic, energy and other needs do not need to impede the adoption of important strategic decisions. In today's crisis respect of international legal framework and principles is of priority," claimed Daniel Mitov.