Kyiv, 19 November 2014 – The situation in Donetsk and Luhansk regions remains tense. Militants continue shelling and attacking the positions of anti-terrorist operation (ATO) forces. At the same time conflicts among various terroristic groups are getting sharper in the areas controlled by militants. Within the last day ATO positions were most intensely shelled at the Donetsk and Debaltseve directions as well as near Bakhmutka road. Within the last 24 hours 2 Ukrainian servicemen were killed in action, 13 got wounded," informed Colonel Andriy Lysenko spokesman of the Information Analytical Center of the National Security and Defense Council (NSDC) at a briefing in the Ukraine Crisis Media Center. At the Donetsk airport within the last day militants fired at the Donetsk airport five times with artillery, mortars, grenade launchers and small arms, there were also several attempts to attack the Ukrainian positions. "All attacks were successfully repelled, the enemy suffered big losses. ATO forces positions near villages of Pisky, Troyitske and Vesele were shelled with mortars. Our strongholds near Avdiivka got shelled with artillery and mortars three times," added NSDC representative.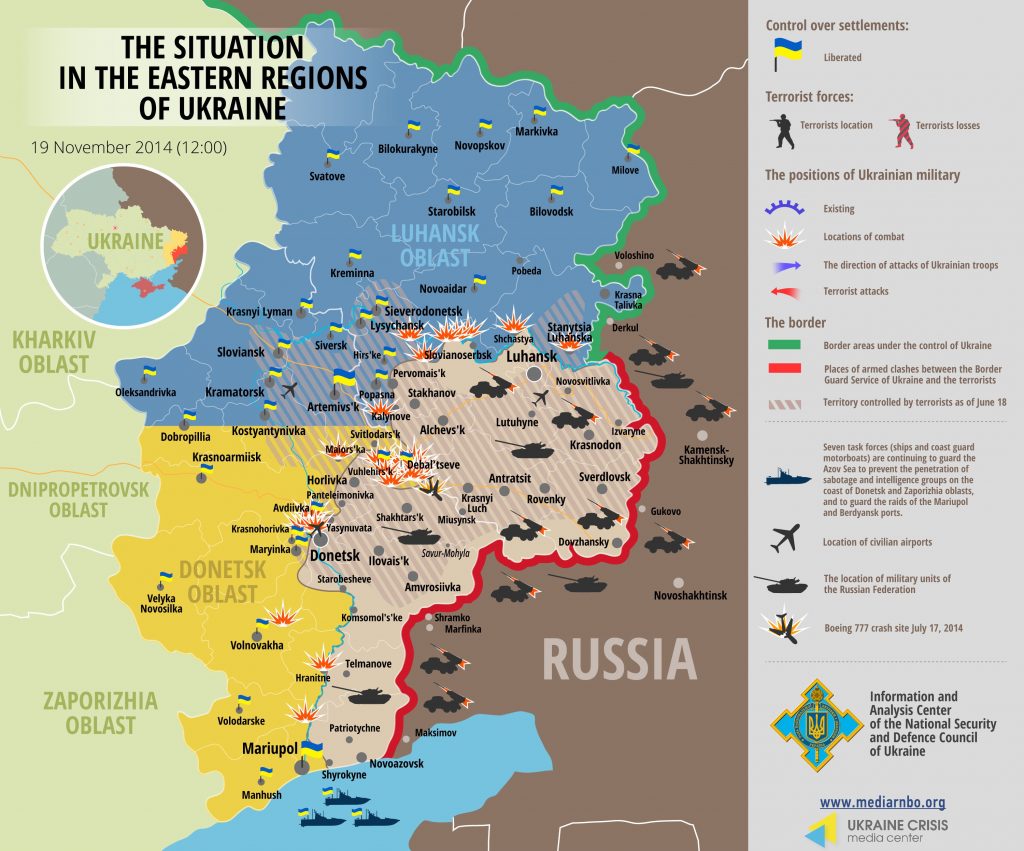 The situation at Debaltseve direction remains tense, here militants shelled with Grad multiple rocket launcher systems positions of ATO forces near population centers Nikishyne, Ridkodub, Donetsky and Novotoshkivske. Strongholds near Debaltseve and Chornukhyne were shelled with mortars. "Our artillery men return fire destroying firing point of terrorists. Militants keep shelling ATO forces positions near Bakhmutka road. Here terrorists shelled with Grad MRLS the National Guard checkpoint near Nyzhne village. Near villages Sokilnyky and Tryokhizbenka our strongholds were fired at with tanks, mortars and grenade launchers. Militants shelled another time ATO forces positions with Grad MRLS near Shchastya," explained Colonel Lysenko.
At Mariupol direction militants fired from tanks and artillery strongholds and checkpoints of ATO forces near villages Hranitne, Orlovske and Mykolayivka. "In general the enemy changed the tactics and gets less to open attacks at the positions of Ukrainian military. It happens because all attacks are being repelled, the enemy loses armoured vehicles and manpower," noted Colonel Andriy Lysenko.
Build-up of Russian troops in the regions bordering on Ukraine is observed. Perm-based aviation unit was redeployed to Millerovo airdrome in Rostov region. Radar locators and fighter jets MiG-31 that could control the airspace above the whole Luhansk region were brought to the border with Ukraine. NATO also confirms the fact of Russian troops concentration.
In Brussels ahead of the meeting of EU defense ministers NATO Secretary General Jens Stoltenberg said that according to the Alliance information Russia launched a serious military buildup both inside Ukraine and along its shared border, "deploying troops, equipment, artillery including sophisticated air defense systems". NATO General Secretary called on Russia to stop the escalation of the conflict, withdraw its military forces, stop supporting terrorists and respect the Minsk accords.
A project for monitoring of human rights violations in Crimea started its work. In the framework of the project implemented by the internally displaced from Crimea and civil activists an interactive map was created with all cases of violations marked on it. "Since 24 February 103 cases of violation of civil and political rights have been spotted, 70 cases of the rights violations of indigenous peoples and national minorities, 65 cases of cultural and religious rights violation as well as 139 cases of social-economic rights violation of citizens. While in spring – at the beginning of the Crimea occupation mostly pro-Ukrainian activists were persecuted, lately the pressure on Crimean Tatars is growing. Since the start of the occupation 21 representatives of Crimean Tatar community were abducted, part of the people were killed. These facts will be documented and passed for feedback and action including to the international organizations. The interactive map of human rights violations in Crimea will be placed on the www.teraze.org.ua website. All citizens whose rights were violated and who have got the information regarding these facts can join the making of the map," explained Colonel Andriy Lysenko at a briefing.
Ukraine and Norway signed a deal for the provision of financial aid to Ukraine in the amount of € 15 million. Norway will provide Ukraine with € 3 million to support internally displaced from Eastern Ukraine, earlier it disbursed € 1 million for this purpose. Erna Solberg also assured that Norway will help Ukraine rebuild its destroyed infrastructure in Donbas.
UK Foreign Secretary Philip Hammond said the UK will continue to apply pressure to Russia until it complies with its obligations. He reminded that at the European Council yesterday the participants agreed to take further measures in response to the illegal elections in eastern Ukraine.
US Senator John McCain and Senator Lindsey Graham urged President Obama to provide lethal arms to Ukrainian forces, who are trying to ward off a renewed invasion threat by Russian forces. They underlined that the United States and the European Union must provide Ukraine with the arms and related military and intelligence support that its leaders have consistently sought and desperately need. The Senators expressed the conviction that in case the US and the EU do not realize the gravity of the situation, Russian aggression will spread to Moldova and the Baltic states.