Kyiv, 26 November 2014 – Situation in the anti-terrorist operation (ATO) zone remains tense. Within the last day Russian mercenaries held massive shelling at the Debaltseve, Donetsk and Luhansk directions and in the Bakhmutka road area. "Analysis of the data received testifies for possible intensification of combat actions at Lysychansk and Stanychno-Luhanske directions. There militants concentrate their main efforts on establishing control over the road Lysychansk-Luhansk and on seizing of the right bank of Siversky Donetsk river. There is still a possibility of an offensive from the territory of the Russian Federation in the direction of Nyzhnya Vilkhova of Stanychno-Luhansky district. There is a threat that the militants could intensify their activities aiming to encircle Ukrainian units near Debaltseve. ATO command is taking adequate measures to neutralize these threats. Russia continues to directly support terroristic activities," informed Colonel Andriy Lysenko spokesman of the Information Analytical Center of the National Security and Defense Council (NSDC) at a briefing in the Ukraine Crisis Media Center.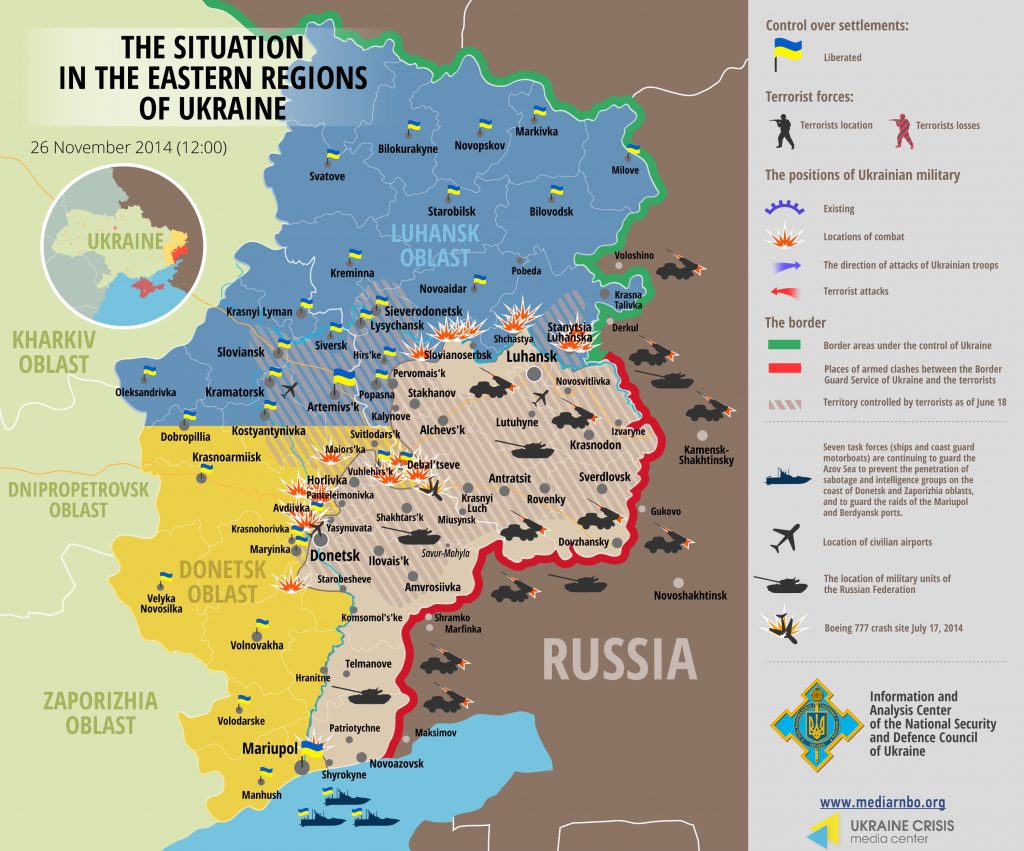 On 25 November 2 convoys of military equipment from Russia were spotted on the move in the Luhansk direction through "Izvaryne" border crossing point. These were 40 trucks escorted by 2 armoured vehicles and a UAZ vehicle. Majority of the vehicles were curtain-sided KAMAZ trucks: 7 vehicles were transporting the enemy's manpower, over 20 vehicles towed artillery systems. 10-12 military curtain-sided trucks crossed into Ukraine via "Dovzhansky" border crossing point directed to Antratsyt of Luhansk region. According to Colonel Andriy Lysenko in these particular border crossing points Russia blocked the work of the OSCE monitoring mission. At the moment in Donetsk and Luhansk region 142 monitors are working, 11 of them are Russian citizens, 11 are from the US, 14 monitors are UK citizens.
On the territory of the occupied Crimea Fourth command of the air force and anti-aircraft defense of the Russian Federation is forming units of the new air division.
On 25 November in Stanychno-Luhanske area at the Manotsky-Kolesnykivka direction violation of Ukraine's air space by 2 Russian jet aircrafts occurred, the jets penetrated the Ukrainian territory half and five km deep respectively. "Anti-aircraft defense system of Ukraine's Armed Forces fixed provocative actions of the Russian aviation and was ready to hit the targets however the enemy's aircraft returned back to the Russian territory," added Colonel Lysenko.
At the Debaltseve direction in Debaltseve area militants fired at ATO strongholds and checkpoints nine times with Grad BM-21 MRLS and mortars. At the Donetsk direction within the last day militants fired at the positions of Ukrainian servicemen on the territory of the airport three times with artillery and small arms. Militants struck ATO forces with Grad MRLS near population centers Troyitske, Pravdivka, Novokalynove, Tonenke and Verkhnyotoretske. The situation at the Luhansk direction remains tense as militants shelled ATO strongholds and checkpoints near Shchastya and Verkhnya Vilkhova village with Grad BM-21 MRLS and mortars.
Militants keep holding massive shelling in the Bakhmutka road area, there terrorists shelled ATO positions near Krymske and Tryokhizbenka over eight times with Grad MRLS and mortars. Near Donetsky population center of Luhansk region terrorists fired at the National Guard checkpoint from mortars. Within the last day 2 servicemen were killed in action, 2 got wounded.
Yesterday Pentagon Press Secretary Rear Admiral John Kirby informed that that Pentagon continues to evaluate all Ukrainian requests for military aid and assistance but right now the focus remains on nonlethal. "Non-lethal aid" includes body armour, helmets, thermal imagery devices, night vision devices, communications equipment, vehicles, patrol boats, heavy engineering equipment, field rations, tents, uniforms as well as devices for first aid provision and medicines. Assistant Secretary of State at the US Department of State Victoria Nuland expressed concern that Russia sends military supplies to militants under the guise of humanitarian aid to population of Donetsk and Luhansk regions.