Kyiv, 15 December 2014 – "Militants and units of the Russian Federation Armed Forces keep moving additional weaponry, military equipment and supplies to Ukraine. Anti-terrorist operation (ATO) forces are monitoring such actions to prepare adequate response. Number and intensity of shelling in the ATO zone continues to decrease. It did not cease completely though, within the last day fire was opened 7 times by terrorists. There were no cases of fire opened from armored vehicles, cannon or rocket-launching artillery. There were no casualties among the Ukrainian servicemen reported within the last 24 hours, no reports on the wounded in action were obtained," informed Colonel Andriy Lysenko, spokesman of the Information Analytical Center of the National Security and Defense Council at a briefing at the Ukraine Crisis Media Center.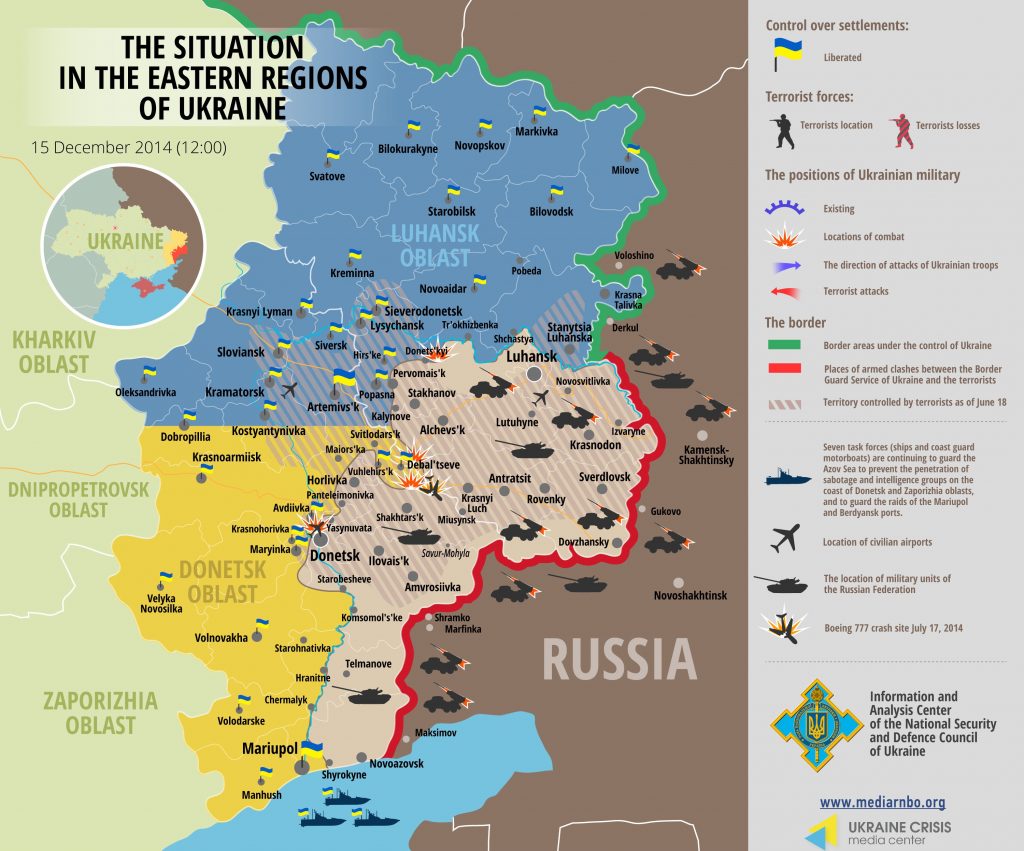 Within the last day militants fired twice at the positions of Ukrainian servicemen in the area of the Donetsk airport. Terrorists also fired at the stronghold of the Ukrainian Armed Forces near Orlovo-Ivanivka village of Shakhtarsky district. In Luhansk region positions of ATO forces came under mortar fire near town of Frunze in Slovyanoserbsky district; near Chornykhyne town of Popasnyansky district ATO forces were fired upon with small arms.
Yesterday border guards witnessed the UAVs deployed by Russian troops 4 times at the directions Krasna-Talivka-Derkul and Zolotaryovka-Voloshyne. They were conducting aerial reconnaissance and moving along the state border line. There were no engagements or other incidents at the border outside of the ATO zone. Terrorists assisted by the Russian experts started actively using equipment to disrupt communication among the ATO units.