Kyiv, December 28, 2014. Residents of eastern Ukraine who found themselves in the middle of military confrontation, including those living in the occupied territories, are getting the Ukrainian humanitarian aid already. Volodymyr Polevyi, deputy chief of the Information and Analytical Centre of the National Security and Defense Council of Ukraine, informed about this during the press-briefing at the Ukrainian Crisis Media Center.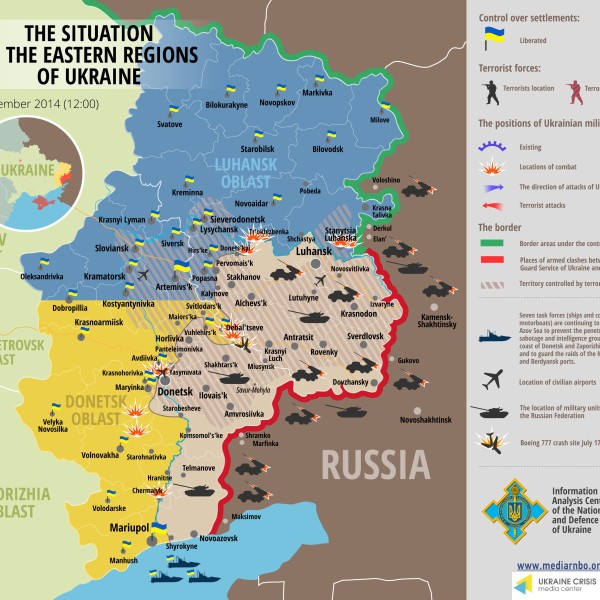 Volodymyr Polevyi told that eight more citizens of Ukraine, four Ukrainian soldiers among them, have been released from the terrorists' captivity yesterday in accordance with the President of Ukraine's plan for a peaceful resolution of the conflict. Overall, 154 hostages were released in the last two days.
The NSDC representative noted that terrorists instigate armed provocations despite the declared ceasefire in the conflict zone. According to the military intelligence, terrorists train new recruits on specialized military sites and continue to strengthen fortifications, claiming they are preparing to "repel the attack". "This shows that terrorists are not interested in peace process in Donbas. They do not stop organizing new provocations, accusing the Ukrainian side in violating the ceasefire regime," Mr. Polevyi said. Although no facts of using heavy weaponry by the terrorists were confirmed, the atmosphere on the frontlines in Donetsk and Luhansk regions remains tense. Three Ukrainian soldiers were wounded in the last 24 hours.
According to the latest information, the self-declared government of the "Donetsk People's Republic" is planning to create a so-called "Technical Inventory Bureau of DPR" to register property rights, which will be accountable to the so-called "Ministry of Construction and Communal Service of DPR". "Thus the rebels are going to legitimize the criminal seizure of personal belongings, including property," Polevyi explained.
The NSDC representative explained that the first part of the humanitarian aid, which was collected by the general public  and volunteers from all over the country, was delivered to residents of eastern Ukraine, namely Krasnyi Luch, Alchevsk and Debaltsevo, according to President of Ukraine's plan for a peaceful resolution of the conflict.  First of all, the humanitarian aid will go to orphanages, homes for the elderly and hospitals. The bulk of aid consists from warm clothes, food sets, baby food and other essentials. The aid has also been delivered to a number of settlements on the frontline, which were cut from receiving social payments for several months due to the terrorists' criminal actions.