Kyiv, 14 January 2015 – At 14:15 yesterday near Volnovakha militants shelled "Bugas" access control point on the Mariupol-Donetsk road with Grad multiple rocket-launcher systems, 2 buses and 8 cars with civilians were located on the spot. Shell fragments hit the bus that was leaving the access control point. As per the information by the Ukrainian Security Service resulting from this terrible crime 12 civilians were killed, 17 wounded. 1 serviceman was also wounded. To investigate the tragedy traffic through the access control point has been stopped. "Martin Schultz, President of the European Parliament in a phone conversation reassured President of Ukraine Petro Poroshenko that on Thursday, 15 January the European Parliament will address the European Union leadership calling to include the so-called "LPR" and "DPR" into the list of terrorist organizations," informed Colonel Andriy Lysenko, ATO spokesman at a briefing at the Ukraine Crisis Media Center.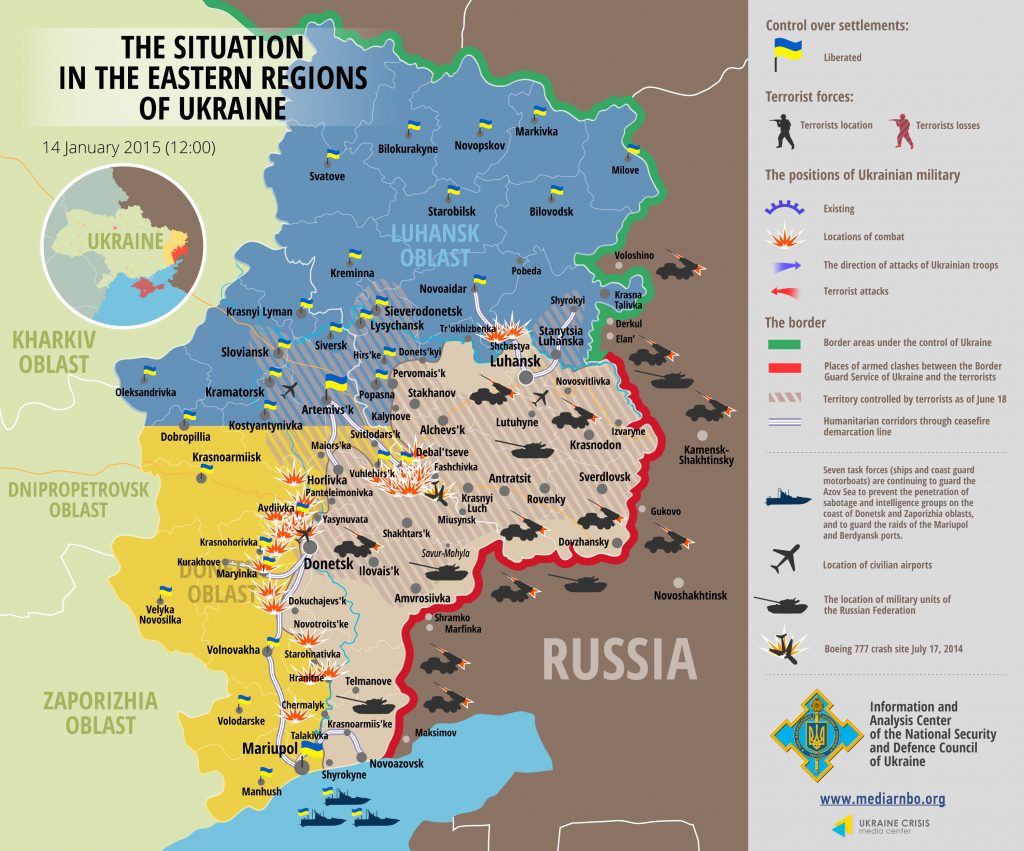 The deadly shelling of the Ukrainian access control point near Volnovakha was condemned by the UN Security Council despite resistance on the part of the Russian delegation. The statement issued by the organization says: "Security Council members strongly condemn the killing of peaceful civilians including women and children resulting from the shelling of a passenger bus in Volnovakha, express their deep condolences to the families of the victims and underline the need to hold an objective investigation and bring those responsible to justice." Similar statements were made by Federica Mogherini, High Representative of the European Union for Foreign Affairs and Security Policy; Ertugrul Apakan, Head of the OSCE Special Monitoring Mission in Ukraine; US Department of State.
Situation in the anti-terrorist operation (ATO) zone remains tense. At the same time the number of shots fired at the positions of Ukrainian military by terrorists has relatively decreased. As per the reconnaissance data illegal armed groups of the so-called "DPR" keep regrouping forces near localities Olenivka, Dokuchaevsk, Telmanove and Hranitne. Militants' armoured vehicles are moving more actively through Dokuchaevsk.
The spot of highest tension in the ATO zone remains the Donetsk airport and localities nearby. "Due to the escalation at this strategically important location the ATO command decided that from now on the rotation of our units at the airport will not be conducted via the terrorists' checkpoint. It was decided to hold rotations in a different way to avoid such humiliation," underlined Colonel Lysenko.
Yesterday for the first time in the conflict militants used TOS-1 Buratino heavy flame thrower – multiple rocket launcher to fire at the outskirts of Vesele locality, it is produced exclusively by the Russian Federation military enterprises. The terrorists also used mortars, artillery, Grad multiple rocket launchers and other heavy weapons a number of times.
Ukrainian border guards observed 16 cases of aerial reconnaissance conducted with UAVs near localities Mariupol and Sartana.
1 Ukrainian serviceman was killed in action in the ATO zone in the last day, 17 got wounded.