Ukrainian military hold to their positions in the "Donetsk" airport; wounded soldiers are evacuated. Such statement was said by Colonel Andriy Lysenko, ATO spokesman during the press briefing at the Ukraine Crisis Media Center.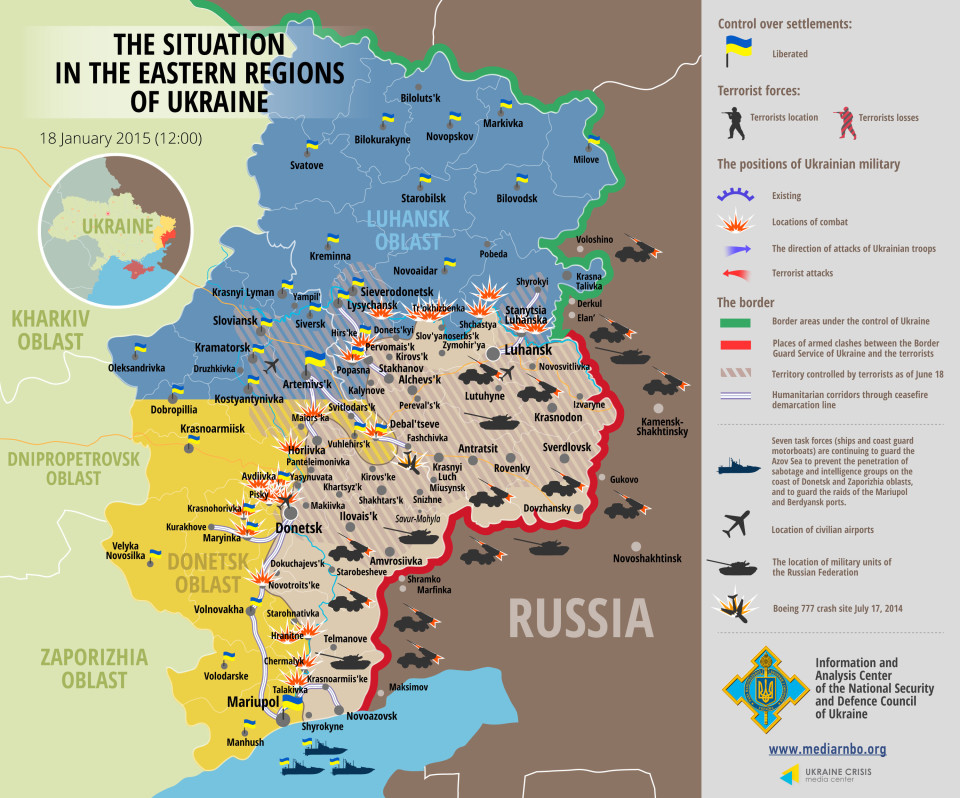 File in the high resolution can be found following the link.
ATO spokesman reported that the terrorist attacks continue; militants use heavy artillery. Illegal armed groups shelled the positions of Ukrainian troops with Multiple Rocket Launchers (MRLs) BM-21 Grad, which are located in the city residential areas. Despite numerous attacks, Ukrainian soldiers defended the Donetsk airport. All injured soldiers are being evacuated. Col. Lysenko added, that "if necessary, aviation will be used to transport heavily wounded soldiers to medical institutions."
When answering a round of questions, Andriy Lysenko told, that the presence of Ukrainian soldiers in the Donetsk airport complies with the Minsk agreement. According to him, terrorists violate "the silence regime" and, thus, Ukrainian soldiers are urged to destroy the threat to the lives of Ukrainian serviceman.
In addition, terrorists maintain to attack positions of the ATO troops using MRLs, artillery and mortars in Artemivsk, Marjinka and Yasynuvata localities of the Donetsk region and in Popasna locality in the Luhansk region.
For the past 24 hours, 4 Ukrainian soldiers were killed, 32 got wounded.
Ukrainian troops observed the enemy UAV, flying over Karlivka locality, Donetsk region.
According to the decision, made by the gang leaders of the so-called DNR, all workers of commercial enterprises, currently functioning on the temporarily-occupied areas and not financing the terrorist groups are mandatory conscripted to join the illegal armed groups.
Andriy Lysenko reported that there are new evidences of terrorists being involved in the Volnovakha tragedy of January 13, 2015. OSCE Special Monitoring Mission explored 2 funnels near the tragedy scene and stated, that "all explored funnels were created by missiles, fired from the North or North-Western direction." "This implies, that terrorists are guilty in the deaths of 13 innocent civilians, because the missiles were launched from the territory, controlled by the illegal armed groups." – emphasized ATO spokesman.
Colonel Lysenko told that Ukraine continues the rotation of troops. Namely, soldiers of the "Donbas" battalion and the joint law enforcement unit from the Ternopil region (the unit suffered no losses) returned from the ATO zone. In the meantime, law enforcement unit from Rivne region and the free unit of the Ministry of Internal Affairs of Rivne region voluntarily agreed to serve in the East of Ukraine.