Kyiv, February 19, 2015. At least 2,475 Ukrainian servicemen and over 200 units of equipment have been withdrawn from the area of Debaltseve. "Servicemen of the 128th brigade, units of the 30th brigade, 25th battalion and the 40th battalion, as well as the special forces, the National Guard of Ukraine and policemen took part in the organized retreat," said Colonel Andriy Lysenko, ATO spokesman, at a briefing at Ukraine Crisis Media Center. The President of Ukraine Petro Poroshenko signed a decree to award Lieutenant Colonel Serhiy Shaptala, commander of the 128th mountain-infantry brigade with the "Golden Star" of the Hero of Ukraine, for heroism demonstrated during the battle for Debaltseve.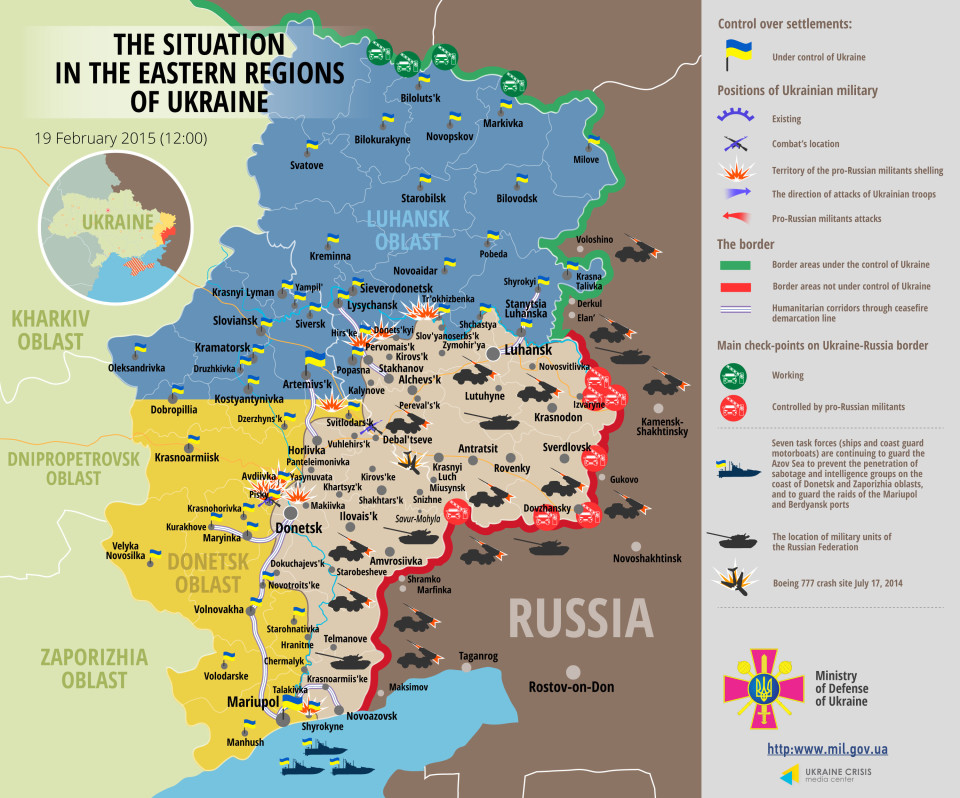 Yet another clash between the Ukrainian Armed Forces and pro-Russian militants occurred in the area of Pisky. Russian proxies fired 11 times at the National Guard positions near Shyrokyne from mortars, a tank and small arms. Militants struck Novotoshkivske in Luhansk region with the artillery as well.
Russian regulars and insurgent forces have fired at the positions of the Ukrainian military and law enforcement agencies 253 times since the ceasefire regime was introduced on February 12. 14 Ukrainian servicemen were killed and 172 got wounded in the last 24 hours. "On average, every Ukrainian soldier who defended Debaltseve was shelled with 580 kg of the deadly metal, including rockets, artillery shells, mortar mines and anti-tank missiles, since the ceasefire regime was enacted," explained Andriy Lysenko.
An extraordinary session of the National Security and Defense Council convened last evening to discuss the confrontation in Debaltseve. President Petro Poroshenko approved the decision to address the United Nations and request for a peacekeeping mission to Ukraine. "It is going to be an effective guarantee of the state security in times when Russia and Russian-backed mercenaries do not comply with the Minsk agreements," noted the ATO spokesman. The National Security and Defense Council of Ukraine approved amendments to the law "On the legal framework of the martial law" that takes into consideration hybrid war realities. Now these changes are subject to the parliamentary review.