Kyiv, March 7, 2015. For the first time in the last couple of months, not a single Ukrainian soldier perished or got wounded in the last 24 hours, Colonel Andriy Lysenko, ATO spokesman, announced at the press-briefing at Ukraine Crisis Media Center. Ukrainian Armed Forces continue to remove heavy weapons; hence the withdrawal of "Uragan" multiple rocket launchers has started yesterday in accordance with Minsk agreements. Previously, Ukrainian military withdrew 100mm МТ-12 "Rapira" and МТ-12Р "Ruta" anti-tank guns, 152-mm "Akatsiya" artillery systems and "Grad" rocket launchers. "Ukraine shows its readiness for a peaceful resolution of the conflict. We are expecting the same steps from the enemy to follow," added the ATO spokesman.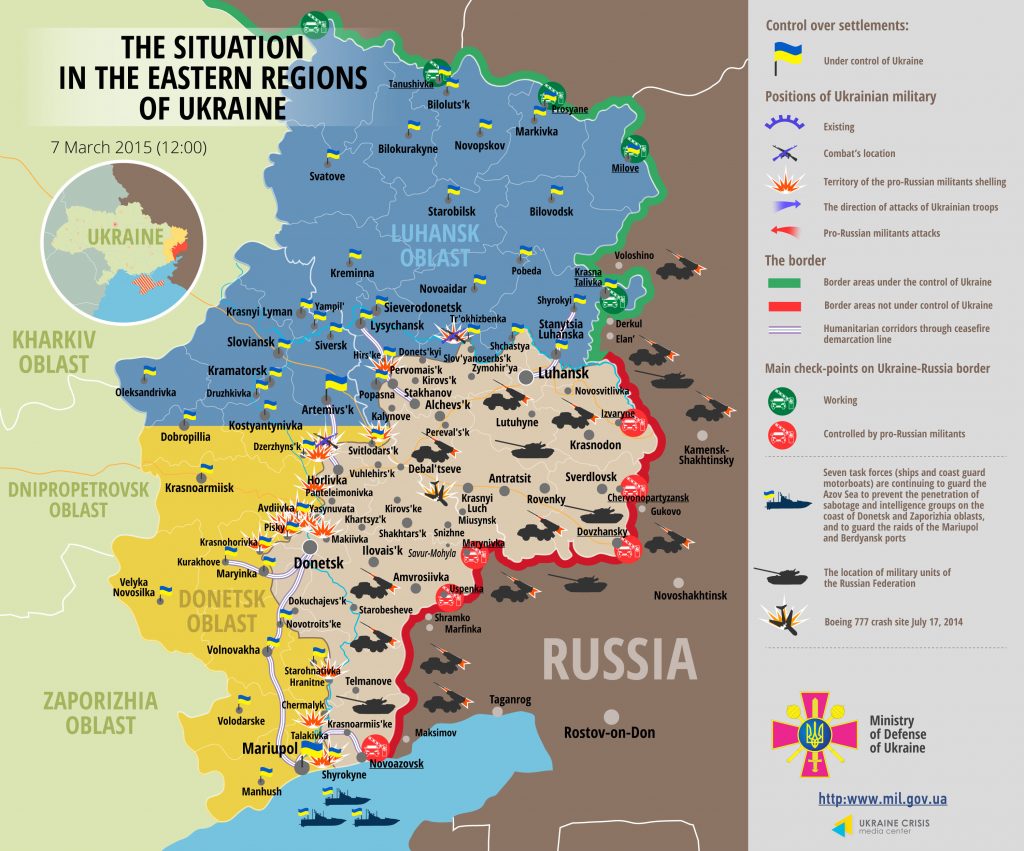 Russian proxies in eastern Ukraine sabotage ceasefire. On March 6, they attacked the Ukrainian military positions 46 times, using different type of weapons. The militants also tried to assault Ukrainian footholds three times. All of these attempts were successfully refuted with no losses incurred.
"Our positions nearby Avdiivka were shelled 10 times yesterday, as well as three times after midnight. Pro-Russian militants shelled the position from the artillery once at 04:00 am," Col. Lysenko. Militants focus their efforts to recover and regroup their forces and military equipment. They are currently engaged in building up logistics network to deliver ammunition mostly by rail.
18th Russian so-called "humanitarian convoy" invaded Ukraine today. 23 trucks carrying foodstuffs crossed the Russia-Ukraine border through the "Matveyev Kurgan" (Russian) and "Uspenka" (Ukraine) checkpoints between 5:40 am and 6:00 am today. The crossing has happened in blatant violation of the international law as neither Ukrainian border guards nor the representatives of the International Committee of the Red Cross inspected the cargo.
Internal skirmishes plague the ranks of pro-Russian militants. Oleg Bereza, a self-declared "DPR Minister of Internal Affairs" was detained while trying to flee with the money and valuables the worth of which is estimated at $3 million. Furthermore, skirmishes between the "Don Cossacks" gang and the so-called "Luhansk People's Republic" intensified. Otaman Kozytsyn's right-hand man, Bondarenko, has been the subject of an assassination attempt.
Operatives of the Ukraine's Security Service detained another group of pro-Russian militants. One of them was an informer of the "Luhansk People's Republic" who was also an employee of one of the district courts. He was collecting intelligence on the mobilization process, as well as the dislocation of the Ukrainian Armed Forces. "There is documentary evidence of his meetings with the "LPR" insurgents Militants promised their accomplice he would become a head of the so-called "LPR Traffic Police", but now he is liable for a long-term prison sentence," Andriy Lysenko said.