Kyiv, March 29, 2015. Pro-Russian militants restricted the freedom of movement of the OSCE Special Monitoring Mission during the latter's visit to Shyrokyne village on March 27. The "DPR" commander told that the observers would need a militant escort when entering their territory. Another case occurred yesterday when a "DPR" fighter approached the group of observers en route to Novoazovsk yesterday. He threatened the observers with a gun and ordered them to leave. Col. Andriy Lysenko, ATO spokesperson, quoted the OSCE SMM report during the press-briefing at Ukraine Crisis Media Center. "It shows the militant's ignorance of the international law as well as their commitments on Minsk agreements, which envisage free and unfettered movement for international observers," Col. Lysenko added.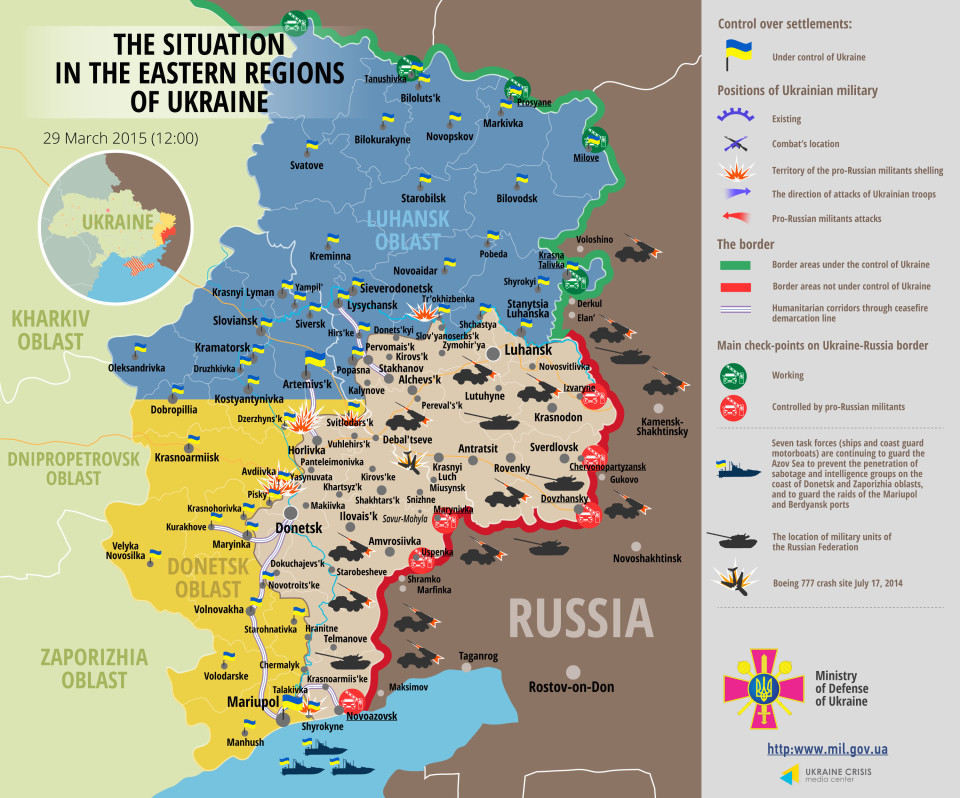 No cases of artillery and armored vehicles were recorded over the last day. Militants complied with ceasefire between 9 pm until dawn. Nevertheless, Russian mercenaries continue to instigate armed provocations along the contact line, stretching from the Azov Sea to the central parts of the Luhansk region. "Shyrokyne and areas around the Donetsk airport remain the hotspots of the conflict. The information about militant shelling of Smile, Luhansk region, from the Grad multiple rocket launcher has been confirmed," Col. Lysenko said.
Ukrainian Armed Forces did not suffer any lethal casualties in the last 24 hours; two servicemen got wounded.
Meanwhile, Ukrainian troops delivered humanitarian aid – food, bread and warm clothes – to the resident of Krasnohorivka, Donetsk region. Furthermore, Lviv police offers, serving in the ATO zone, brought toys and sweets for children of IDPs who had to abandon their homes and temporarily reside in Mariupol.
The ATO spokesperson reported that the Ukrainian counter-intelligence detained several "DPR" militants. One of them was recruited by the Russian intelligence. He was gathering intelligence on Ukrainian troops transportation routes, so that the pro-Russian militants shelled them from the artillery. "Moreover, one Ukrainian citizen has been detained for possessing a large arms arsenal in Kramatorsk. Police officers seized four ТМ-62 mines, two anti-tank grenades PG-7M, two manpads, ammunition and elements of military gear", Col. Lysenko concluded.