Kyiv, April 9, 2015. OSCE Parliamentary Assembly President Ilkka Kanerva called for an immediate end to the intimidation of the OSCE monitors in eastern Ukraine by pro-Russian militants. According to Mr. Kanerva, threats and extreme examples when one of the "DPR" militants opened fire at one of the monitors on April 7. Therefore, the OSCE is convinced of the need to seriously consider an international peacekeeping mission to Donbas. Colonel Oleksandr Motuzyanyk, spokesman of the Presidential Administration on the issues connected with ATO, quoted the OSCE report during the press briefing at Ukraine Crisis Media Center. "President of Poland Bronislaw Komorowski supported the idea of inviting the peacekeepers to settle the conflict. He has also emphasized that Ukraine and Poland share a consolidated position on the need to further extend sanctions due to the Russian aggression in eastern Ukraine," Col. Motuzyanyk added.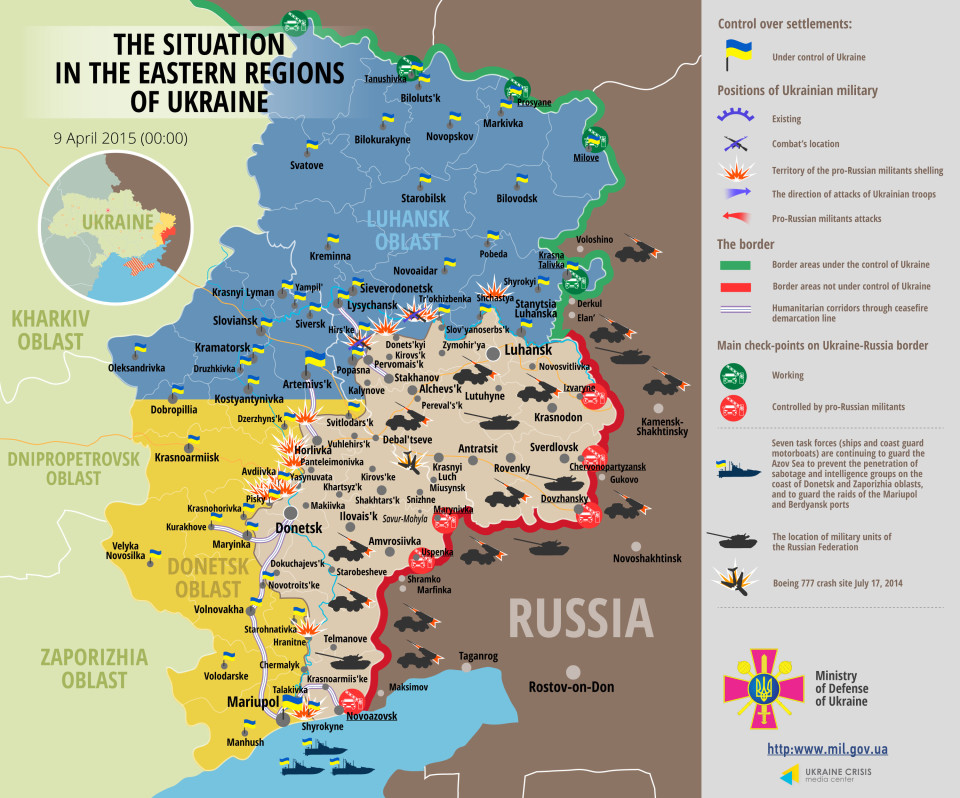 According to the ATO spokesman, the situation in Anti-Terrorist Operation remains under control; however, Russia-backed militants still instigate armed provocations along the entire demarcation line. They fired at Ukrainian positions from the artillery three times as well as used tanks three times. Ukrainian servicemen repelled two militant attacks in the central areas of the Luhansk region. "Shyrokyne village, Donetsk airport area and the outskirts of Horlivka, and areas around Stanytsia Luhanska – in Mariupol, Donetsk and Luhansk sectors respectively –remained the hotspots of the conflict yesterday," noted Oleksandr Motuzyanyk.
Ukrainian servicemen spotted 19 enemy UAVs along the demarcation line. Two more UAVs conducted aerial reconnaissance close to the administrative border with the temporary occupied Autonomous Republic of Crimea and over the Berdyansk seaport.
Ukrainian Armed Forces did not suffer any lethal casualties in the last 24 hours; three servicemen got wounded.
Col. Motuzyanyk reported that Amnesty International Ukraine described the killings of Ukrainian soldiers taken captive by pro-Russian militants as "shocking". Human rights' watchdog called for an immediate investigation of these war crimes. "Ukraine makes every effort to free our servicemen from captivity. The militants will not get away with their war crimes and will be brought to justice," Col. Oleksandr Motuzyanyk noted.
Ukraine's Security Service detained ten subversives who were plotting a series of provocations under the guise of protest activities in Odesa on 10 May. The subversive group received instructions from a Russian coordination center. Col. Motuzyanyk referred to the recent report of the Security Service that blamed former Prime Minister of Ukraine Mykola Azatov, as well as former parliamentarians Oleh Tsaryov, Volodymyr Oliynyk, in bankrolling these subversive groups. Currently all three former officials are wanted in Ukraine and hide from the Ukrainian justice in Moscow.