Kyiv, June 8, 2015 – Motorboat of Ukrainian border guards exploded in the Sea of Azov. "The blast occurred near Chervone village (Donetsk region) west of Mariupol. "The explosion was caused by a militant explosive device that has been delivered by the sea from the occupied territories," said Colonel Andriy Lysenko, spokesman of the Administration of the President of Ukraine. There were no lethal casualties among the border guards however three were wounded and one is missing in action.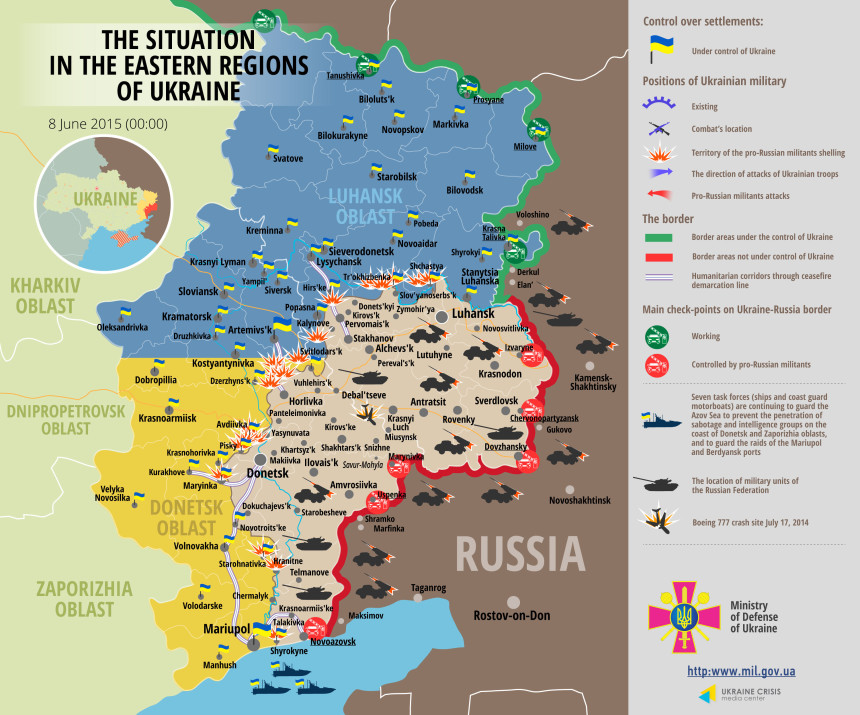 According to Lysenko the situation in the Donetsk remains tense. "Enemy deployed military equipment close to the combat line including IFVs and tanks," – said Colonel Lysenko. The severest attacks at the Ukrainian positions were conducted in North-Western outskirts of Horlivka. Andriy Lysenko noted that artillery and tanks of militants are kept in Golmivsky village and Horlivka and are in active use. Yesterday, combat actions also took place outside Maryinka and in the area of Hranitne and Starohnativka.
In the Luhansk area militants' activity was seen in the parts of Shchastia and Stary Aidar. Militants fired from small arms and mortars along Bakhmutska road and near Zolote village. At the same time the OSCE and JCCC monitors came under separatists' assault in Shchastia while they were inspecting the craters from the previous shelling incidents. "It is yet another testimony to the fact that militants systematically violate the Minsk agreements undermining peaceful settlement of the conflict in the eastern Ukraine," – underlined Andriy Lysenko.
In the Mariupol are fighting was conducted only in Shyrokyne. Militants used mortars and 120-mm artillery, and snipers. "Fighting lasted all day but the combat line remains intact, our servicemen have experienced no casualties," – added Colonel Lysenko.
In addition, the ATO forces downed enemy UAV near Valerjanivka village outside Volnovakha. Ukrainian Armed Force did not suffer any lethal casualties on 7th of June however 10 servicemen got wounded in action. Serviceman of the 28th brigade of the Ukrainian Armed Forces Roman Marchenko was liberated from captivity. Marchenko was imprisoned outside Maryinka by the separatists.
Furthermore, Court of Kyiv district in Kharkiv found a resident of Kharkiv guilty to five years in prison on the grounds of financing terrorism. "The criminal was purchasing replenishment cards for mobile communications that he was later passing to "LPR" militants as well as helped militants cash their money in ATMs of Kharkiv region," – explained Andriy Lysenko.