Kyiv, June 11, 2015 – Militants shelled ATO forces with 152-mm cannons near Myrne and Berdyanske in the Mariupol sector. They also used cannons of the identical caliber and Grad multiple rocket launchers near Novotoshkivske in the Luhansk sector according to Colonel Andriy Lysenko, spokesman of Administration of the President of Ukraine on issues connected with the ATO at the press-briefing at Ukraine Crisis Media Center. "In the Mariupol area heavy fighting continues in Shyrokyne, while militants have deployed considerable number of mortars and large-caliber artillery and are actively using it".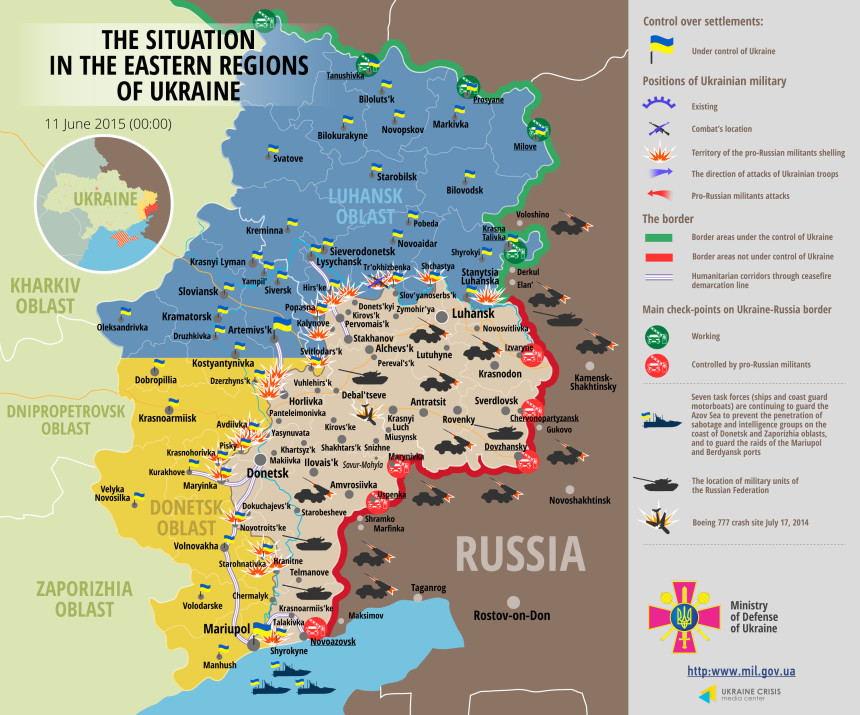 In the Luhansk are combat takes place near Tryokhizbenka, Sokilnyky, Popasna, Zolote, Shchastia and Stanytsia-Luhanska. Due to the increased military activity civilian movements in and out of Luhansk area has been limited In the Donetsk region Russian backed militants re-deploy military equipment closer to the combat line and use of tanks by militant groups was registered several times. Militants violated ceasefire in Maryinka, Krasnohorivka, Starohnativka and around Horlivka. Militants carried an assault at the Donetsk airport and Spartak with 120-mm mortars and 122-mm cannons.
In whole, the Ukrainian border guards and servicemen registered 28 flights of enemy UAVs in the ATO zone on June 10th. Two Ukrainian servicemen were killed in action and 13 got wounded in the last 24 hours.
Furthermore, another Russian so-called "humanitarian convoy" entered Ukraine. Ukrainian border guards managed to discover military helmets in one of the trucks. "It proves yet another time that the "convoys" are Russian provocation and directly aid militant groups that control occupied areas of Donetsk and Luhansk regions," – explained the ATO spokesman.
In addition, Andriy Lysenko noted that Russian media and the TASS agency in particular, are disseminating false information that Ukrainian border guards and customs officers allowed cargo across the border. According to Lysenko the Russian trucks traditionally move without abiding to the international legislation, neither with the consent from the Ukrainian side, nor from the Red Cross.
At the press conference Colonel Lysenko mentioned that Ukraine's Security Service detained a border guard in Luhansk region who was passing secret information to the "LPR" militant group. While staying in Stanychno-Luhansky district that borders with Russia, the criminal was collecting information on deployment sites, number and buildup of the troops, location of mine field, etc. Besides, Ukranian Security Service detained a militant – resident of Dzerzhynsk, Donetsk region while he was "on duty" at blackspots of the so-called the"DPR" in occupied Horlivka from May 2014 till April 2015.