Kyiv, June 13, 2015: Today, according to the government officials a bridge and railroad near Popasna (Luhansk) were damaged by militants. Subsequently, the railway has stopped operating. The blast has been caused by explosives planned by the separatists, according to the earliest information available. Besides, as stated by Colonel Andriy Lsenko, spokesperson for the Presidential Administration on the ATO Affairs, a pipeline that provides gas for Mariupol, Selyvido and Avdeevku has been damaged in a mortar attack.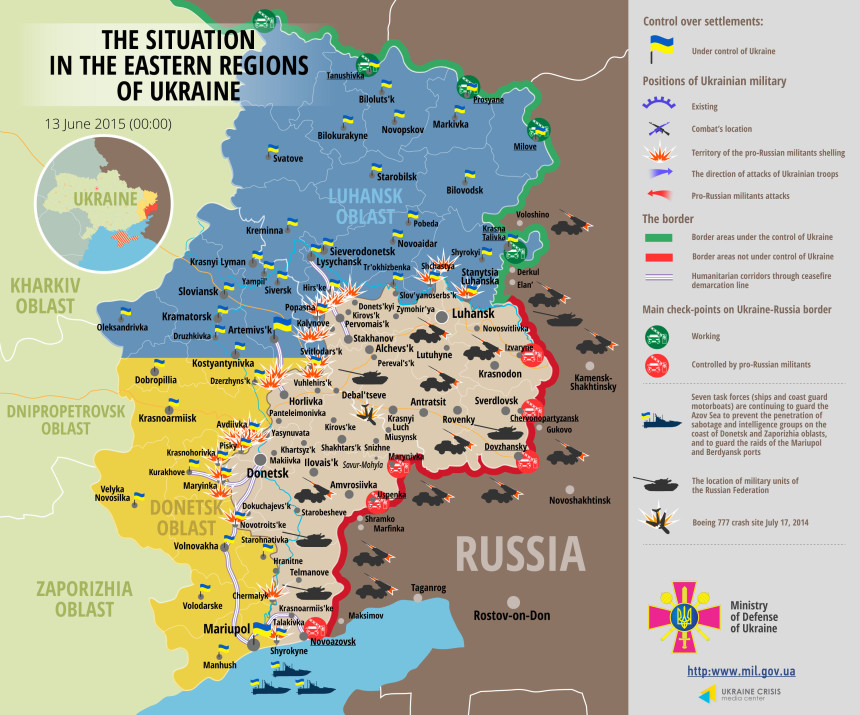 Lysenko noted that in the area of Mariupol separatists attacked the Ukrainian forces twice.
"There were only 2 cases of firing at our positions by the enemy:  in Shyrokyne, where grenade launchers were used and in Chermalyk, where 122-mm artillery was fired," – said Lysenko.
The fighting around the Donetsk airport continues. The Russian backed militants are using tanks, infantry fighting vehicles and heavy-gun armament in the battle. In so called "DNR", militants shelled residential areas in Avdiivka and Vodyane. The situation remains tense in Marinka, Krasnohorivka and around Horlivka. The Separatists carried out mortar attack near the Zolote and Schastya in Luhansk region. Sporadic provocations took place in Stanytsya and around Novotoshkivske.
Yesterday, the Ukrainian border guards spotted 19 flights of the enemy's UAVs.
During last 24 hours six Ukrainian servicemen were killed in action and fourteen more were wounded. According to Lysenko, the Ukrainian security services have detained 18-year-old militant in Krasarmiisk (Doneetsk). The detainee joined the "Cossacks" combat group and received armaments. Furthermore, another 7 individuals were arrested at the checkpoint of Velyka Pyssrivksa in Sumy region, near the Ukrainian-Russian border on the grounds of suspected cooperation with the illegal armed groups.
Today, President Poroshenko, signed a decree on partial demobilization of the Ukrainian forces. According to the decree the soldiers who were conscripted in July and August of 2014 will be deferred from the service. The Ukrainian Security Service and State Fiscal Service of Ukraine have blocked 22 trunks from crossing the front line. The trucks were loaded with alcoholic drinks, tobacco and food for the so called "DNR". The Ukrainian Security Service stopped the trucks near Sukha Balka village near Dzerzhynsk (Donetsk). The convoys were targeting to enter occupied territory through bypassing the checkpoints.