Kyiv, June 25, 2015. Russia-backed militants continue violating ceasefire regime in all sectors of ATO zone. Around one third of all armed provocations instigated by militants included use of heavy weapons. Ukrainian Armed Forces did not incur any combat casualties in the last 24 hours, said Colonel Andriy Lysenko, spokesman of the Administration of the President of Ukraine on ATO related issues, at the press briefing at Ukraine Crisis Media Center.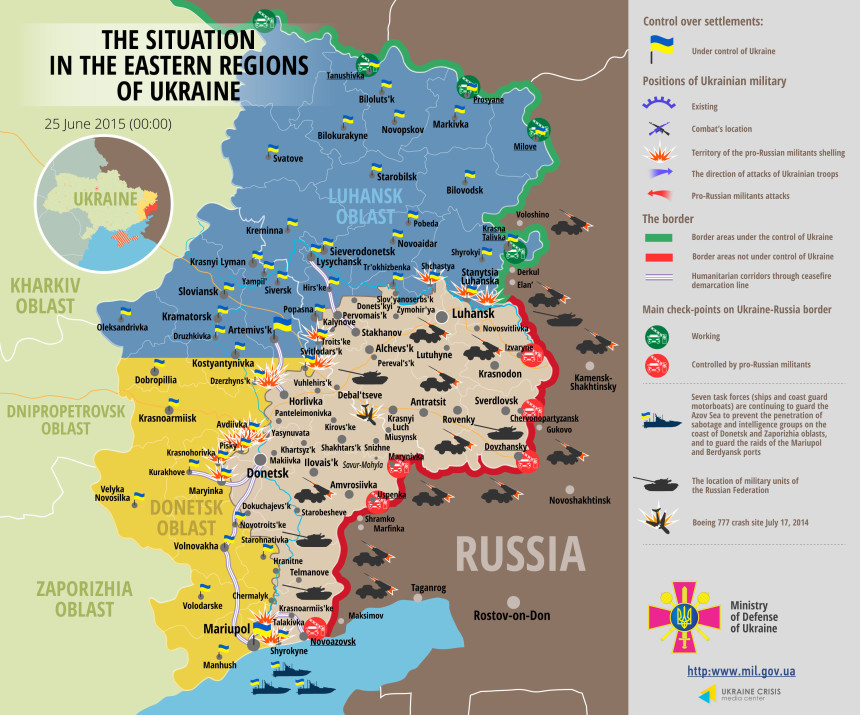 In the Mariupol sector, militants have launched shelling of the Ukrainian forces positions east of the city. In addition to howitzers of various calibers located in Sakhanka, they were also firing from "Grad-P" rocket launchers.
In the Donetsk sector, the situation remains most tense. "Militants mortared Ukrainian positions areas to the west of Donetsk, stretching from Maryinka to Avdiivka. Similarly, skirmishes occurred on the northern and western outskirts of Horlivka throughout the day," Col. Lysenko said.
In the Luhansk sector, militant groups were active primarily in the area of Shchastya and Stanytsia Luhanska where they have mortared Ukrainian military positions, damaging to the gas pipeline in Stanytsia Luhanska and burning down a private house.
Col. Lysenko reported the OSCE report, saying that almost 20,000 residents of Popasna and adjacent settlements, well as the militant-controlled Pervomaysk were left with no water supply because of fighting. "Power cables leading to the towns between the Bakhmutska road and Siversky Donetsk River – Orikhove, Krymske and Tryokhizbenka – were severely damaged as well," added Colonel Lysenko.
Ukrainian border guards spotted seven flights of militant UAVs in the ATO zone yesterday. Two Russian helicopters were observed flying along the Russian-Ukrainian border near Luhansk region.
Ukraine's counter-intelligence detained a Russian citizen who served in the ranks of the so-called "DPR" near Berezove village, Donetsk region. "The militant is a resident of Anapa, Russian Federation, undergone military service in Abkhazia as a reconnaissance sniper. He later joined Russia-backed militants in eastern Ukraine," Col. Lysenko said.
Eight trucks with food, alcohol and other items were stopped at the attempt to smuggle goods to the militant-controlled territories. Ukrainian security service also blocked two cats with 10 tons of meat, which drove to the militant-controlled areas of the Luhansk region.