Kyiv, July 24, 2015. The number of incidents of heavy weapons use by Russia-backed militants has considerably decreased. "There were no combat actions in the Mariupol sector yesterday. It has happened for the first time in five-and-a-half months since the Minsk agreements were signed," noted Colonel Andriy Lysenko, spokesperson of the Administration of the President of Ukraine on ATO-related issues, at a press briefing at Ukraine Crisis Media Center.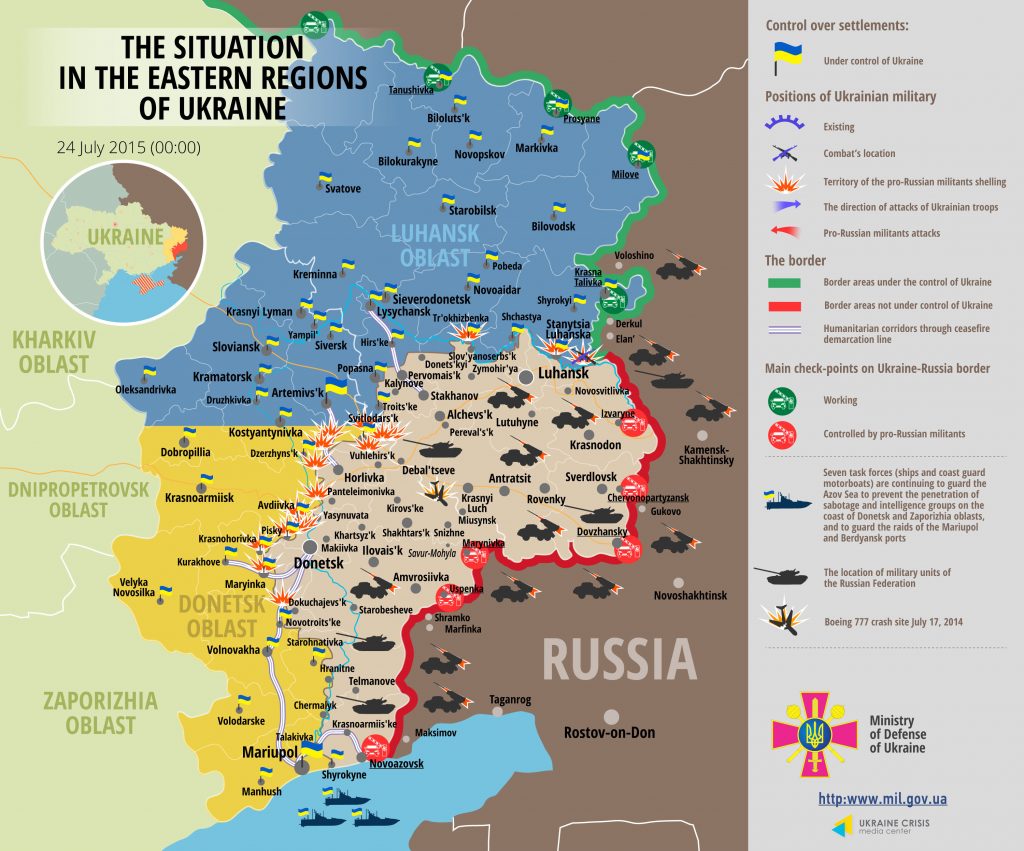 The situation in Donetsk sector where combat action on the front line between Avdiivka and Maryinka continues incessantly remains the most volatile. Attacks by Russia-backed militants have increased in Maryinka. Militants also fired on Ukrainian forces outside of Berezove village on the strategic Donetsk–Mariupol road.  Skirmishes with militants using mortars continue near Horlivka and Svitlodarsk. No incidents of artillery fire or rocket-launcher use by militant groups was observed.
In the Luhansk sector, militants conducted attacks in the vicinity of Stanytsia Luhanska on July, 23. Ukrainian troops repelled an attack by a militant subversive group that had crossed the Siversky Donets River on the morning of July 23. Additionally, Russia-backed militants fired on the town of Stanytsia Luhanska using grenade launchers and small arms. One civilian was wounded in action. "Militants instigated short-lasting armed provocations south of Tryokhizbenka. They fired from the opposite side of the Siversky Donets River. No enemy provocations were registered between Krymske and Popasna," explained Col. Lysenko.
One Ukrainian soldier was killed in action and three were wounded in action over the last day.
Col. Lysenko also said that Ukrainian troops shot down a UAV that was photographing equipment and movement of Ukrainian Armed Forces near Stepne village, Volnovakha district. A total of eight UAV flights were registered in the ATO zone on July 23.
Ukraine's Security Service detained a militant recruiter from a militant group called Prizrak as well as a newly recruited militant in Kharkiv region. Law enforcement seized three grenades as well as ammunition rounds during the arrest. Special services stopped activities of two criminal groups that were smuggling weapons and ammunition into the region from the ATO zone. "Law enforcement seized a Degtyaryov grenade launcher, two other grenade launchers, hand grenades, a Kalashnikov rifle with rounds of ammunition, as well as a Makarov gun and five TNT blocks," noted Col. Lysenko.
Additionally, law enforcement shut down business activities of Mariupol companies that were supplying food, alcohol and other domestic supplies to the occupied territories.