According to the latest data, since the beginning of the full-scale invasion of Ukraine, almost 2,000 settlements have been liberated from the Russian occupiers. Medical facilities have re-opened in 965 of them. Yet, a large number of doctors remain in the temporarily occupied area.
Their profession makes these people needed by everyone, regardless of political views and nationality of their patients. That's why the attitude towards doctors is special. Health Minister Viktor Lyashko has a simple vision: if doctors performs their duties in the occupied area and ensure the viability of a hospital, they will not be considered collaborators. It's the same when a medic takes drugs or gasoline from the occupiers. They have to ensure the viability of a hospital, which must save Ukrainians, so they don't cooperate with the occupiers, the minister believes.
It's different if a person wants to become a head person in the occupied area, cooperates with the enemy for political reasons and recognizes the legitimacy of the occupation. There are such cases, and nothing can be done about it. War is a test of humanity and not everyone passes it.
The following stories are about life on the other side of the front line, peculiarities of work and salvation.
"People have no electricity, but they're incredibly happy." Story One – Kherson
Natalia Hladysheva is 32. She is a physical therapist from Kherson.
Two years ago, she and her husband bought an apartment. They devoted all their time to work and raising their 9-year-old daughter.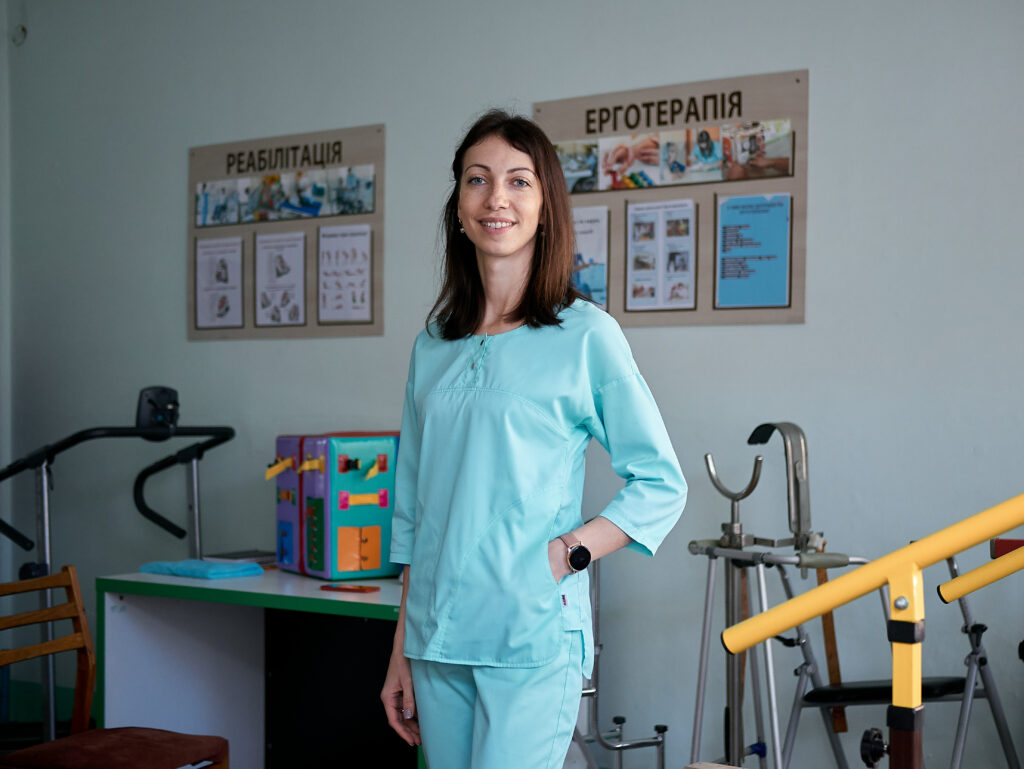 About the beginning of the invasion and fleeing the city
"On February 23, a friend asked, "Do you have any plans in case an invasion happens?" I replied that we didn't even think about it. I believed it was impossible in today's world.

And on the morning of February 24, a relative called, "Russia has attacked." Then my sister, who lives closer to Crimea, said she had heard explosions. They woke up the kid who was even happy because there would be no solfeggio class."
At first, the family thought of moving to their parents, who live 25 kilometers from Kherson, but later decided to accept their kid's godfather's offer and go to the Rivne region. The daughter was allowed to take a whole suitcase of soft toys with her.
"There were terrible traffic jams on the roads. There were 30-70 centimeters between cars moving at a speed of over 100 kilometers per hour. As we passed Chornobayivka, we already heard explosions."
For two months in the Rivne region, the family did not even fully unpack their suitcases – they lived in limbo. At first, they didn't look for work: the husband went to build checkpoints, the wife – to weave camouflage nets. And then she thought that she could help more with her specialty and got a job in a military hospital.
"Soldiers filled me with energy. When you see people in serious condition after craniocerebral, mine blast injuries doing a great job, it's inspiring.

I had an hour of training per patient – and everyone used it 100%. Ordinary people get tired, feel sorry for themselves. And soldiers are very cool. They said, "We'll recover and get back to our mission."
Later, Natalia's sister and her parents came to Novovolynsk and asked her to move in.
"We thought that it might be better for our kid in town, because in the village we stayed at home most of the time. And here she is happy to go to school: she likes everything, has a lot of friends, attends clubs. She also supports us and believes in the best."
The first thing the woman did in Novovolynsk was to look for a job in a communal hospital so that she could help soldiers again.
"My local colleagues and I are really a team. Together we look for and undergo online training, discuss patients. I have a new experience here – working with children. They recognize me in town, come up to hug."
Terror in the occupation
Natalia's relatives gathered in Mykilske, 25 kilometers from Kherson, after the invasion began.
There people formed Viber groups to unite and resist. Collaborators gradually began to show themselves, too.
"They started raising their ugly head and saying that Russia was there forever. It's really shameful, but teachers in that village school began cooperating with the occupiers. They convinced people that kids should continue their studies. A lot of people wanted to work there, expecting to receive both Ukrainian and Russian salaries.

Her daughter's classmates studied online in a Ukrainian school. Their parents were very afraid that the occupiers would find out about it during their raids. Teachers who agreed to cooperate called and urged to go to school, saying that the program was similar. But most people refused: many of them went abroad."
The woman was amazed at how bravely the barehanded people of Kherson protested against the tanks.
"A colleague filmed one of the protests from his window, posted it on the Internet, and a few hours later 20 armed men came. He was tortured. They returned him after three weeks, all bruised, and said, "Get out of this region."
In midsummer, the hospital director was offered to sign a contract with the occupiers. She refused and they appointed a new person. A lot of the staff left, so planned treatment was not carried out. Instead, doctors helped patients with strokes, heart attacks and injuries.
"I was lucky because the occupiers didn't come to our hospital and didn't take their wounded there. For example, in the children's hospital, they took pictures of all the equipment from the first weeks. Probably, they were going to take it away later. The management was changed at once."
People were afraid to go outside after it got dark. Russian soldiers arranged banquets in a village cafe.
"Once they got so drunk that they left their guns on the street. The next day they realized it."
You could pay in hryvnias in most shops in the occupied Kherson region (in September, the regional center also began to accept rubles), but prices increased several times. For example, sausages cost 500-600 hryvnias per kilogram. In contrast, local farmers often sold their vegetables for next to nothing. Pharmacies were short of necessary medicines.
It became dangerous to talk on the phone – they were tapped. Those who said "too much" were detained.
"My parents didn't want to leave to the last, until a local collaborator said that my dad was telling everyone to stop tanks and make Molotov cocktails. About 30 people visited him with guns. They dragged him out of the house, beat him, tied him with duct tape, shot near the ears and told him that they would kill him if he didn't show where he kept the cocktails.

My mother's cries and screams made them let him go. But my parents knew: they would definitely come a second time, and then it would be a lot worse."
People were made to undress, had their documents, cars, and mobiles checked at Russian checkpoints (it was prudent to clear everything), but it took them only a few hours to get through.
"It could be differently. Sometimes they didn't let people through at all, because Russian military equipment was moving and they were afraid lest someone could commit sabotage. Sometimes the occupiers asked for candies, cigarettes, alcohol, money – they even took hryvnias."
The in-laws, who had salted meat, salo, and prepared the cellar in the summer, remained in the occupation. They assured they were ready to stay.
"We know that our house in Kherson wasn't damaged. But we don't know whether the apartment was looted. After we left, I worried about the coffee maker, dishwasher, and washing machine. And now I wish the walls would remain. My husband and I think if they need our toilet, let it be our sacrifice. Now there is no way to check the apartment, because our relatives from the village won't be able to get through the destroyed bridge."
Liberation of Kherson
"People were incredibly happy when the city was liberated. The next day we managed to contact our relatives. Grandma was crying. Now they have no electricity, water, heating, but they feel elated. The main thing is that they are free and can go out without fear. Many were afraid to declare their pro-Ukrainian position, but now they seem to have their hands untied. They say they even breathe differently now."
Natalia says many collaborators fled by boat, although only a few days before they assured that Russia was there forever.
"My relatives have necessary groceries. They had a generator, but it had run out of fuel. So they visit soldiers to charge their phones and catch the Internet. They have become a family and carry borscht to the guys."
Natalia's relatives, who left for the west of Ukraine, are anxious to go home. Her husband wants to quit his job and leave, and her father wants to restore the water supply in Mykolayiv. But they are asked to wait until the area is demined.
"My daughter and I are going to spend the winter in Novovolynsk. It is warm here and at least sometimes there is light. But we hope to return as soon as possible. I said it right away: we are not here forever. I do like the town, but I want to go home as soon as it's safe there. And we'll come here to visit: now we have a lot of good friends."
"On February 24, two wounded girls were brought to us. One died." Story Two – Kupyansk
Oleh Kalinichenko is a 48-year-old traumatologist from Kupyansk, Kharkiv region, head of a department at a local hospital.
"On February 24, I woke up at 4:20 a.m. to loud explosions. We instantly realized what it was.

The day before, my wife and I were driving through the wood outside the town to check how the construction of our house was progressing, and she suddenly began to panic: "There will be a war tomorrow." I asked why she thought so, and she answered: "Look around. Do you think those are mushroom pickers walking around and shining flashlights?" Our troops were quietly taking up positions and waiting for the enemy."
After the explosions, the husband took his wife and kids to his mother's and went to the hospital. He says he couldn't leave the civilians who needed help.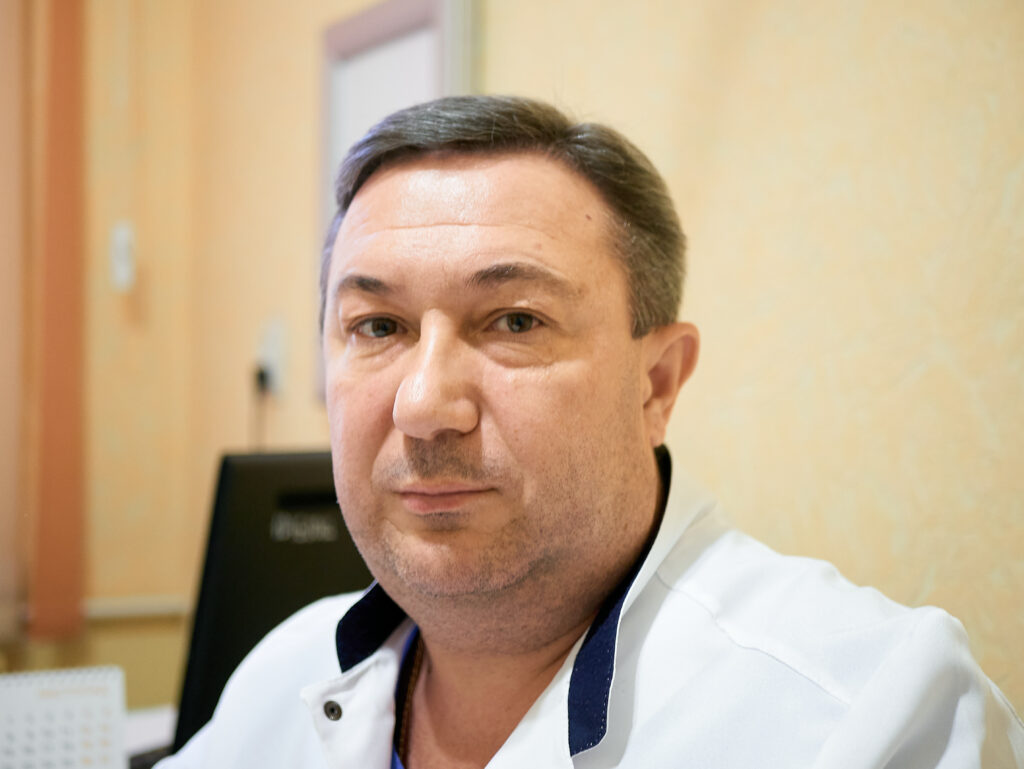 Work in occupation
On February 24, the wounded were brought. Among the first were two girls, the daughters of a nurse, who had come under Grad's fire. Doctors managed to send the one who was in a serious condition to Kharkiv, but, unfortunately, the girl died 10 days later.
Then there was a man from the village of Shevchenkove, who did not let enemy tanks go, and a Russian shot him with a machine gun.
After a few days, Kupyansk was as if in the rear of the occupation and was not directly fired upon. However, many wounded were transported from Balakliya and Izyum, most of them – with mine blast injuries.
"Ours was the only surviving hospital in several districts, so they often brought in five or six wounded people at once. Almost daily. People came even from Svatove (Luhansk region), because Chechens had settled in their hospital. Then they arranged a military hospital there, where patients were examined by a pathologist."
Oleh Kalinichenko says there was a catastrophic lack of metal structures for operations. He tried to organize a transfer from Kharkiv, but the front line made it impossible.
"It became easier after I was able to send my family to Poland on March 20, and my daughter started volunteering there. She found people in the occupied territory who needed Ilizarov's and others apparatuses removed. They were sent to me and then we used those devices for the wounded."
As for medicines, we worked with what was still in pharmacy warehouses. The hospital director refused the occupation authorities' "help".
"One day they brought two boxes of hydrogen peroxide, brilliant green, T-shirts and caps. That was useless. The only useful thing was bandages."
Russian soldiers wounded at the front were not brought to the hospital, but on May 9 they brought those who had got into a road accident while drunk.
"One was the 200th at once. The rest had superficial injuries. They persuaded me to keep them until the morning, but I said there was no room. There was another one who had his fingers crushed with a KAMAZ door.

He says, "I'm from the DPR. I didn't want to go to war, but the tax office called me and said I had to come. I did, and was sent straight from there to the front." He said he hoped that the 'DPR' would return to Ukraine, because they had had enough of it."
The locals did not go outside after 2 p.m.
Mobile signal and Internet were in Kupyansk until April 7. Television signal disappeared earlier.
"The Internet could be caught in the Svatove district of the Luhansk region, which was also under occupation. I went there twice a week to get in touch with my family. My colleague also gave me his mobile to find out how his loved ones were doing.

All phones were checked, so we had to hide them. Text messages had to be very neutral, "How are you doing? Everything's good." Even when I was going to leave, I didn't tell my wife, because I knew about phone tapping."
Life under occupation was very different. In summer, streets were empty after 2 p.m. There were a lot of checkpoints, military vehicles. Except for work, people didn't go anywhere.
"Once I was taken to the hospital to see the wounded man. I finished around 11 p.m., but there was a curfew from 8 p.m. I had a document confirming that I was a doctor, so together with the ambulance driver, we decided to go home.

 At one checkpoint they let us through, but at another they said, "We aren't going to check documents anymore. We'll just shoot you when you approach."
Leaving the occupied territory through three countries
Oleh Kalinichenko decided to leave Kupyansk when his life was threatened.
"FSB men started asking my colleagues about me. They came to my colleague's home on a day off. They said they knew I was pro-Ukrainian, so I was done for. They pressured her to cooperate and give information about me. She refused. Then they came to the hospital department, and later to my home (by that time I had already left).

Unfortunately, there were many collaborators in the city and the hospital. The former head doctor even became the so-called Minister of Health of the occupied territories of the Kharkiv region. They failed to seize Kharkiv, so they made Kupyansk a center with a "governor" and "ministers."

The incumbent director was taken "to the basement" when he said he obeyed only Ukrainian laws. It was June 18 (I left the day before), and only before August 24, they took  him with a bag on his head to the checkpoint, where only women and children had been allowed before, and told him not to return in the next 25 years. The SBU checked him – no claims were made, so he was reinstated as director after Kupyansk was liberated."
The only way to leave the occupied Kharkiv region was through russia. All routes to the Ukraine-controlled territory were closed for men.
At first, the doctor decided to make a test visit to his old friend in the Voronezh region of the russian federation.
"At the beginning of the full-scale invasion, he invited me, but I refused to hide in the occupier's territory. I had to specify the inviting person's address and phone number. They can even call that person and verify everything. That's why I decided to use that contact."
Oleh Kalinichenko says that the russian border guards didn't treat Ukrainians as humans: the ruscists interrogated our people, checked their phones, and made them stand for 12 hours under the scorching sun.
The first trip was eventually successful, so two weeks later he dared to try again – that time with the prospect of going to Latvia and Poland. At the border, he said that he was going on vacation and for his family, "because everything is fine here."
"People told me that if you go a second time, FSB men will no longer question you, but the second time was even worse. God forbid you say that you are from the occupied and not the "liberated" territories. You can end up in filtration camps. I had to lie, otherwise I wouldn't be talking to you here."
The man spent a month in Poland with his family. It took him two weeks to recover, and then he began to return to life and look for a job in Ukraine.
"While I was under occupation, I thought that I would stay abroad. But there I realized that home was better. My family also went to Novovolynsk with me. At first I was offered a job near the Belarusian border, but I refused and chose this hospital. I called the director, and he said: "We'll definitely find something for you." The conditions are very good here: they helped me in whatever way they could. In addition, the hospital is provided with modern equipment: this is a very high level for a small town institution. I hope all hospitals will be equipped like ours."
Liberation of Kupyansk
In September, when he found out about the liberation of his hometown, Oleh told his wife: "I'll work here until the end of the month, and we are going home."
Unfortunately, it didn't work out that way. Russians began to shell Kupyansk and hit the hospital. An anesthesiologist died as a result of shelling, the traumatology and several other departments burned down. The hospital cannot function so far.
"The worst thing is that an innocent person died. A colleague resuscitated him for an hour, but, unfortunately, it did not work. The hospital can be restored, but doing repairs now is a waste of money given constant shelling."
Despite this, the man has already managed to visit his relatives there. According to him, Kupyansk remained intact in June when he left it, and now at least a third of it has been completely destroyed, and shelling continues.
"My mom categorically refuses to leave. My parents-in-law called me one day: "It's very hot here. If it's like that for another day or two, we'll take yours and leave." But it became a little quieter, so they prefer to stay.

I am eager to return. I've said that I'm here temporarily. Although it is dangerous there because of the proximity to russia, everything is mine there. I grew up, lived, and worked in Kupyansk."
"At the russian checkpoints, we didn't say we were doctors – otherwise they wouldn't let us pass." Story Three – Zaporizhzhia
Ilga and Petro Remizov are doctors. She is a pediatrician, he – a narcologist-psychiatrist. Both are 32 years old. Until recently, they lived in the occupied part of the Zaporizhzhia region. They decided not to name the settlement for the safety of their relatives who stay there.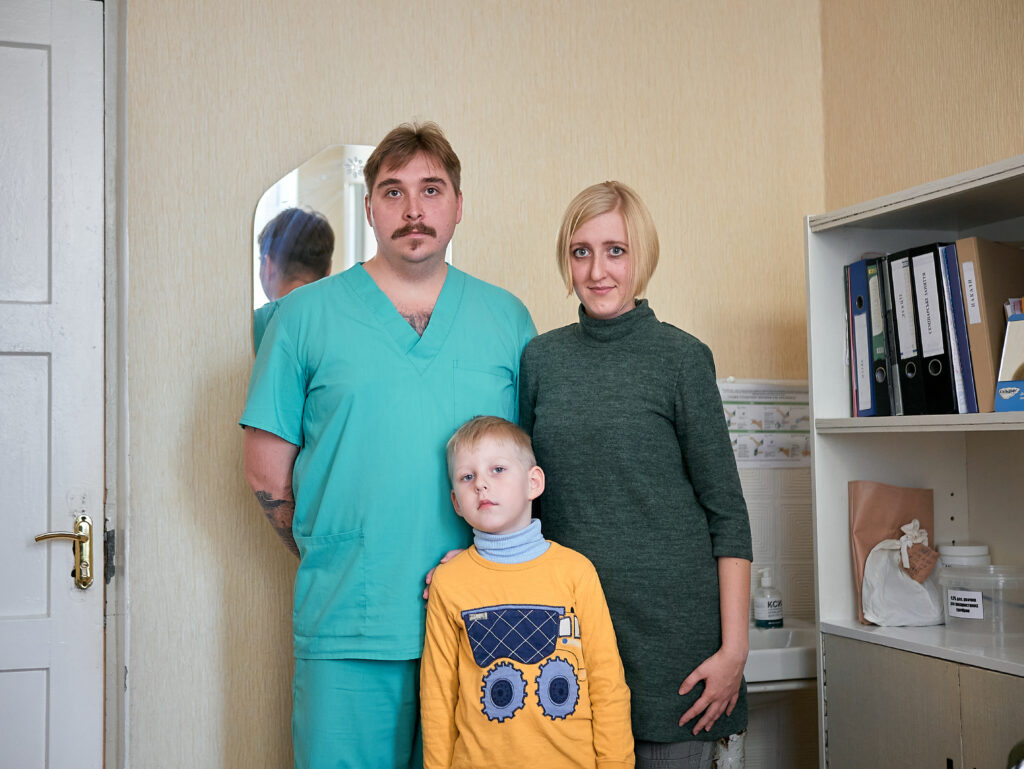 About the beginning of the invasion and quick occupation
"Our friends told us that there might be an attack, but we didn't believe until last. Even when we heard missiles at 4 in the morning, we thought it was just planes.

We went to work as usual. However, we did not take our kid to kindergarten.

The day seemed to be ordinary. There was no mobile Internet in our hospital, and a phone signal was bad. A nurse was absent, so I was in an information vacuum. I found out that something was happening from my colleagues after the reception of patients.

It was very scary, especially when the first siren wailed. But we heard them only for three or four days, until we fell under the occupation," the woman says.
According to her, the ruscists seized the town quietly, quickly and at night. The locals didn't even realize at first what had happened.
"At first, there were few vehicles and armed men, and then we saw them everywhere.

In the first days of the invasion, we didn't think about leaving because we weren't aware of the threat. And when the occupation began, they didn't let anyone out. There was no traffic in any direction for about a month."
At first, doctors worked remotely, consulting by phone, but later, they returned to work at the hospital.
"There was no shelling – we were lucky. Maybe that's why we stayed at home for so long. Russians viewed our hospital as a place where they could eat, drink, and relax. It was beneficial for them to keep it intact."
At first, the military lived mainly in schools and kindergartens. But when the locals began to leave en masse, the orcs began to occupy their houses. Those who were outside during the curfew were taken to the so-called "military commandant's office". The woman does not know what happened there. Doctors were not allowed to visit detainees, despite the fact that even minors were taken away.
"One day a child began having seizures during the curfew. We were completely out of touch, so her parents couldn't even call an ambulance. The medics did not have the right to go on call under the threat of shooting. Then the kid's father ran out to the road and asked their soldiers to bring his kid to the hospital. I was also taken from home by car. In order the car was allowed to take me home, the nurse had to call the commandant's office and ask not to shoot at the car."
The cell service was sporadic and sometimes I couldn't reach anyone for a week or two. In the center of the village, the locals drew crosses to indicate the places where a cell phone "caught the network," more or less.
"In April, the ruscists were looking for someone, and blocked everything: some men were taken away. It was very scary, because everyone called and warned: "Don't go anywhere, because there are many soldiers in the center." Shops were looted. Everything you see in the news happened in our place too."
There were groceries in the village, but medicines quickly ran out.
There was no orthopedic cast – we made splints ourselves
"The psychotropic drugs prescribed by my husband were not available for a very long time, until we managed to bring some medicines as humanitarian aid in May. Volunteers helped us with drugs, but that was only a small fraction of what was needed.

There were no cough syrups for children: we cut pills and mixed them with jam, let alone resuscitation and surgery. Suture material and orthopedic cast quickly ran out. Nurses cut sheets and bandages. We made something by ourselves using any available material. Then a friend from Zaporizhzhia gave a little, but it was not enough, so we used it very sparingly.

There was a child with kidney problems who did not receive professional help of a narrow specialist, because it was impossible to transfer her to the regional hospital, as we had done before in such cases.

Victims of road accidents, children with severe burns and allergic reactions did not receive proper treatment either. Our options were limited.

People had no access to CT and MRI. A stroke or heart attack in the occupation is a one-way ticket," Ilga Remizova says.
"My patients were not on medication. So they ran, clinging to the russians. I had to explain to the ruscists that those were people with mental disorders so that they would not kill my patients. Some of my patients stayed locked at home.

If there are no antipsychotics, there are no options here. There is no substitute for them.

The russians would bring their military with psychoses and take away everything we had brought with the help of volunteers. Beds were also taken away. They threw out apples from an industrial refrigerator and made a morgue there," adds Petro Remizov.
The couple did not see it personally, but they heard about cases when doctors were taken somewhere for their pro-Ukrainian position. The medical director of another institution was taken away because he did not want to cooperate. They kept him in the basement for two weeks, but then released.
"The occupying power… I wouldn't call it a power – rather, "gangs" from the 1990s.
At first, they hardly touched our hospital; we worked and kept Ukrainian documentation: Ukraine paid us salaries. We were like in our own bubble, and it was also beneficial to them, because they didn't have to spend money on us.
This situation continued until mid-summer, when the military commandant changed and said that doctors must cooperate. My husband and I understood that was the end. At first we simply refused to sign their documents, and when we felt fear for ourselves, we decided to leave. So did many other doctors."
There are many cars destroyed by shelling in the "gray zone"
The couple left the occupied territory, concealing their profession. Otherwise, the ruscists would not let them out. That's why they didn't take medical gowns with them, deleted photos from their phones, and hid their documents about education and work in packages with female hygiene products, hoping that Buryats and Chechens would be disgusted to touch them. Things turned out as they had expected.
"The departure itself took four days. We were not allowed to spend the night on the road. At first, we stood in line at the checkpoint in daytime, and returned home at night. But then we rented a room in a nearby village.
We came under fire in the "gray zone," but, fortunately, no one was injured. While standing in line, we saw missile strikes about 10 kilometers from us. There were broken, abandoned cars in the "gray zone". It was just a post-apocalyptic picture. Therefore, we worried about the cars in front and behind us.
However, there was no going back. It was a one-way trip. At checkpoints, the orcs checked our documents, car trunk, bags; they ordered my husband to undress and asked him about his tattoos. He had to persuade them that the tattoos had no patriotic content.
They also checked all applications on the phones. People who had Privatbank, Monobank or other applications with national symbols on the start page in their phones, were not allowed to go further. The ruscists took a laptop and a tablet belonging to my friend's family who was traveling earlier.
"At one of the checkpoints they asked: 'Where are you all going?' They were surprised that the locals were running away. We said we were visiting friends. We agreed on such a legend."
After leaving, the couple and their 6-year-old son stayed with friends in Zaporizhzhia for a month. And when heavy shelling of the city began, they moved on."
"We don't know anyone here, but we came because there was a job offer. Local people gave us a hearty welcome: they helped to find housing. We were employed by the hospital without any questions. A few days later we started working. I like that people are so friendly here.

Now, if I don't know something, even in the middle of the night I can call and ask how to do it, for example, how to transfer a child for treatment to Lutsk. I am very satisfied with my colleagues: I can rely on them. People here are more open, kind," says Ilga.
"I also like that there are many young doctors here. There are not many young doctors in our town," Petro adds.
The couple tries to contact their relatives, who remained in the occupation, every day. They categorically refuse to leave because of fear for their property. For example, builders from Rostov settled in the apartment that the couple had rented. It's good that the relatives managed to take everything away.
Photo: Liudmyla Herasymiuk
Vita Sakhnik
21.11.2022