Kyiv, August 13, 2015. A record-high number of attacks at the Ukrainian forces has been registered – over 150 armed incidents yesterday. Russia-backed militants also used multiple rocket launchers (MLRS) 15 times in Donetsk and Mariupol sectors. "Combat actions last incessantly near our key defense positions," added Colonel Oleksandr Motuzyanyk, spokesperson of the Administration of the President of Ukraine on ATO-related issues, at a press briefing at Ukraine Crisis Media Center.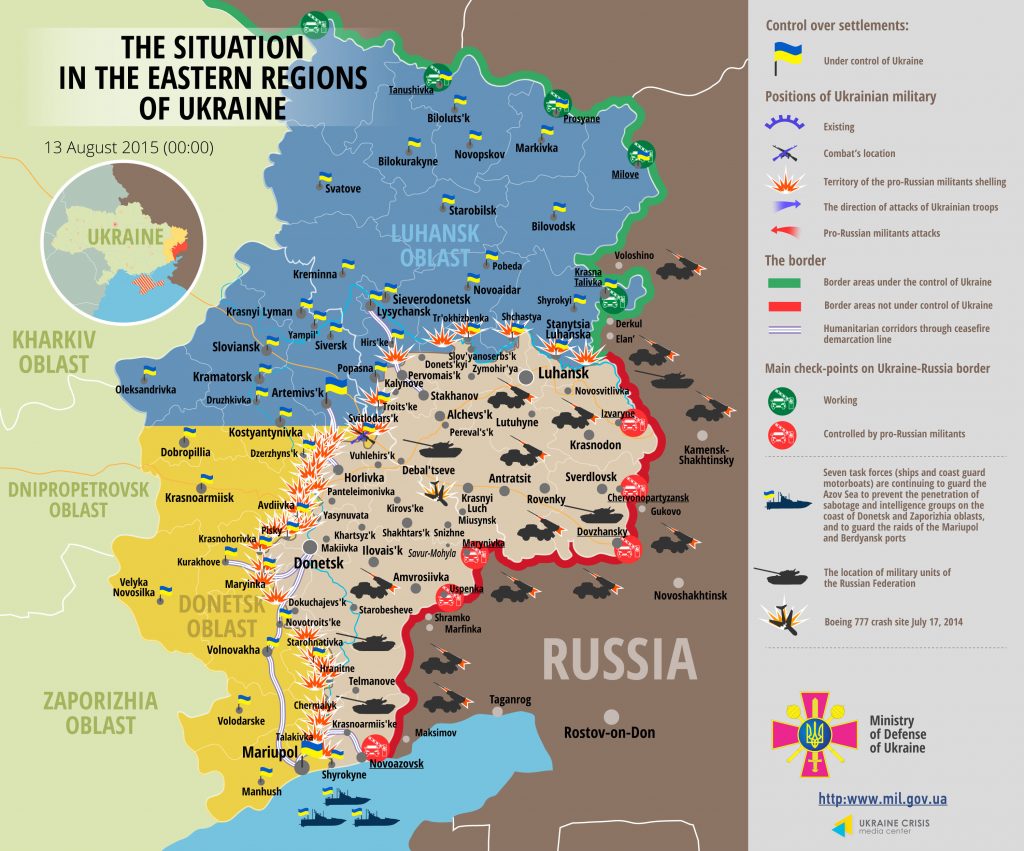 In the Luhansk sector, militants continued to use the tactics of "harassing fire" on the Ukrainian positions. "Such provocations are mainly conducted in the evening and do not pose a threat to our troops," explained Col. Motuzyanyk. Yesterday, a number of militant provocations took place near Shchastya, North of Bakhmut road, as well as near Zolote and Troyitske. Ukrainian forces registered no incidents of the use of armored vehicles and missile systems by militant groups in the area.
In the Donetsk sector, skirmishes and militant provocations continued in the vicinity of Svitlodarsk. In the night of August 12, Ukrainian troops repelled an attack of a militant subversive reconnaissance group that was moving from Debaltseve. Russia-backed militants were using only small arms and grenade launchers in the region. To the west of Svitlodarsk, the militants fired at Ukrainian troops from armored vehicles, artillery and grenade launchers. Their positions were located in residential areas of Horlivka, particularly the coalmines #6 and #7 from where militants targeted Mayorsk and Zaitseve to the North and Leninske and Kirove to the West. Two civilians were wounded and four houses destroyed in Dzerzhynsk in the course of militant attacks.
Militant groups intensified attacks on Ukrainian positions between Horlivka and Donetsk. Col. Motuzyanyk cited Ukraine's Intelligence report that confirms the militant groups deployed artillery to Yasunyvata, including 122-mm and 152-mm howitzers as well as Grad systems – all banned by Minsk agreements. Yesterday, Russian proxies were actively firing upon the railway sections Horlivka-Krasnoarmiysk and Kostyantynivka –Donetsk cross. There was a series of minor armed incidents on the between Novhorodske and Verkhnyotoretske.
In the Donetsk area militants switched to the systematic use of Grad multiple rocket launchers in the key areas of military action, namely in the triangular of Opytne – Vodyane – Pisky. "Militants fired at Avdiivka from howitzers again. Enemy projectiles damaged the gas distribution station in the town. As a result of the attack, almost 500 families were left without gas supply; tuberculosis clinic and private houses were damaged as well," said Colonel Motuzyanyk.
Skirmishes between militants and Ukrainian Armed Forces continue in the area of Krasnohorivka and Maryinka. The use of heavy weapons by the militants has been complicated due to the high density of residential construction in the area. Militants held massive artillery shelling of Ukrainian forces near Novobakhmutivka, south of Donetsk. "Earlier it was quiet in this section of the front," noted Col. Motuzyanyk.
In the Mariupol sector, militants amassed considerable amount of manpower and military hardware including tanks, howitzers and multiple rocket launchers in the area of Dokuchayevsk – Komsomolske – Telmanove. South of the area near Hranitne militants were firing from tanks for 40 minutes, while south of Pavlopil reservoir they have launched attacks from large-caliber artillery.
Militant groups used artillery and multiple rocket launchers late in the evening, targeting Ukrainian positions near Talakivka.
Ukrainian troops registered 13 flights of militant unmanned aerial vehicles (UAVs) in ATO zone yesterday.
Two Ukrainian servicemen were killed in action and 10 were wounded in action over the last day.
Ukrainian border guards detained a priest of Ukrainian Orthodox Church of the Moscow Patriarchate who turned out to be working with Russia-backed militants. He was heading to militant-controlled territories when stopped by Ukrainian servicemen. The priest showed an ID of pro-Russian 'Vostok' battalion and was detained immediately afterwards.
Ukrainian law enforcement detained the driver of a car who attempted to cross the frontline to militant-controlled areas. The soldiers and security service operatives seized 2,922 million rubles, over 23,000 US dollars and 30 cards of various banks during the search of the car.