Kyiv, August 27, 2015. The situation in the Mariupol sector escalated yesterday as Russia-backed militants fired upon Ukrainian positions on the first and second defense lines near Starohnativka 12 times between 4 p.m. and 11 p.m. yesterday. "Apart from mortars and grenade launchers, our troops near Bohdanivka were attacked by multiple rocket launcher systems. A militant artillery attack also took place near Lebedynske," said Colonel Oleksandr Motuzyanyk, spokesperson of Administration of the President of Ukraine on ATO-related issues, at a press briefing at Ukraine Crisis Media Center. Seven Ukrainian servicemen were killed in action and 13 were wounded in action over the last day.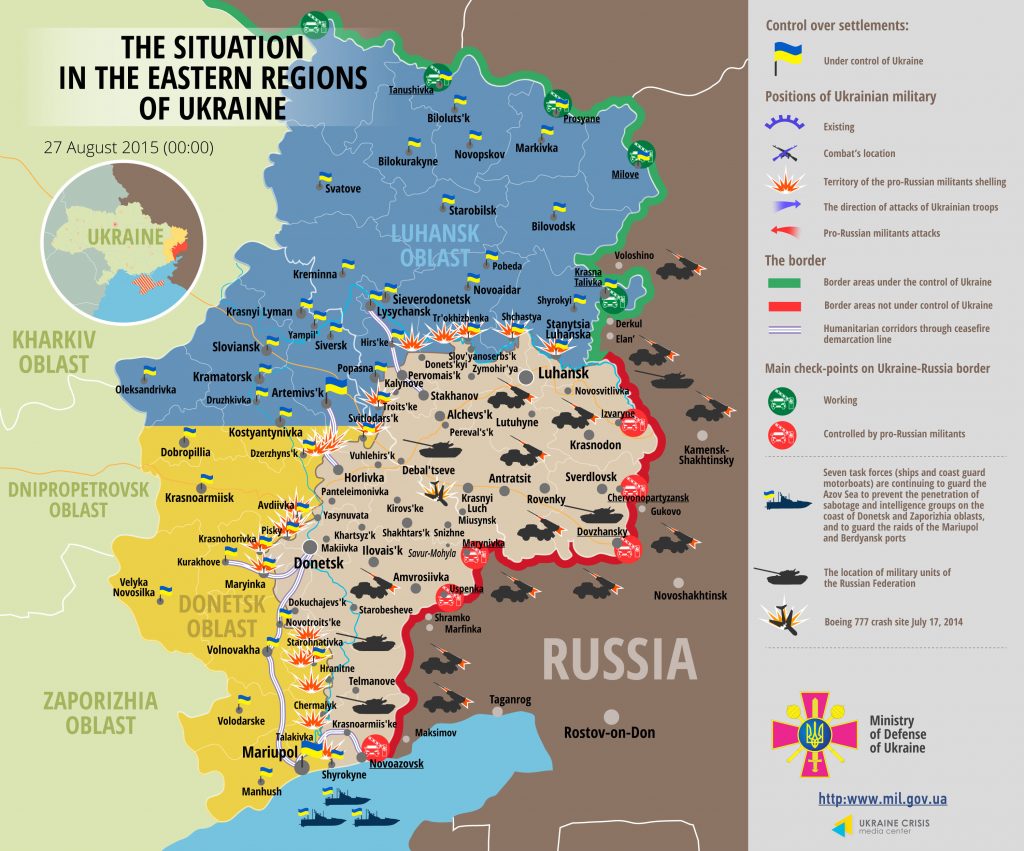 In the Luhansk sector, militants used mortars and grenade launchers to shell the area near Stanytsia Luhanska. As a result, one house was burnt down, three more houses and gas pipeline were damaged. Two civilians were struck by a militant mine in a nearby village. The situation is similar near Shchastya, though militants there are conducting low-intensity fire there both during the day and at night. It was more or less calm in the area of Bakhmutska road. Three militant provocations were registered in Tryokhizbenka, Krymske and Novotoshkivske.
It was calm on the section of the frontline from between Orikhove, Zolote, and Popasna. According to Col. Motuzyuanyk, Troyitske was the major hotspot in Luhansk region close to the junction with Donetsk region. "Our positions were fired upon twice from mortars and twice from tanks in the evening. According to intelligence, the enemy's heavy weapons are amassed West of Kalynove and Almazna on the enemy's frontline," said Colonel Motuzyanyk.
In the Donetsk sector, militants conducted three artillery and one mortar attack upon the frontline positions of ATO forces in Luhanske between 1 p.m. and 3 p.m., as well as a series of minor provocations. Militant artillery units are deployed to Vuhlehirsk. Combat actions intensified North and West of Horlivka. Up to 10 incidences of ceasefire violation by militants were registered in Zaitseve, Mayorsk and Kirove. In addition to the skirmishes on the frontline, there was a series of mortar attacks and one artillery attack. Militant artillery positions are set up in the residential blocks of Horlivka, in particular near Terykonna station.
A period of relative calm was observed between Horlivka and Yasynuvata. Incessant combat actions of moderate intensity are occurring near the Donetsk airport. As before, militants keep their tanks and artillery on the frontline and actively use them after dawn, stated the ATO spokesperson. "The density of the enemy's fire is growing near Krasnohorivka and Maryinka. For the first time, more enemy attacks were registered in this area than between Avdiivka and Pisky. Under conditions of dense residential construction and varying landscape the enemy is unsuccessfully trying to push Ukrainian forces out of their positions. Militants engage with both minor provocations that grow into long-lasting skirmishes and long-range artillery attacks," explained Col. Motuzyanyk, who noted that the area exiting from Donetsk towards Mariupol was relatively quiet.
According to the State Border Guard Service, Russia is conducting reconnaissance activities using unmanned aerial vehicles (UAVs) daily in northern Lugansk region. The border guards further stated that Russian UAVs violate Ukraine's air space along the Babycheve –– Poltavske route. "The flights of Russian fighter jets along the border were registered in Tarasovsky district of the Rostov region in the Russian Federation that borders on the Stanychno-Luhansky district of Luhansk region yesterday morning," said the ATO spokesperson.
Ukrainian troops registered three flights by militant UAVs in ATO zone yesterday.
Ukrainian law enforcement has been detaining alleged militant accomplices. One of the detained is a Donetsk resident who has been informing militants of the self-proclaimed "Donetsk People's Republic" ("DPR") on the movement of Ukrainian forces. "Two more female accomplices of the occupants were detained in Zolote and Severodonetsk in Luhansk region," added Col. Motuzyanyk.
In Maryinka, policemen seized an anti-tank grenade launcher, three ammunition rounds for an RPG-7 grenade launcher, seven combat grenades with fuses and over 400 rounds of ammunition. The arsenal was hidden in an abandoned burned-down house.