Kyiv, September 15, 2015. It was absolutely calm in the Luhansk and Mariupol sectors of ATO zone yesterday. Several armed militant provocations were registered in the Donetsk sector: by the frontline near Svitlodarsk, near Mayorsk and Zaitseve. Militants used small arms and grenade launchers against Ukrainian troops in the evening. "It was absolutely quiet in other parts of the front yesterday. Thus, it became quiet on the Western outskirts of Donetsk for the first time in 16 months," noted spokesman of Administration of the President of Ukraine on ATO-related issues Colonel Oleksandr Motuzyanyk at a press briefing at Ukraine Crisis Media Center.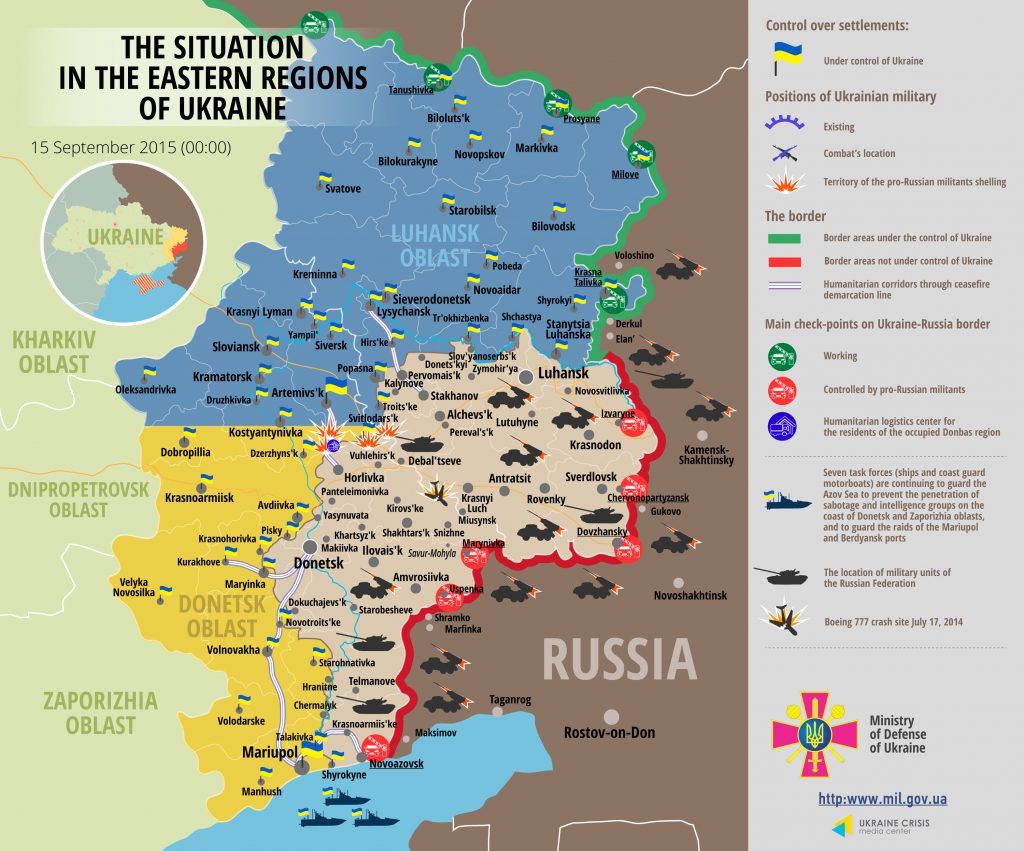 ATO forces did not register any fights of militant unmanned aerial vehicles. At the same time locals hit explosive devices in Stanytsia Luhanska (Luhansk region) and Hranitne (Donetsk region). Two persons were taken to hospital. "Ukrainian Armed Forces did not incur any casualties in the last day, two servicemen were wounded in action," said Colonel Motuzyanyk.
Staff of Ukraine's Security Service Odesa office neutralized a militant informer network. Four informers and the network organizer were detained. The organizer came from Donetsk to Odesa to pass UAH 200 thousand for recruitment of the new militant accomplices. They were acting in Odesa, Kyiv, Mariupol and Krasnohorivka of Donetsk region. "The informers were passing to the adversary call signs of Ukrainian servicemen, radio communication frequencies, places of deployment, number of personnel, information about equipment and movement of Ukrainian troops," said ATO spokesman.
Ukraine's Security Service staff also neutralized a subversive group in Odesa region. The detained were planning a series of terrorist acts and contract killings. By order of their curators from GRU (Chief Intelligence Department) of the Russian Federation Armed Forces General Staff members of the militant group planned conducting a series of explosions in deployment places of law enforcement staff, on military objects, in offices of volunteer and civil society organizations. "The group was formed by a former staff member of the Russian intelligence who is based in occupied Crimea," elaborated Oleksandr Motuzyanyk.
Intelligence of the Ukrainian Armed Forces prevented a terrorist act outside Mariupol. Ukrainian troops discovered and neutralized a specially equipped militant cache with ammunition and explosives near Orlovske. The cache contained 4kg of TNT, grenades for hand-held antitank grenade launcher, thermobaric ammunition piece and a set of detonators. "Judging by the set of explosives one may assume that these were the components for production of a mine intended to blast a passenger bus. The ammunition and equipment were wrapped in white "humanitarian" Russian bags as well as marked with the adhesive tape that bore the name of a Russian organization that finances militants," noted Colonel Motuzyanyk.
Ukrainian law enforcement staff discovered another cache with weapons in the woods near Artemivsk-Debaltseve road. Law enforcement staff seized 11 grenade launchers, a Kalashnikov rifle, 36 ammunition pieces for under-barrel grenade launchers and 18 grenades. "The cache also had 4,5 thousand rounds of ammunition of various calibers, a smoke grenade and a package with drugs," added ATO spokesman.