Kyiv, September 25, 2015. The so-called 'Lunansk People's Republic' (LPR) impedes UN representatives' activities in Luhansk. The militants demand that they leave the city. According to the Deputy Secretary-General and Emergency Relief Coordinator Stephen O'Brien, humanitarian organizations' access to the rebel-held territory is the obligation of the occupying administration. A breach of this obligation is a violation of international humanitarian law because it threatens lives on the eve of winter. "We cannot deliver about 16 tons of humanitarian aid to the occupied territories. There is not enough medical supplies and drinking water there," said Colonel Andriy Lysenko, spokesperson of the Presidential Administration of Ukraine on ATO-related issues at a press briefing at Ukraine Crisis Media Center.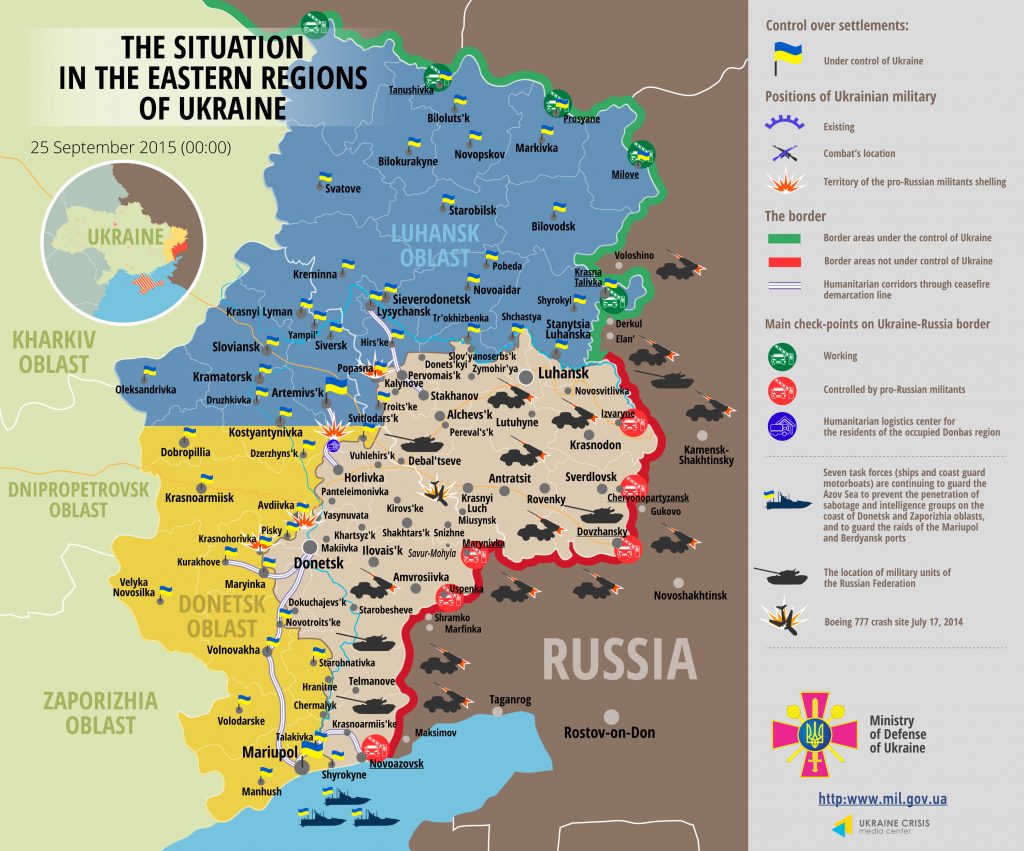 Yesterday, in Luhansk sector they recorded only one episode of cease-fire violation in Popasna, where a militant sniper 'worked' on Ukrainian fighters. In Donetsk sector, near Zaitseve, north of Horlivka, militants opened fire from a machine gun. "Shooting was conducted at close range from a dense residential area," said Lysenko. Between Avdiivka and Spartak they recorded militant snipers' firing. Near Krasnohorivka between 1 and 2 am, militants repeatedly fired from guns. "According to our intelligence, despite the silence mode, the enemy still keeps significant forces at the forefront, including heavy weapons, subject to withdrawal under the Minsk agreements," said Lysenko.
In Mariupol sector ATO forces recorded a militant drone flight. "The truce is fully observed here," said Lysenko. Over the past day Ukrainian Armed Forces did not suffer any casualties; one soldier was wounded at Avdiivka.
In Slovyansk, Ukrainian security officials detained two militants, a father and a son. During the occupation of the city they voluntarily joined the militants' ranks and in May-July 2014 were at their checkpoint. From there they carried out systematic mortar attacks on Ukrainian positions. "The detainees had two rocket launchers, almost 100 rounds of various calibers ammunition, several passports in the name of different persons," informed Lysenko.
In Zaporizhia region, the Security Service of Ukraine blocked the mechanism for laundering money stolen by the militants in the occupied territories. Militants' accomplices from the former and current bank employees transported the money to other regions of Ukraine. "Despite the fact that the bills were marked with a special solution, they exchanged them for foreign currency through shady financial channels. Then the money was transported back to the occupied territory at the disposal of the so-called 'Donetsk People's Republic' (DPR) and 'LPR' leaders," explained Lysenko. During searches of illegal exchanger in Melitopol police seized a large sum of money, equivalent to more than $800 thousand.
In Shchastia, police together with the Armed Forces servicemen found illegal weapons in an unlocked garage – a DShK machine gun and two rocket launchers. Now they are identifying the owner.