Kyiv-New York, 28 September 2015 – Activists, parliamentarians and diplomats unfurled a battle-scarred Ukrainian national flag during the speech of Russian president Vladimir Putin at the UN General Assembly as a silent protest. The flag belonged to a Ukrainian military unit who were killed by Russian troops in August 2014 outside the city of Ilovaisk during Russia's invasion of eastern Ukraine. The silent flag protest was in response to Russia's aggression in eastern Ukraine, which has claimed thousands of lives. The official Ukrainian delegation left the assembly hall of the General Assembly in response to the Russian president's speech.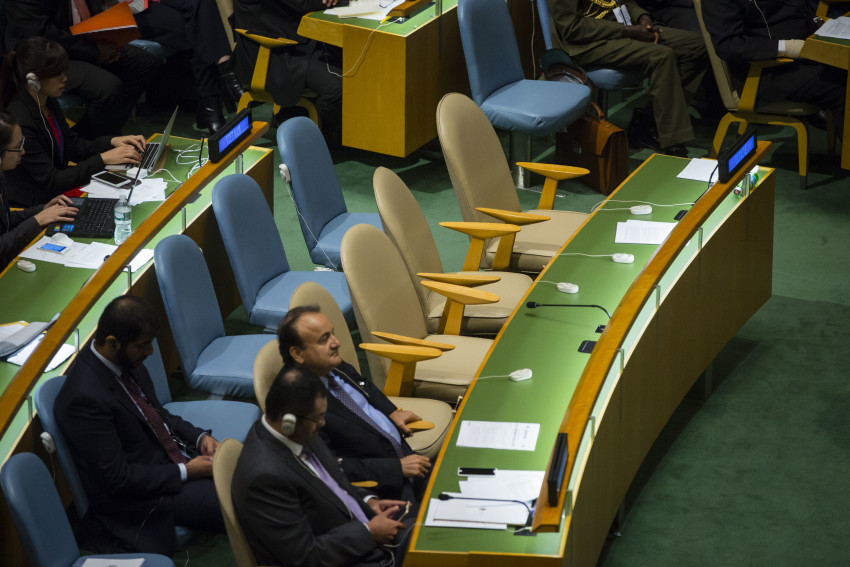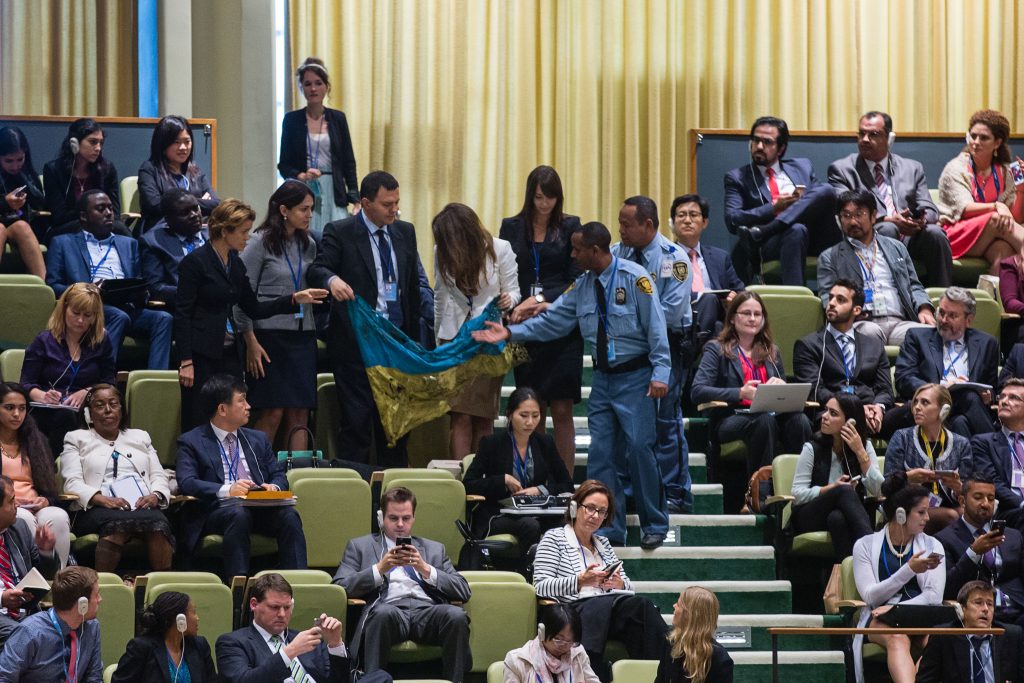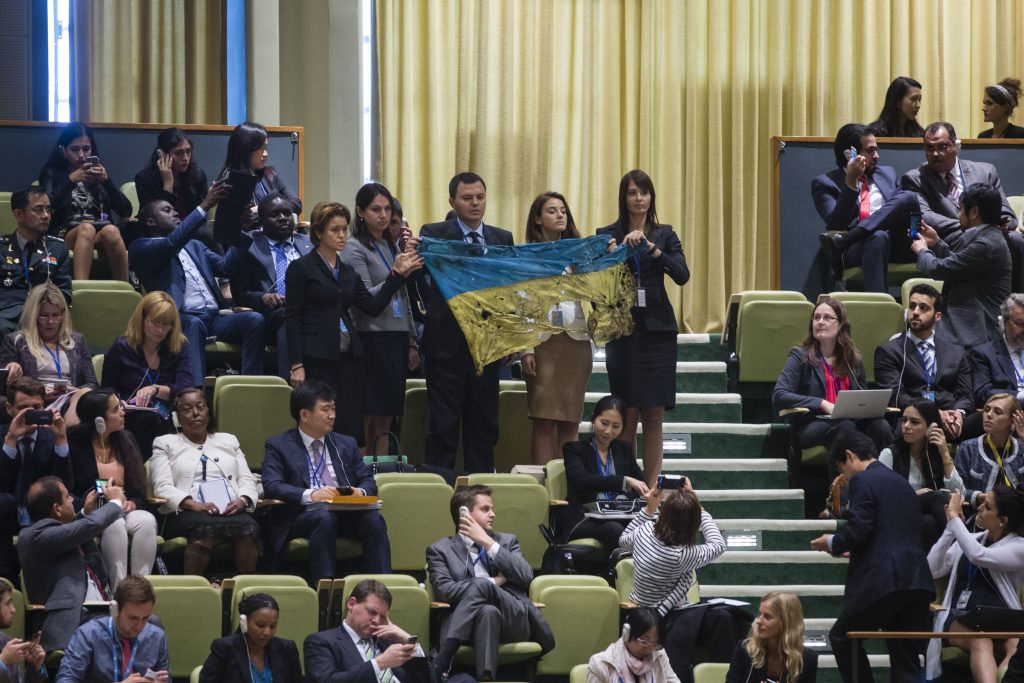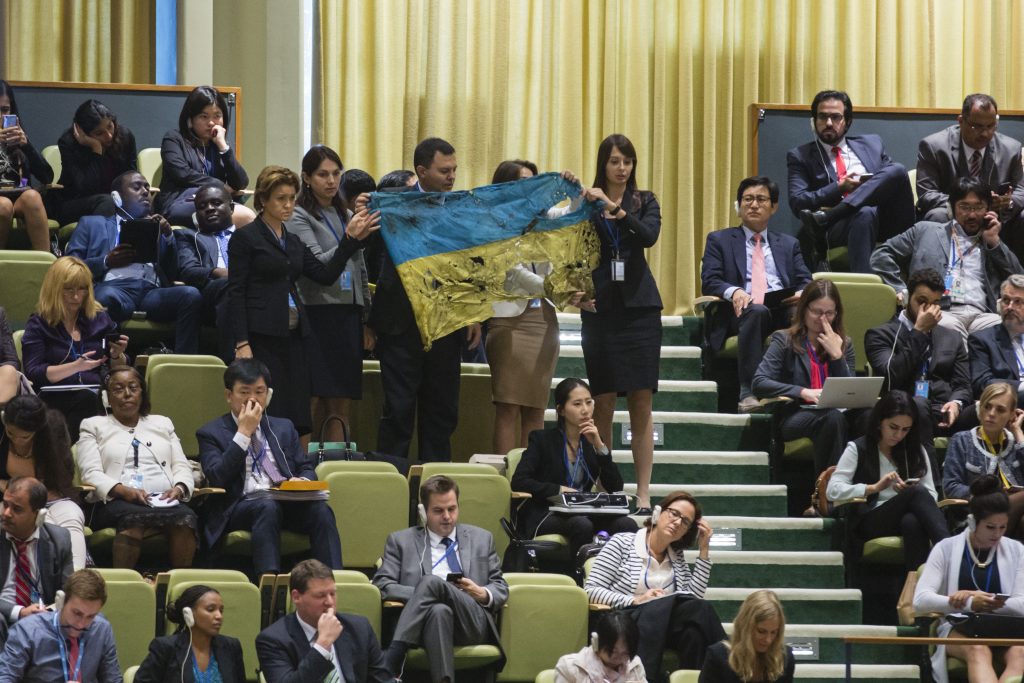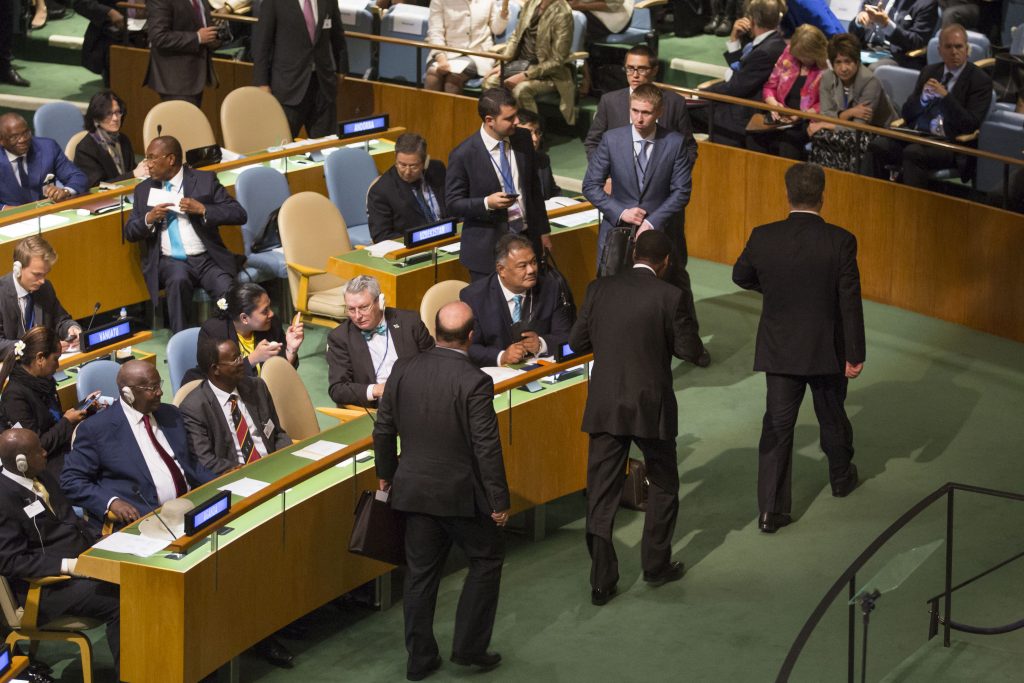 Ukrainian flag survives Russian attacks in August 2014
A Ukrainian soldier received this flag as a gift from his friend before departing to war. In August 2014, the Ukrainian Army was liberating towns and villages in eastern Ukraine, scoring a number of decisive victories against Russia-backed militants. Just when it seemed that the days of Russian proxies were numbered and their leaders would be brought to justice for their crimes, the Kremlin resolved to deploy active Russian servicemen for an open invasion of eastern Ukraine.
On Ukraine's Independence Day, August 24, Russian troops crossed the border. Heavy fighting broke out in the vicinity of Luhansk. The threat of complete encirclement of Mariupol was looming. Ukrainian soldiers were surrounded near Ilovaisk where this flag was being flown by an anti-aircraft military regiment.
On August 29, 2014, the Ukrainian and Russian militaries agreed on setting up a "green corridor" enabling Ukrainian forces to retreat. However, Russian generals cynically violated the deal –they launched deadly attacks utilizing a wide array of weapons against the Ukrainians at close range demonstrating that they view this war as not being fought with any regard for international law or human decency. The truck on which the flag was hoisted was blown to pieces by enemy bullets and artillery, killing the Ukrainian servicemen within. The flag was found by Ukrainian volunteers of the Chornyi Tulpan [Black Tulip] group a month after what stands as one of Russia's most cynical attacks in its on-going undeclared war in eastern Ukraine.