Kyiv, September 30, 2015. Russia-backed militants opened fire from a large caliber machinegun in Donetsk sector near the village Lozove, located to the south of Svitlodarsk.  Yesterday morning a 30-minute military clash between the ATO forces and a militant SRG took place north of Horlivka, near Zaytseve. "A hostile unit tried to infiltrate beyond our defense line. But due to accurate return of fire from the Ukrainian side, the militants had to retreat. No fatalities were registered among the Ukrainian servicemen," – informed Colonel Andriy Lysenko, Presidential Administration spokesperson on ATO-related issues at a press briefing at Ukraine Crisis Media Center.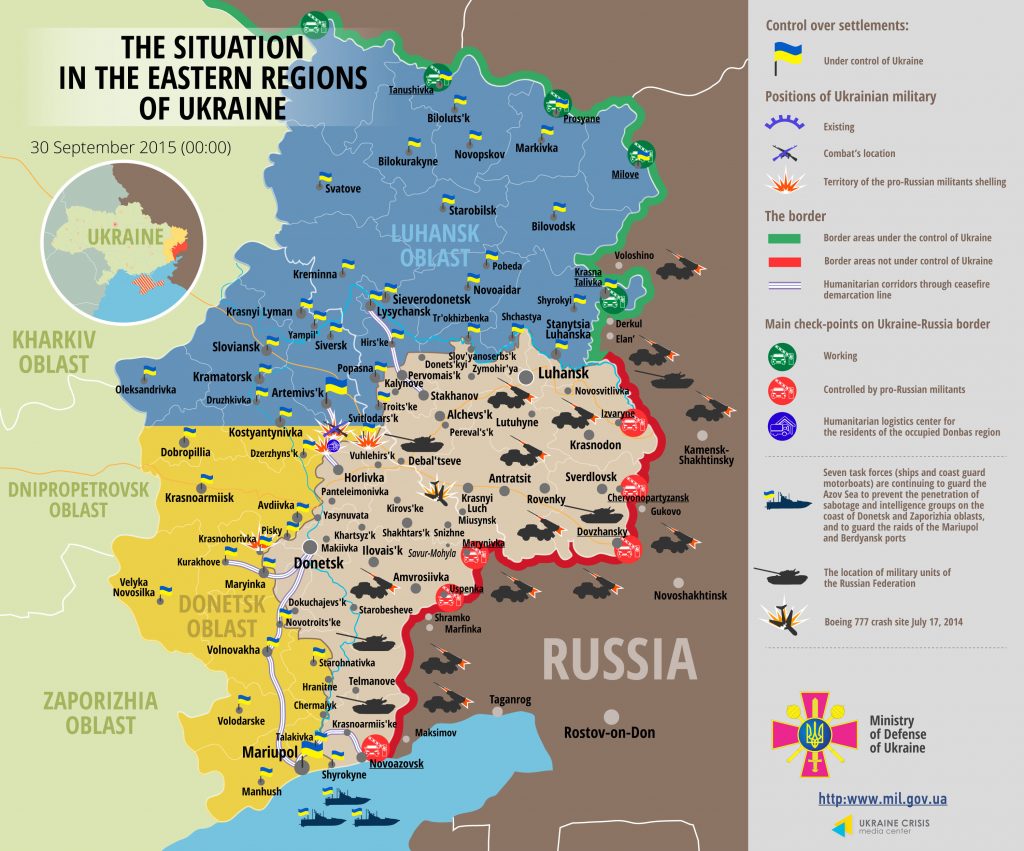 One more provocation from the militants' side with use of small arms took place near Mayorsk. Near Krasnohorivka members of illegal militant groups opened fire against the ATO forces from small arms, mortars and infantry combat vehicles.   "They fired upon the residential areas of the adjacent village of Staromykhailivka," – clarified Col. Lysenko.
It was quiet in Luhansk sector yesterday.  "In Mariupol sector the ceasefire has also been kept in an exemplary way," – commented the spokesman of the Presidential Administration on ATO-related issues. For the past 24 hours ATO forces registered two flights of hostile drones in the ATO zone. One Ukrainian serviceman was injured in the process of mine-sweeping yesterday. This happened between Artemivsk and Horlivka. "There are no fatal losses among the ATO forces arising from military actions over the past 24 hours," – stated Andriy Lysenko.
The Security Service of Ukraine detained a resident of Ternopil region who was recruited by the Russian secret services. This Ukrainian citizen was enlisted with the Federal Security Service of the Russian Federation back in 2006 when he was serving a sentence for a crime on Russian territory. In 2014, after having been released from a prison colony, the malefactor came to Ternopil region to collect information about the Armed Forces of Ukraine's structure and training.
"The provocateur also planned to join one of the non-governmental organizations with a provocative intention. His so-called "coordinators" gave him a task to create a group for performing acts of terror on Russian territory. According to the plans of the Russian secret services this group was intercepted by Russia's Federal Security Service while crossing the Ukraine-Russia state border, which would be used as a pretext for another wave of anti-Ukrainian propaganda in the Russian ­­­media. At present investigations are continuing," – said Col. Lysenko.
At the Mezhova checkpoint, located at the border between Dnipropetrovsk and Donetsk regions, law enforcement officers intercepted a truck with 365 boxes of vodka with no revenue stamps on the bottles. "Later Ukraine's security service stopped two more trucks at the same checkpoint trying to smuggle twenty boxes of illegal goods and almost nine hundred liters of alcohol," – stated Col. Lysenko. All the goods were seized.
In Chernivtsi region, Security Service of Ukraine officials exposed weaponry and ammunition supply out of the ATO zone. "During the search two Kalashnikov assault rifles, seven grenades and more than 2 thousand rounds of different caliber were seized from the criminals," – informed Col. Lysenko.
In Luhansk region, law enforcement officials eliminated a scheme for financing militant units. A number of enterprises located in the occupied territories have double registration – Ukrainian and illegal – with the militants. These enterprises were engaged in construction and repair works in Luhansk region. "The organisers of this crime misappropriated Ukrainian state money (3 million UAH) which was allocated for rebuilding of the local area and provided the proceeds to support terrorist groups of the so-called 'Luhansk People's Republic'," – said Col. Andriy Lysenko.