Kyiv, October 2, 2015. "An absolute armistice was held along the frontline yesterday and pro-Russian militants did not shoot at our positions. No flights of militants' unmanned aerial vehicles were observed yesterday," said the spokesperson of the Presidential Administration of Ukraine on ATO related issues Colonel Andriy Lysenko at a press briefing at Ukraine Crisis Media Center. Ukrainian Armed Forces incurred no losses in combat yesterday. One serviceman was wounded when he tripped a wire. "A civilian was injured near Shchastia as a result of grenade blast," said Col. Lysenko.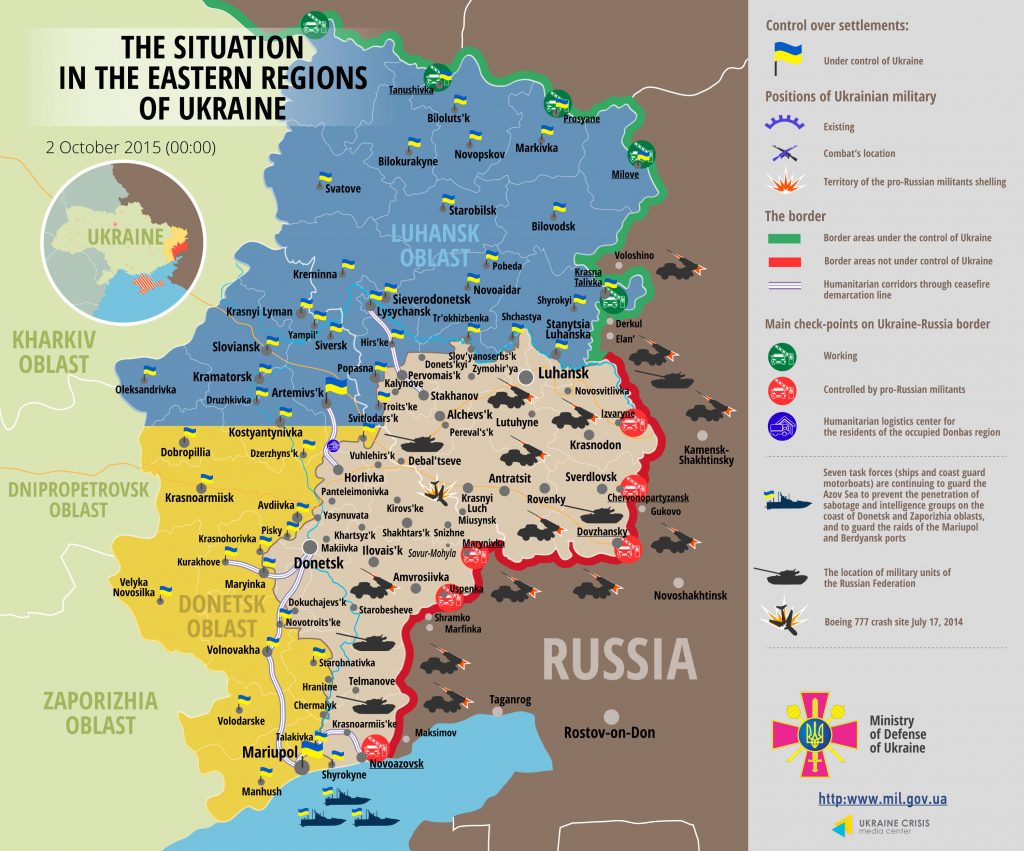 Experts of the State Emergency Service of Ukraine (SESU) and military specialists are clearing the near-front zone from mines, trip wires and unexploded shells. "SESU experts searched almost 7 ha yesterday and disabled 8 explosive devices," said the spokesperson.
Ukraine's Security Service (SBU) detained a raider with the nom de guerre 'Leesa' ('Fox') in Kharkiv. The woman was a member of a subversive group led and financed from Russia by Yevhen Zhylin, a chief of the Oplot criminal group. "This subversive group was destroyed by the SBU on the eve of Ukrainian Independence Day. 'Leesa' was recruited to the ranks of Russia-backed militant groups when she was in Moscow," said Col. Lysenko.
SBU halted the activity of another fictitious company. The organizers were servicing over 150 enterprises, most of them located on the temporarily occupied territories. "Funds of the enterprises were transferred to bogus firms and converted into cash," explained the spokesperson.
Activity of a quasi-financial institution organized by the self-proclaimed 'Luhansk People's Republic' (LPR) has been ceased on the temporarily occupied territories. Militants' accomplices were accumulating funds from various sources and transferred them to Ukrainian banking accounts. Later couriers drew money in branch banks and brought cash to the occupied territories. Monthly turnover of the financial institution amounted to almost 25 million hryvnias, used for financing the self-proclaimed 'LPR'. "Organizers of the channel and couriers have been detained and 500 thousand hryvnia seized from them. Over 3.7 million hryvnia has been frozen in their accounts," said Col. Lysenko.
SBU officers ceased the activity of a group systematically looting nonferrous metals from objects of vital infrastructure. Over 8 tons of aluminum (trolleybus wires) and almost three tons of copper (equipment from electricity distribution stations) were seized during the search. The criminals used military weapons during their thefts. "Two rocket propelled grenade launchers, three hand grenades, two grenades for under-barrel grenade launchers, a considerable amount of 5.45mm cartridges and lots of vehicles number plates," said Col. Lysenko.