Kyiv, October 3, 2015. "Absolute ceasefire has been holding in the east of Ukraine for 48 hours now. There were no attacks at our positions yesterday. No Ukrainian troops died or were wounded in combat," said the spokesperson of the Presidential Administration of Ukraine on ATO related issues Colonel Andriy Lysenko at a press briefing at Ukraine Crisis Media Center. No flights of militants' unmanned aerial vehicles were observed either.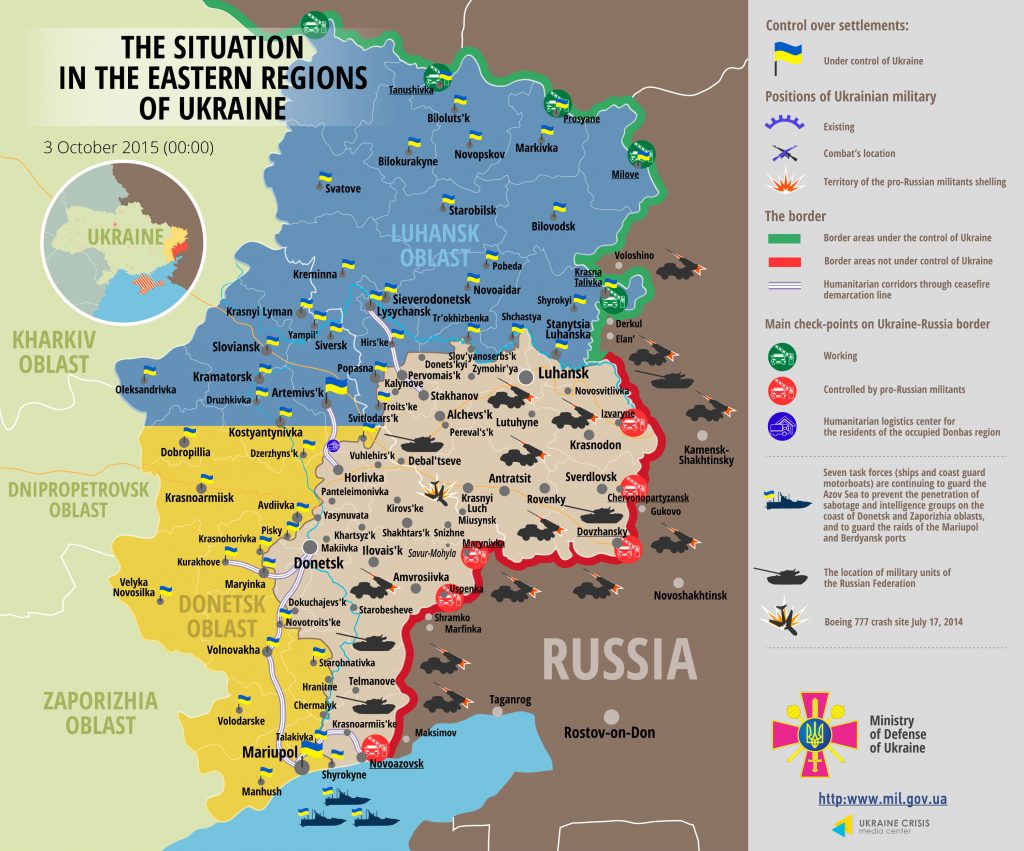 Col. Lysenko stated yesterday at the meeting of the 'Normandy Four' in Paris that the stakeholders agreed that it is necessary to maintain ceasefire, launch the process of withdrawal of weapons below 100mm from the frontline and provide international and humanitarian organizations, including SMM OSCE observers, with possibility of unimpeded activity on the entire territory of Donetsk and Luhansk regions. The parties also discussed liberation of Ukrainian hostages on the temporarily occupied territories and Ukrainian political prisoners kept in Russia. Col. Lysenko also said that all four leaders of the 'Normandy Four' insisted that the pseudo-elections scheduled by the occupational authorities for October 18 and November 1 shall be cancelled.
The spokesperson informed winterization of the troops started in the ATO zone. "Military supply depots started issuing warm uniform of a new make. All the sizes are available and there is enough uniform in stock to supply all the troops," emphasized the spokesperson of the Presidential Administration. He also said that servicemen will receive cold-weather underwear, socks and sleeping bags. The troops serving at the frontline are supplied on the first-priority basis. At the same time, technical re-equipment of the Special Forces takes place. The National Guard received new weaponry, radio sets, mobile refueling point, U.S.-manufactured large-bore sniping rifles, sniper systems, anti-tank grenade launchers and many other samples of the newest weapons that had already been used during a military training in Kyiv region.
Ukrainian law enforcement officers found a weapons cache in Kramatorsk. "The law enforcement officers found Kalashnikov assault rifles and 56 cartridges from a cache on the Verkhniy Torets river bank. The weapons were seized and sent for expert examination," said the spokesperson.
International Red Cross Committee delivered over 200 tons of food to the ATO zone. "Twelve trucks carrying humanitarian aid followed through the Buhas checkpoint in Mariupol-Donetsk motor road," informed Col. Lysenko.