Kyiv, October 18, 2015. Two brief armed provocations instigated by militants were observed at the frontline yesterday. One of them was observed near Pisky in the Donetsk sector and another one on the west outskirts of Shyrokyne in the Mariupol sector. "Small arms were used in both cases. Ukrainian Armed Forces incurred no casualties over the past 24 hours and two troops were wounded," said Colonel Oleksandr Motuzyanyk, spokesperson of Administration of the President of Ukraine on ATO-related issues at a press briefing at Ukraine Crisis Media Center.
Ukrainian border guards recorded flights of two militants' unmanned aerial vehicles (UAV) along the front line. Ukrainian border guards observed two more UAVs on the border between Kherson region and Crimea temporarily occupied by Russia.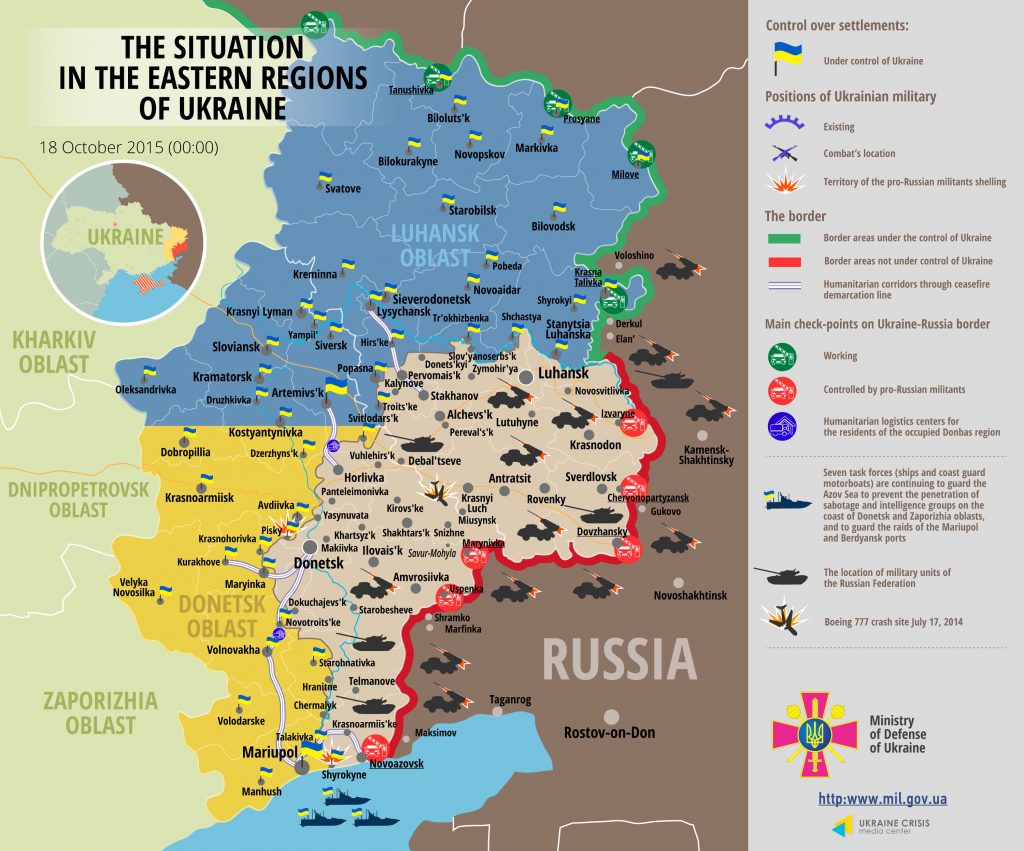 The State Border Guard Service of Ukraine continues preventing attempts of freights smuggling into temporarily occupies territories in the east of Ukraine. Joint mobile teams of military and law enforcements seized two trucks with illegal freight at Zaitseve checkpoint. "Four more vehicles carrying household detergents and other products were detained near Novotroitske and Oleksandropol in Donetsk region. At the same time, Ukrainian troops secured proceeding of seven trucks carrying humanitarian aid from the Red Cross International Committee through Novotroitske checkpoint," said Col. Motuzyanyk.
Ukrainian law enforcement officers detained a militants' source in Artemivsk. Inhabitants of the town, a 33-year-old woman and s 45-year-old man were collecting information on movement of Ukrainian troops and weaponry on the territory of Artemivsk district, Donetsk region. Material evidences were seized from the woman's residence, both informers were detained.
Five weapons caches were found in the ATO zone, in Vuhledar, Artemivsk, Volodarske, Maryinka and Slovyansk districts of Donetsk regions. Lots of explosives, grenades, grenade launchers, Saiga rifles, assault rifles and lots of cartridges were found in the caches. "Moreover, police officers and Ukraine's Security Service officers found another scrupulously concealed weapons cache on the territory of water reservoir of Luhansk thermal power station. Hand anti-tank flame projector 'Shmel', two anti-tank guided missiles, nine grenades, a TNT block and 210 cartridges to АК-74 assault rifle were found," said the spokesperson.